First impressions always count, regardless of the scale of your business, how well-known your brand name may already be or whether you operate locally or nationally. This means that when it comes to renovating your business, choosing reputable, reliable operatives is imperative, and this is where our commitment lies. Here at Just Spray, we are thrilled to have been instructed to work on projects for clients across the country, including successful household brands.
Why Globally Recognised Brands Have Chosen Just Spray
As a family-run business, we recognise the importance of offering a professional yet friendly service that delivers the highest quality of results. For this reason, all of our operatives are not only highly skilled and experienced but are also accredited by leading bodies and trained to use the latest equipment. Together, this allows us to maintain our exceptional reputation in the industry and refine our services to maximise results.
When completing a project with Just Spray, clients will always be provided with a virtual daily report, updating them on the works completed by our operatives during their shift. The report will include photos and descriptions of the tasks, ready for client approval. This is an excellent way to guarantee constant communication between our clients and operatives, giving complete peace of mind that their property is in safe hands. We are dedicated to offering the same level of care and attention to detail, no matter the complexity of the project at hand. This has led to many well-known brands enlisting our help to repair, refurbish, and modernise their commercial property. These include the following, just to name a few: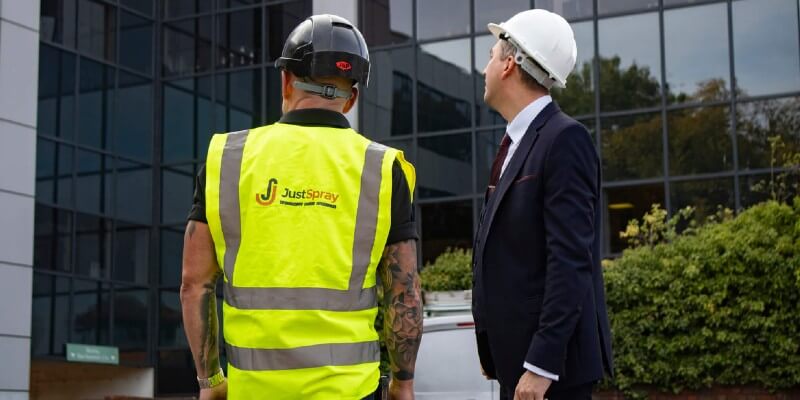 In the past few years, we have worked with Wren Kitchens on three different occasions to complete repair and respray work. After closing off the first project, they were thrilled with the results, so they invited us back to work on other storefronts. The projects were as follows:
Enfield, London – Our team were brought in to restore the side flashing panels on the Enfield store, which were colour matched to the current curtain walling.
Huddersfield, West Yorkshire – Using a Z45 cherry picker, our operatives resprayed the front of the entrance canopy, working at the weekend outside of trading hours to minimise downtime.
Tunbridge Wells, Kent – In this instance, we were instructed to complete a full building respray. The cladding was jet washed at 3000 psi, prepped and then sprayed in 2K RAL 7012 using HVLP and airless spraying systems.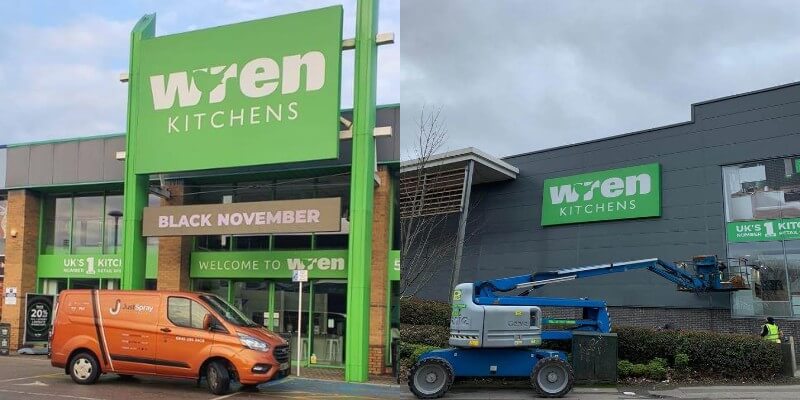 After a digger had caused a lot of damage to their external cladding in Llanelli, Wales, Aldi got in touch with our team to complete repairs and then respray the building. Before beginning the project, our contracts director, Craig, attended the site to inspect the dents and scratches to the ribbed panelling. These initial surveys are used to determine the equipment, products and number of operatives needed for the project, ensuring that time spent on site is well-optimised.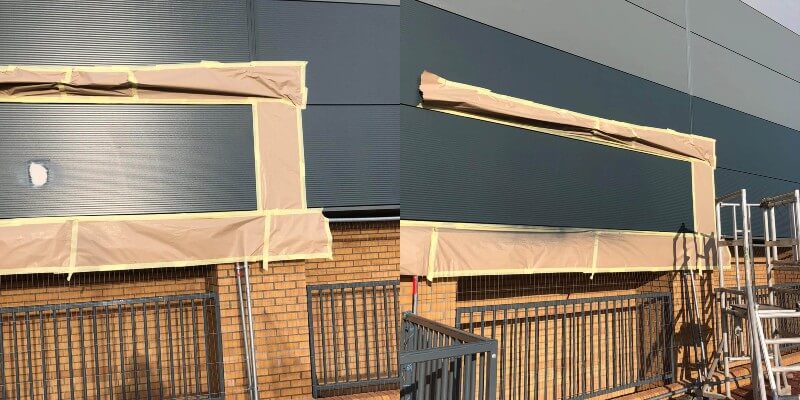 A repeat client of Just Spray, the Lidl Distribution Warehouse in Peterborough, enlisted our operatives to respray their window flashings as they were the wrong colour. Before the scheduled project date, we visited the site to take samples and ensure that the new coating was perfectly matched to the client's desired shade. During the project itself, a scissor lift was used to access the window flashings and operated by our IPAF 3A and 3B certified team members.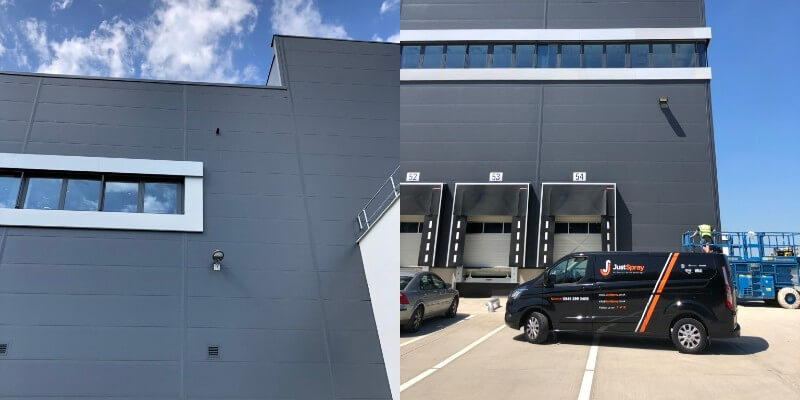 McLaren had invested in a new office, but it required significant work before they could move in, so our operatives were asked to complete a full dilapidation project. The curtain walling, fire doors, entrance doors and external flashings were all damaged, so needed to be sanded, filled and resprayed. Once the work had been complete, the client was so happy with the quality of the work that they asked us back to respray the building's reception area.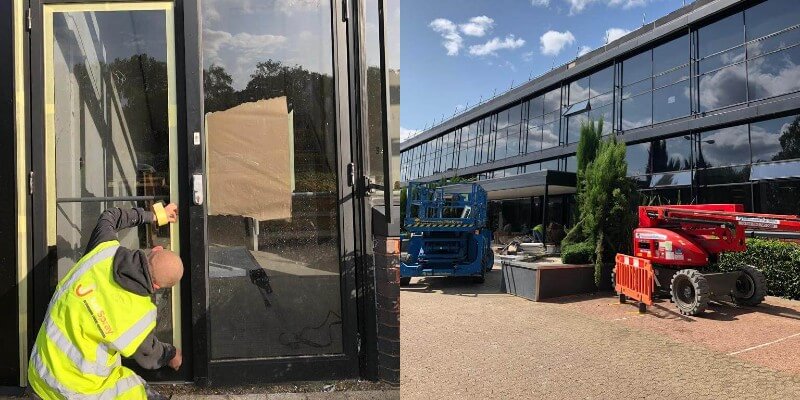 During the construction process, the Mazda dealership in Braintree had experienced minor damage to the profiled cladding and micro rib panels. They instructed our team not only to complete repairs but also to spray their canopy with a high gloss finish to boost aesthetics. To minimise disruption, work was completed while the dealership was closed and using a scissor lift for quicker application of the new coatings.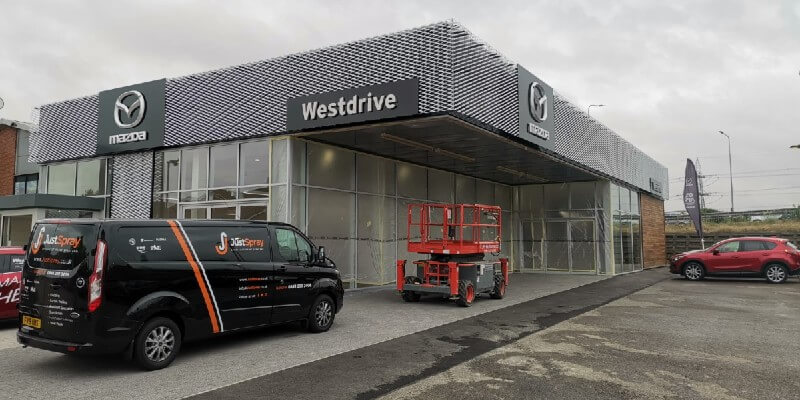 We have worked with Mercedez Benz on two occasions, first to complete work on their dealership in Haydock and the second in Smethwick.
The Haydock project involved repairing damages to Kingspan Micro Rib Panels, which had to be complete in line with a strict handover date. In Smethwick, the brief was different as we were enlisted to respray the building so that it had a contrasting colour to the front and side elevations. The cladding was sprayed in the colour RAL 7021 and complete with a 2k Anti Corrosive Coating to protect against the elements.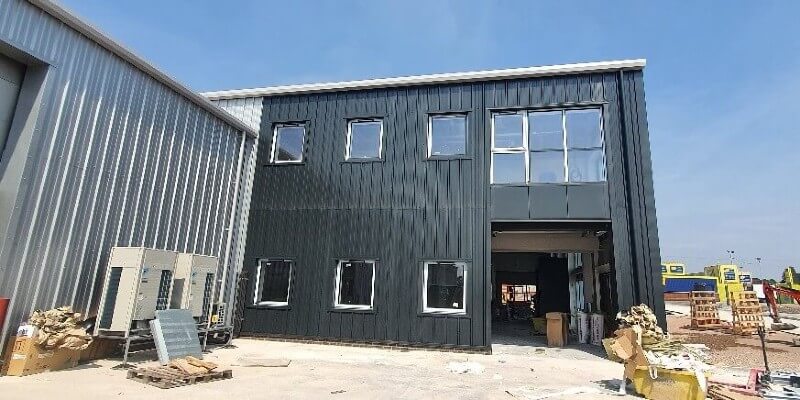 On this occasion, we were contacted by the Honda dealership in Wigan to repair and respray the branded totem outside of the premises. A scaffold tower was used to reach the top of the totem, which after colour-matching to the Honda branding, was sprayed in a RAL 9006 2k coating. This coating offers complete durability, preventing future wear and tear.
We completed works on the Starbucks in Weston-Super-Mare, which involved repairing and respraying minor impact damages and scratches on the exterior panels. The panels were filled and smoothed, then sprayed in a colour-matched shade to ensure a seamless finish. Our team also used a mobile spectrophotometer to ensure that the paint was checked and verified before spraying could begin.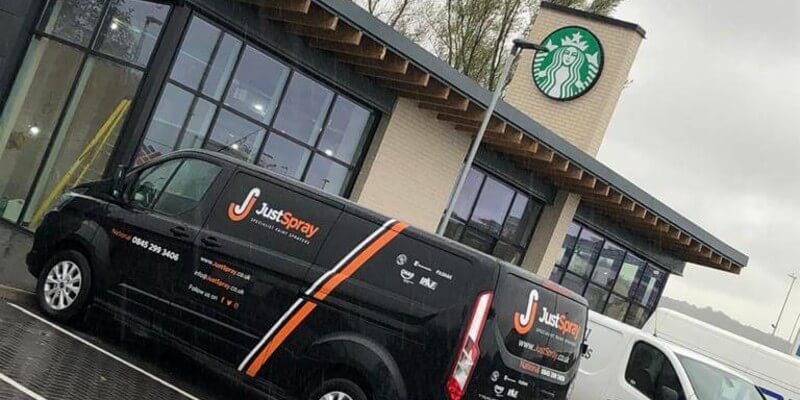 The Vault is one of the most prestigious, well-known jewellery shops in London, catering to a number of celebrity clients. They enlisted our team to respray several cabinets in the shade RAL 7016 Grey, an aluminium powder coating colour from the RAL Colour Chart. Our team carefully sanded down the existing paintwork to create a smooth surface, preventing bumps, cracking or bubbling. The cabinets were then sprayed in the RAL 7016 coating, otherwise known as Anthracite Grey, for a luxury, high-end finish.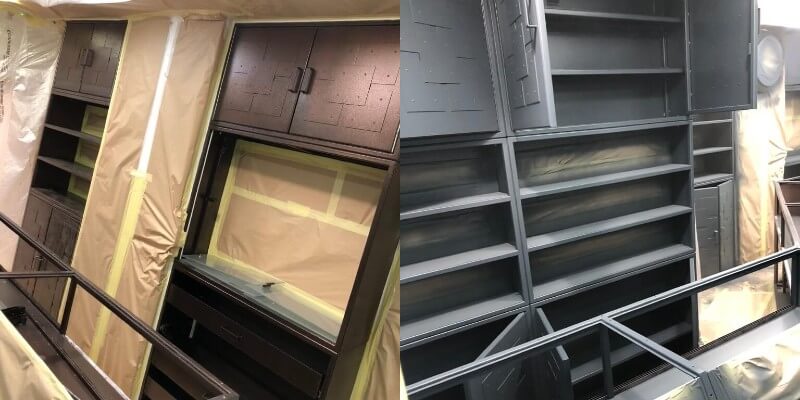 We were asked to complete both internal and external works to a new terminal in the busy Manchester Airport. During the construction process, the panels had been damaged, so our team visited the site to complete repairs before the terminal was opened to the public. A scissor lift and cherry picker were used to restore the panels, spraying them in a coating that had been colour matched to the airport colour scheme.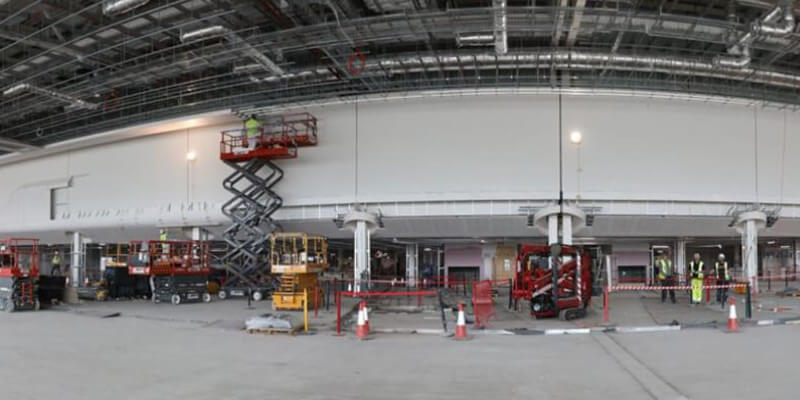 Our team were thrilled to be asked to complete a full building transformation on the B&Q store in Chingford after tendering for the project against another big spraying company. The process involved many key steps, all completed at night to prevent store downtime.
For the first three nights, we enlisted a jet wash company to prepare the building for our operatives to begin work on night four. We started by filling any areas of damage, then primed the surface and started respraying. We repaired and sprayed the cladding along with the doors, trolley bays, totem poles and barriers.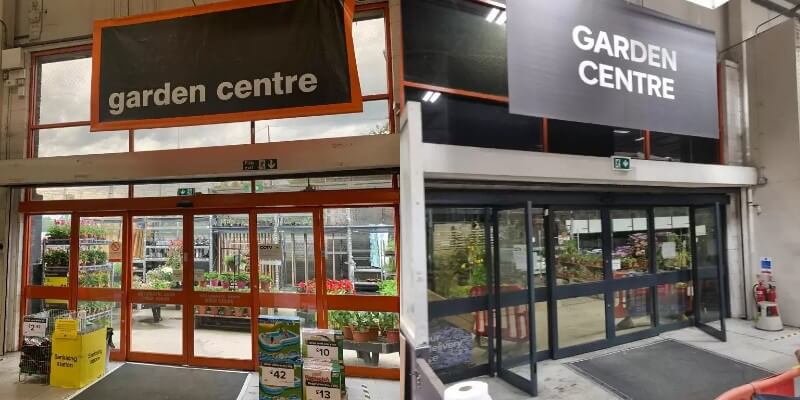 Our team's project for Sports Direct in Cheshunt involved internal ceiling spraying in anthracite grey, which matched perfectly with the store branding. We used an airless spraying system to allow a quick turnaround, along with a scissor lift to reach all higher areas with ease. As mentioned above, our operatives are IPAF trained to 3A and 3B standards, which means that the supply and use of access equipment are included in all contracts.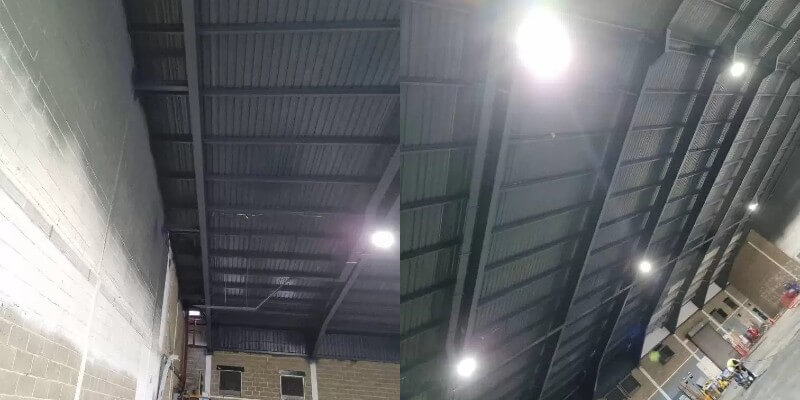 Another warehouse project we completed was on the Amazon site in Redditch, Worcestershire. Our client had contacted us after experiencing damage to their exterior micro rib panels and required specialist operatives to repair the cladding, meeting their greyscale colour theme.
After repairing all damage, the HVLP spraying method was used to recoat the panels in the shades Grey White, Merlin Grey, Light Blue, Anthracite Grey and Goose Wing Grey. We also used a z45 Cherry Picker and 3 Metre Tower for access.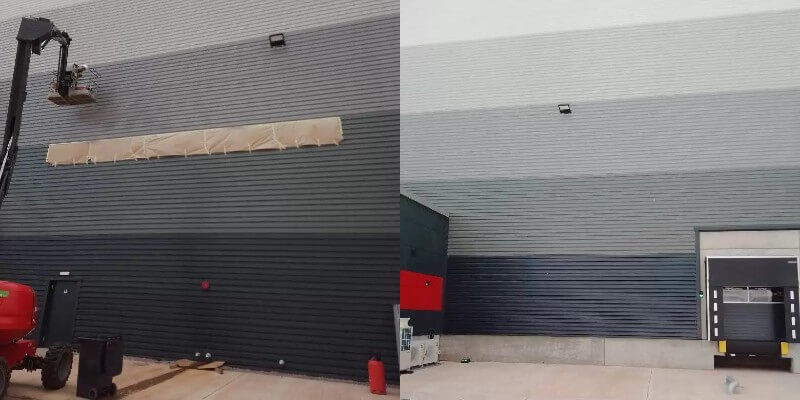 Onitsuka Tiger reached out to us to complete interior works on their store on Regents Street in London, as their metal display structures needed to be restored to their original condition. To do this, we first filled multiple welded joints to repair the metal, then resprayed the surface in the shade 901 white in a 2K finish. The client specified this colour scheme, and we ensured that our coating was made bespoke to their requirements for maximum results.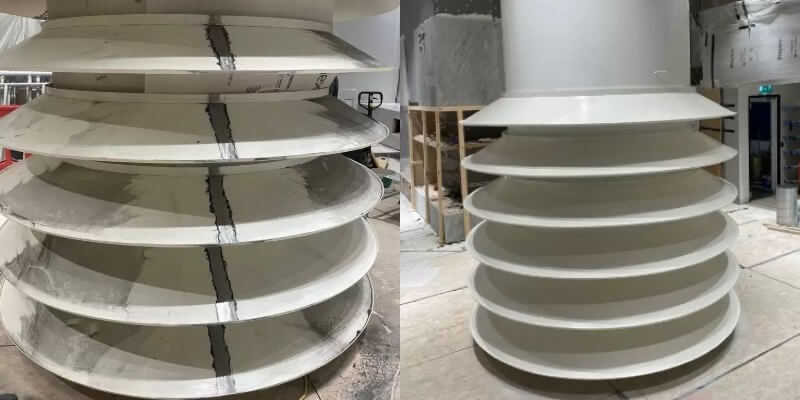 Begin Your Project With Just Spray Today!
If you have a project in mind and would like to enlist the help of Just Spray, please do not hesitate to get in touch! We offer a broad scope of services to businesses of all scales and industries, so we are always more than happy to provide you have a quote and schedule a site survey to determine the best route to maximise results.