What The Client Wanted
Our client contacted us as they had used other spraying companies in the past, but they had always had problems due to the high standards that the B&Q brand must withhold.
They needed a company that would be able to meet their strict health and safety requirements while also being able to provide a site manager and full project management. Along with this, the chosen company needed to have the SSSTS qualification for site supervisors and Banksman certification for those who would be guiding traffic at the bottom of machinery.

Project Scope
Winning The Contract
Our company director, Lee, and contracts director, Craig, were asked to attend a meeting with the client. They were asked to explain what Just Spray would do differently from other companies used in the past, as well as pitch the proposed package. Although they were up against another big spraying company, Just Spray successfully won the contract.
Once we had won the contract, we revisited the client to sit down with their teams and delegate a Just Spray site manager to the project. We also brought a jet wash company to the meeting with us who would be responsible for preparing the entire building for spraying.
The Cleaning Process
As the B&Q store was open during the day, each step of this project was completed at night. Once the store closed, our team would arrive at the site, working to a very tight, strict deadline.
The first night involved beginning the prep for cladding repairs and was attended by our allocated cleaning company. They then spent three nights cleaning all exterior cladding, brickwork and curtain walling, ready for our operatives to begin spraying on the 4th night.
The Repair & Respray Process
Before starting any on site spraying, we prepared the elevation using fibreglass filler and U-POL body filler, then once complete, primed the surface. We then moved on to repairing and respraying areas of cladding that were damaged down to signage and other fittings, such as alarms being removed. Next, we protected all surrounding areas before applying a topcoat using an airless cladding spraying machine.
After all cladding was repaired and sprayed, we completed the same process for all curtain walling repairs. We also rectified damage on doors, trolley bays, totem poles and barriers, and dealt with any additional snags along the way.
The Project Management Process
As this project was completed at night, we utilised our daily report system. All works were emailed to each team member involved in the project, ensuring that everyone could be kept up to date, even when they were not on site. We also completed weekly inspections to ensure the highest standards.
Before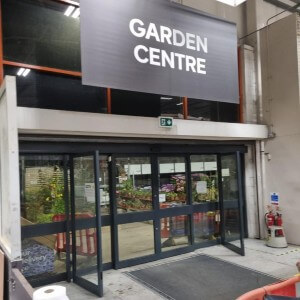 After
Book Now and Get Your
FREE

Quotation On All Services.

Providing quotes completely free of charge with no obligation. Call today!