What The Client Wanted
Wren Kitchens contacted Just Spray in regards to a repair and respray project on their store based in Enfield, London. They wanted to restore the appearance of the side flashing panels at the main entrance, creating an inviting first impression for customers.

Project Scope
Starting the project
Before any work could commence, we ensured that the colour of the flashing panels had been perfectly colour matched to the existing curtain walling. This would help to achieve a seamless finish on the Wren Kitchens busy storefront. Luckily for our clients, all of the colour matched coatings can be made by the in-house Just Spray team, which meant that this was a straightforward task.
Carrying out the project
Our team are dedicated to ensuring that every project is completed to the highest standard while keeping the site clean and tidy.
All of our clients also get a daily report from our in-house designed and developed mobile app, showing before, during and after pictures, along with a regular description of exactly what our teams have carried out.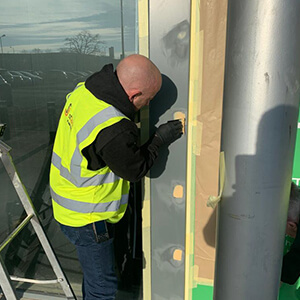 During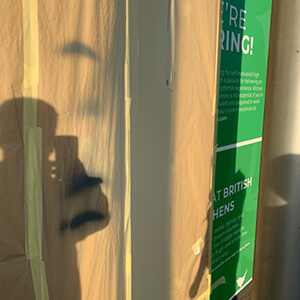 After
Services Used
Book Now and Get Your
FREE

Quotation On All Services.

Providing quotes completely free of charge with no obligation. Call today!