What The Client Wanted
The Just Spray team had been contacted by Jaydee Brook to complete a full building respray of an impressive Wren Kitchens Store. Upon our site survey inspection, it was notable that the building was surrounded by a large number of trees and bushes. The building was also very dirty and had a vast amount of germination on a range of external cladding panels.

Project Scope
Just Spray Project Prep
Before we could get started with the respraying project, it was imperative the team complete a full exterior building clean. The reason for this is the coating will often struggle to adhere to the substrate with the amount of dirt we found on this property. To ensure all of the dirt was eliminated from this Wren Kitchens store, we used both a Jet Wash at 3000 psi and hand cleaning.
Once we started the work, the team on site also had to assess the access requirements. One of the elevation points was on the main road located to the side of the store; therefore, traffic control measures had to be put in place when the cherry-picker was in use.
Carrying out the project
After the full building clean had taken places, and all access points had been assessed by the team, we used two different methods to spray the exterior of this property. HVLP and Airless spraying systems had been used to apply the coating, which was a 2K RAL 7012, this is Wren Kitchens signature brand colour.
The work was carried out by a number of different teams both throughout the days and nights to ensure we met our client's deadline.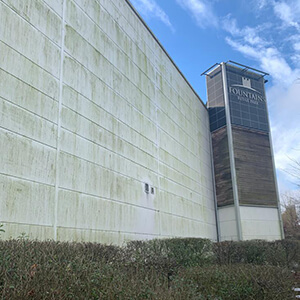 Before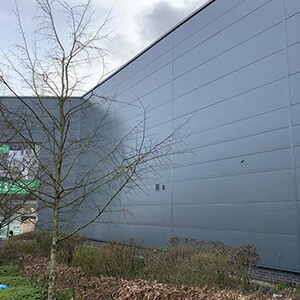 After
Services Used
Book Now and Get Your
FREE

Quotation On All Services.

Providing quotes completely free of charge with no obligation. Call today!