What The Client Wanted
Just Spray recently completed a project on the Wren Kitchens store in Huddersfield. Jaydee Brook contacted us to prepare and respray the front of the entrance canopy cladding panels on their store.

Project Scope
Starting the project
Due to the nature of the retail industry, we needed to work closely with the client to minimise downtime. They had requested for our team to attend the site during the weekend and outside of trading hours. This particular store was located on a busy retail park with a lot of footfall, which means that it was important for work to be carried out over the quietest period.
Carrying out the project
To begin the project, our specialist repair and spraying technicians attended site with a Z45 cherry picker. The additional equipment meant that every inch of the canopy could be reached with ease. All operatives of Just Spray also hold 3a and 3b IPAF cards as standard, meaning that they are up-to-date with the latest safety practices.
All of the work to the Wren Kitchens storefront was completed to an exceptional standard and within the given timeframe. On completion of all projects, our team will always ensure that your premises are ready to begin using again. All areas are left clean, tidy and meeting all health and safety regulations.
During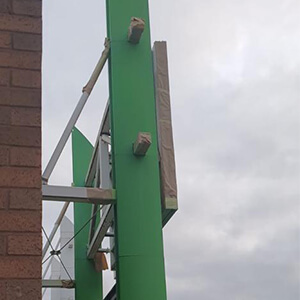 During
Services Used
Book Now and Get Your
FREE

Quotation On All Services.

Providing quotes completely free of charge with no obligation. Call today!