Having spent many years as commercial spraying specialists, we are proud to have built an outstanding reputation, giving us the opportunity to work with a broad scope of clients. The knowledge, skills and experience of our hardworking operatives now mean that they can cater to all building types, so we thought we would introduce you to just some of the many we offer our services to.
Building Types We Typically Work On
Our success in the industry has come from our dedication to quality, taking time to thoroughly analyse every project before beginning works. Whether it may be a repair of dented cladding or a complete building respray, every project will be handled with the same attention to detail. If you have a project in mind and need our help, here is just a handful of examples of projects we have completed in the past: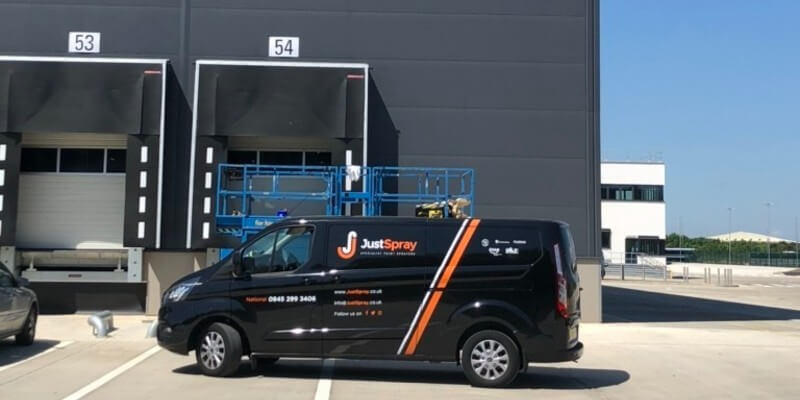 When working on any commercial building that experiences a constant footfall of visitors, the key is to always begin with the logistics; however, this is particularly important when working on train stations. Train stations go through their fair share of wear and tear, yet maintenance can often be neglected as disruption to travellers must always be minimised. However, this most definitely doesn't mean that it is impossible, and our team have experience ensuring that projects are completed to the highest standard without causing downtime.
Last year, our operatives had the pleasure of completing a repair and respray job at Leeds train station. As the only time that trains quietened down and the station would be empty was during the night, we opted for working between 11pm and 5am. Due to this project's time-sensitive nature, we ensured that detailed plans were put in place, including the necessary equipment and paint colour matches.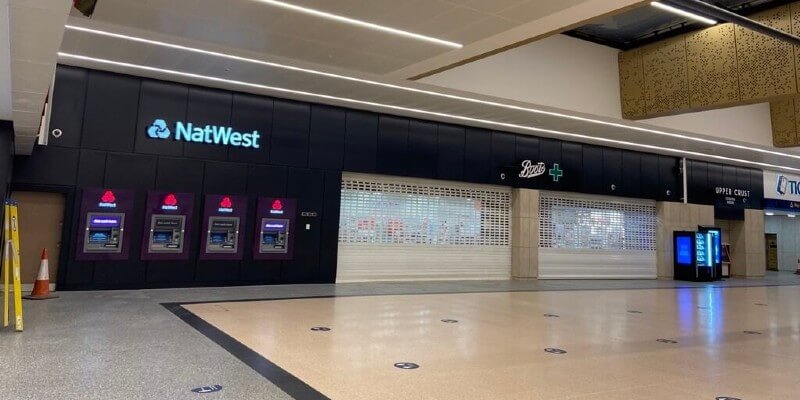 When it comes to restaurants, there are several different spraying services we are able to offer on both the interior and exterior of the building. These not only help to maintain an aesthetically pleasing appearance but also hygiene standards.
One key service we specialise in is food safe spraying, which is typically used in restaurants' kitchens and involves specialised coatings resistant to bacteria build-up. It means that even if grease, oils and foods are spilt onto the surface, they will clean with ease and germs will not be spread.
Along with ensuring the safety of the inside of restaurants, we can also help with repairing damage to the outside or assisting with rebranding. An example of this is a project we carried out on Frankie & Benny's in Redhill, which involved spraying a 2k polyurethane coating onto the exterior curtain walling. We used an HVLP Turbine System, which offers an even, seamless finish.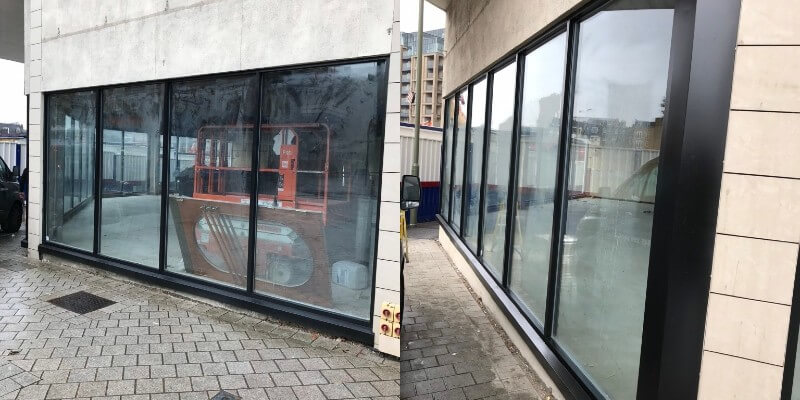 Another commercial site type that requires careful planning, perhaps even more so than a train station, is an airport. There is no period, day or night, where the building is empty, which means that each stage must run smoothly without any delays. For this reason, before every project, regardless of the type, we will always complete an initial survey. Our contracts director, Craig, typically carries out these and they are used to ensure that time can be optimised effectively while on site. A while back, we worked on a project with Manchester Airport to prepare their new terminal, which had a strict deadline date to allow it to open on time. Thanks to the site survey, we were able to predict that we would need a scissor lift and cherry picker, so ensured these were on site when we arrived.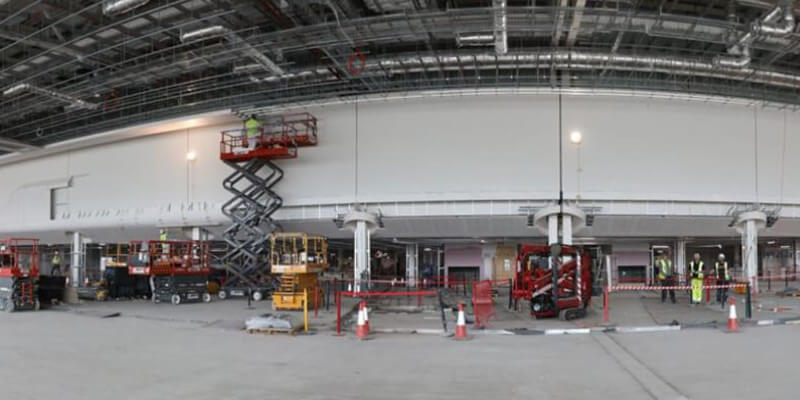 For any car dealership, maintaining a positive first impression is vital, so when the building experiences damage and begins to deteriorate, scheduling repairs is vital. Over our many years in the industry, we have been lucky enough to work with various dealerships from Mercedes-Benz to Honda, carrying out various works. For Honda, we were instructed to their dealership in Wigan to repair and respray the branded totem pole outside their building. The colours had faded, and there were many scuffs in the paintwork, but through a colour matched 2k coating, we were able to restore its appearance in just one day.
Our work with Mercedes-Benz, on the other hand, spans across many years, and we have been able to build a strong relationship. They regularly contact our team for works across the country, including the renovation of their brand new commercial dealership in Smethwick. We worked with them to completely transform the exterior of their new site, offering specialist coatings that would remain durable for many years to come.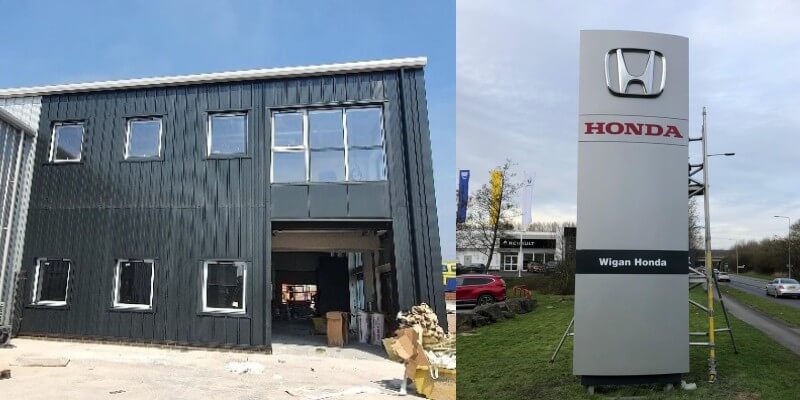 By far, one of the most common site types we work on is office buildings as there are an array of different ways that onsite spraying can be used to improve their appearance. In some cases, we are even contacted by clients who are completing a dilapidations project and need our help to restore the office to its original condition before their lease comes to an end. Other ways that we can help include curtain walling spraying, roof repairs and cut edge corrosion treatments, just to name a few!
A fantastic example of our work on an office building is a project we completed in Winterhill, Milton Keynes. We were first approached by the client after they had spoken to several different spraying companies and concluded that Just Spray was the best. They were initially told that they would need to replace all cladding, but after a site survey, we were able to offer them a cheaper but just as effective alternative in the form of a full building respray. On completion of the project, they were so pleased with their results that they asked us back for additional works, including staircase spraying!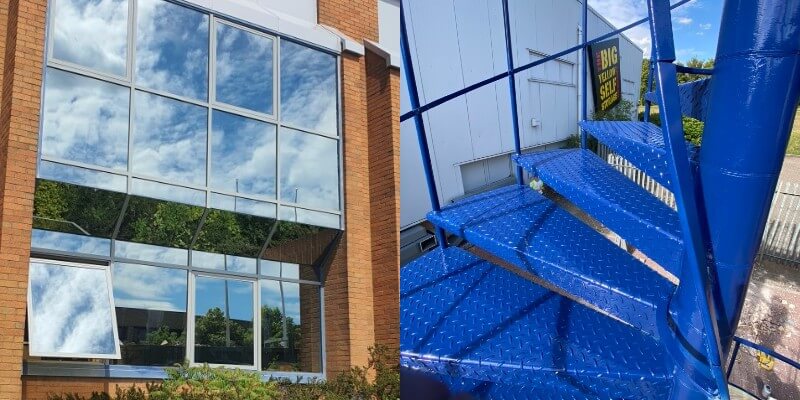 Much like car dealerships and restaurants, retail units must also ensure that they maintain a visually appealing, damage-free exterior, which means that we are often called for last-minute repairs. Whether it may be a delivery truck causing dents or passersby on a busy high street scratching paintwork, there are a number of reasons as to why cladding may become damaged. Our team will always strive to complete repairs around your opening hours, ensuring that trade is not impacted. For this reason, we have built an excellent reputation and are regularly approached by nationwide companies such as Wren Kitchens!
Along with restoring your shop front, our operatives are also experienced at renovating the inside, just like the project they completed for reputable jewellery shop, The Vault. The outdated deep brown cabinets were fully prepped and then seamlessly resprayed in a modernised RAL 7016 grey, bringing a new lease of life to the store.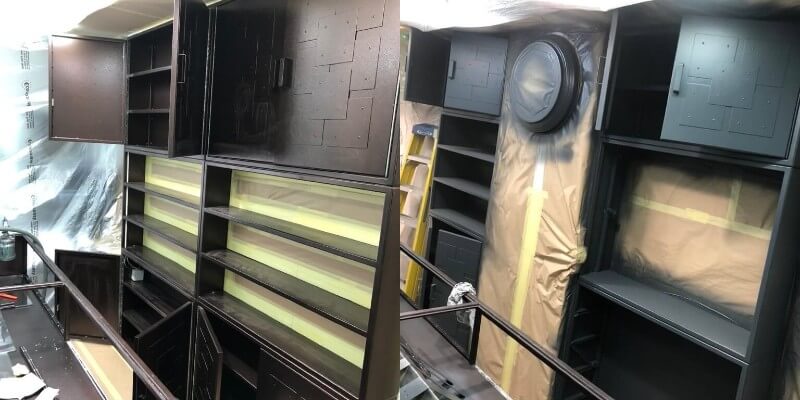 An industry type that we often work with yet does not always come to mind when it comes to commercial spraying is data centres. Our team have been involved in two major projects both in the UK and overseas for clients who needed to repair damaged, deteriorating cladding panels inside their data centre.
The first project was based in Welwyn Garden City for a large data centre that had experienced damage to their white liner panels during the construction process. Due to the nature of the industry, our operatives working on the site needed to obtain the correct credentials to gain access through security. Once inside, they used 2 VOC monitors to ensure safety while spraying, along with extraction units to remove any fumes.
Our second data centre project was all the way in Lisbon, Portugal, which meant that our initial site survey was completed via a video call. Our team travelled using the Eurostar and then completed works overnight around other trades on site to meet the deadline.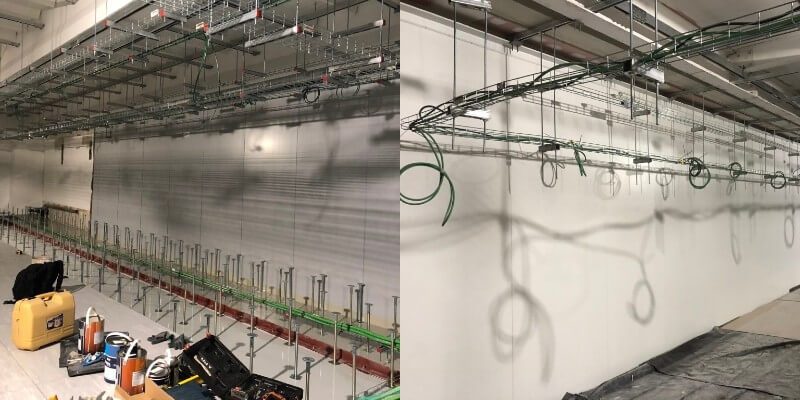 Industrial units and warehouses tend to be prone to the most damage due to the constant use of large machinery and vehicles travelling in and out. Although they are typically designed with hard-wearing metal cladding, heavy impact can still leave dents and scratches. Luckily, our team is armed with the experience, knowledge and equipment needed to rectify all damage types without the need for panel replacement. We also offer a bespoke colour-matching service, which is ideal for repairing damage to large units. As opposed to having to respray the entire building, small areas of damage can be repaired and then just that section recoated.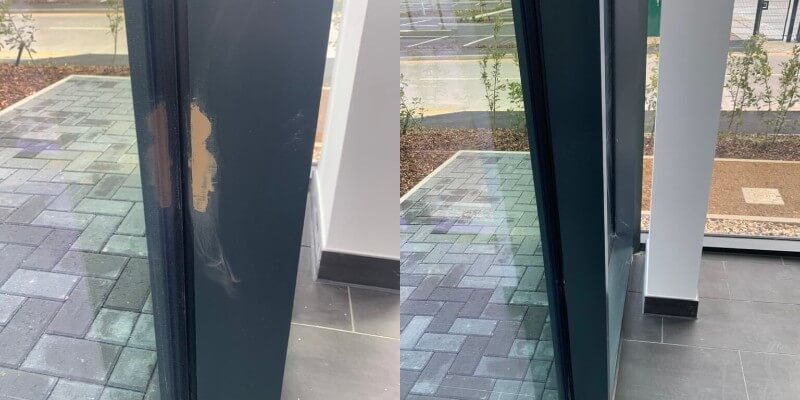 Similarly to restaurants, cleanliness is of the utmost importance when it comes to managing a laboratory, making it another industry that regularly utilises our hygiene spraying services. When working on a laboratory site, we must also ensure that all areas surrounding the surface we will be working on has been masked to prevent overspray on equipment. In some cases, we may even remove particular aspects that need recoating and work on these away from the site, again protecting equipment.
A few years ago, we were thrilled to be asked to complete a project for the National Physical Laboratory in Teddington, involving respraying a selection of their control doors. Extensive planning went into this project, ensuring that the new coating was a seamless match to the other areas of the laboratory and no downtime was caused. We were pleased to receive fantastic feedback from the client, who thanked us for our high-quality service and first-class finish!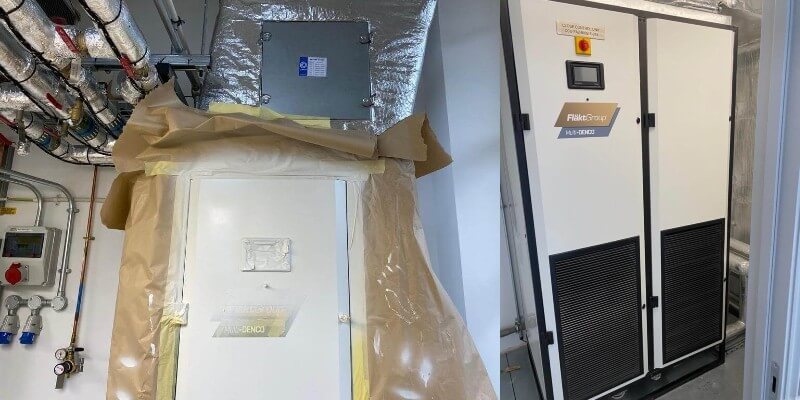 Some of the biggest projects we have been involved in have been for football clubs, including Tottenham Football Stadium and Dagenham Football Club. These have both involved repairing and respraying several areas across the stadiums from the exterior cladding to executive boxes and directors suites.
The work on Tottenham Football Stadium, in particular, lasted for 18 months and for much of this, our operatives worked seven days a week, on day and night shifts to ensure that jobs could be completed around other traders on site. This commitment to excellence and quality has lead to us building strong relationships with all of the football clubs we have worked with.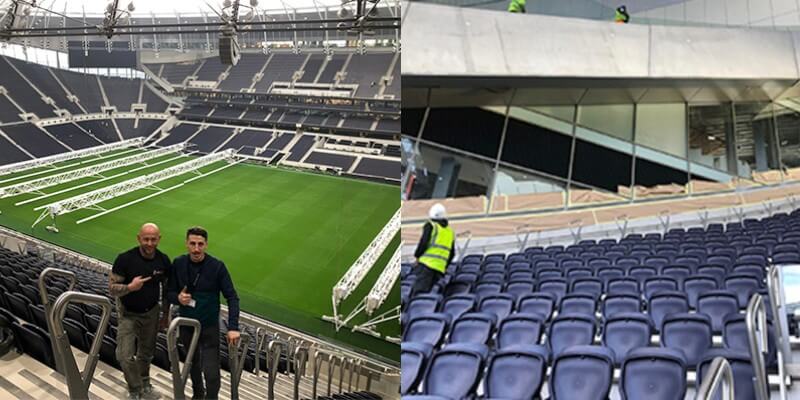 Spraying Services Tailored To You
The list of industries above is just some of the many examples of the different building types our operatives are experienced in working on. We are always eager to take on new challenges and further enhance our knowledge, so do not rule out any commercial property type. Our goal is to ensure that you receive the cladding services that you require, so we will work hard to tailor our expertise to fulfil your requirements. For more information on any of our services or to book a site survey, please do not hesitate to get in touch. Our team are always looking forward to getting stuck into new projects!