What The Clients Wanted
During the recent refurbishment of Dagenham Football Club, the contractors carrying out the refurb asked us to respray some of the original cladding to match the new cladding they were installing onto the building.

Project Scope
Starting the project
Prior to us sending over a quotation for the job, we sent out Contracts Manager Craig to the Football Club to carry out a full site survey. The benefit of viewing a job before sending our quotation is that it ensures both Just Spray and the contractor have all the relevant information in a professional site audit report. The report includes:
What paint we spec and recommend
What access we will be using – taking into account ground condition and access around the building to the elevations we are required to work with
The current condition of the cladding – considering if the cladding needs any intervention before spraying, such as repairs or high-pressure jet washing.
Once our report has been compiled by Craig and our office staff, we build our quotation and send this to the client with technical and data sheets of the products we will be using. Additionally, the Contracts Manager will always attend the first day of work.
Carrying out the project
The project at Dagenham Football Club took us six days to complete. The job required both a cherry picker and an electric scissor lift to facilitate the works. The spraying was completed using both HVLP and a petrol airless paint sprayer.
All of our operatives have Just Spray livered vehicles and wear full uniform. We are the most accredited spraying company in the UK and have a combined industry knowledge of over 60 years, so our client was confident in our work.
Three of our team are qualified ICATS trainers for CSCS, meaning you can always be rest assured you are dealing with the most experienced and qualified company in the industry. As well as this, we also have many staff members that are SSSTS cardholders. The SSSTS qualification ensures holders have an extensive understanding of the following:
Health and safety laws
How to control site safety
Risk assessments
Effective site inductions
How to monitor site activities
Timely intervention when bad practise is identified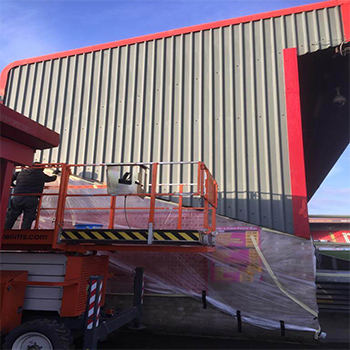 Before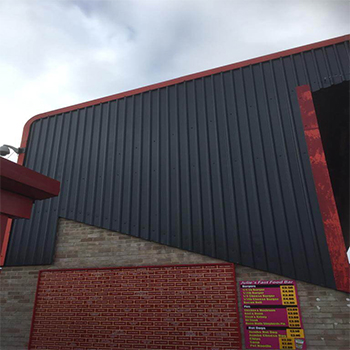 After
Services Used
Book Now and Get Your
FREE

Quotation On All Services.

Providing quotes completely free of charge with no obligation. Call today!