What The Client Wanted
The Just Spray team had recently completed a full on site spraying on a property in Winterhill, Milton Keynes. On completion of this work, the client was so impressed with the level of efficiency, quality of service and customer care, that they asked the team to return to complete further work on a staircase on the back of the building, which was damaged due to a failed powder coating completed by another contractor.
Project Scope
Just Spray Project Prep
The team already had an idea of what the client was expecting, and the project was able to commence within due course due to existing knowledge on the property and client needs. A site survey was completed to gather an understanding of the damage so that our operatives were able to complete the project to a high standard, much like that of the work that had already been completed beforehand.
Carrying out the project
From this survey, the team were then able to arrange jet washing of the staircase, lamposts and security entrance barrier to strip the failed paint and restore it to its original galvanised steel. This created the perfect canvas for our operatives to respray the property with a higher quality paint that would guarantee longevity and durability.
Once the areas had been jet washed, the lampost was then prepared, and a rust treatment was carried out before it could be resprayed. After this, a proxy primer was used on the stairs and lampost before the topcoat was applied. The topcoat was completed in a 2K paint; this paint was also used for the barrier for a coherent appearance.
All of the work completed on the lampost, staircase and security entrance barrier was completed within four days. The client was pleased with their commercial spraying, and the team were exceptionally happy with the results.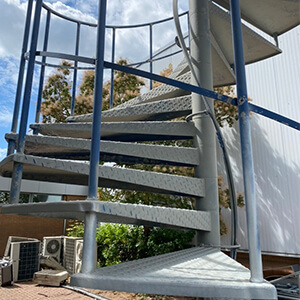 Before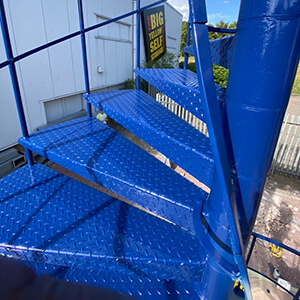 After
Services Used
Book Now and Get Your
FREE

Quotation On All Services.

Providing quotes completely free of charge with no obligation. Call today!