What The Client Wanted
We recently worked on a full building cladding spraying and curtain walling spraying project for a client in Winterhill, Milton Keynes. The client had contacted several different spraying companies before choosing Just Spray as the specialists that they believed would achieve the highest quality of results.
Project Scope
Just Spray Project Prep
To prepare for the project at hand, Craig from the Just Spray team attended the client's property for a meeting and site survey. During the visit, Craig discussed requirements with the client and took a walk around the site to determine what the project would involve. He assessed the cladding panels and curtain walling before suggesting the most effective solution to ensure that the results looked as good as new.
Initially, the client had requested a complete replacement of all cladding. However, after inspecting the affected areas, Craig was able to offer an alternative solution that achieves their desired results while saving their business a vast amount of money. This would include respraying the panels as opposed to replacing them, reverting them back to their original condition.
Carrying out the project
The client went ahead with Craig's suggestion, so a sample was taken from the panels, allowing us to perfectly colour match shades for a seamless finish. As the project involved the respray of panels, cappings and curtain walling, three different colours were used on the building.
As we are continuing to work through the pandemic, we put several preventative measures in place to combat COVID-19. We used two different z45 cherry pickers to ensure that operatives did not have to share equipment and could social distance throughout the project. This allowed them to work together to repair and respray the panels while staying two metres apart.
We also only completed work on the external aspects of the building, meaning that we did not come into contact with anyone for the duration of the project. Our operatives travelled alone to the site, instead of sharing a van, meaning that the spread of the virus could be kept at a minimum.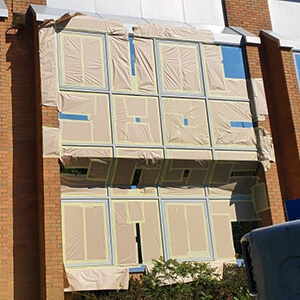 During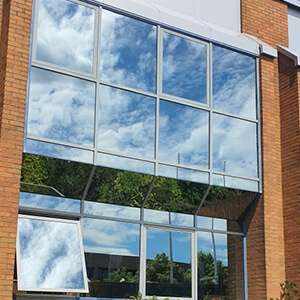 After
Services Used
Book Now and Get Your
FREE

Quotation On All Services.

Providing quotes completely free of charge with no obligation. Call today!