Having worked with clients both in the UK and overseas for over ten years, every year, we are lucky enough to be overwhelmed with exciting projects for a range of different industries. Throughout 2021, we have had the opportunity to complete projects for a number of well-known brands that have entrusted our reputable team to transform their commercial property. And, as the year is now reaching a close, we felt it was the perfect time to take a look back at just some of the excellent clients we have worked with!
We're Proud To Have Worked With Leading Brands!
Our goal is always to deliver quality, reliability and professionalism, which has remained the foundation of every project throughout 2021. We have worked on a whole host of exciting projects, from exterior repairs and refurbishments to respraying interior staircases, structural steelwork, flashings and much more – there really is no limit to the capabilities of our team!
You can keep in the loop with all of our recent projects over on our case studies page but in the meantime, let's take a closer look at the work we completed this year for the following well-known brands: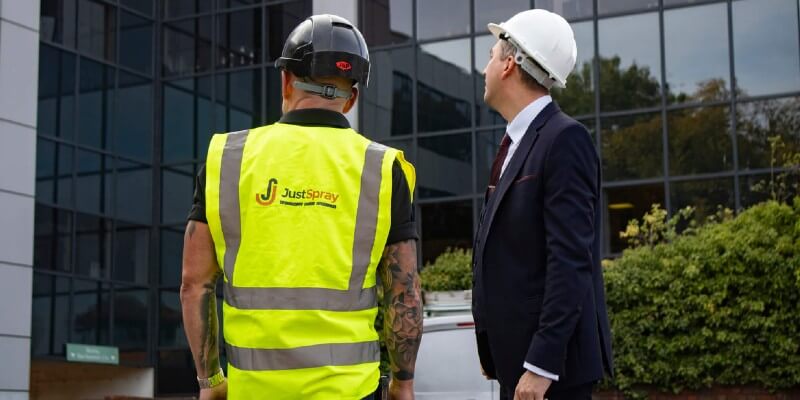 In October, we completed a full building works project on the B&Q store in Chingford. Due to the high standards that the brand must upkeep, we met with the client initially to pitch our proposed package and explain how we would deliver the project. Having successfully won the contract, we worked with an external company to clean the building before works began.
During this project, our team used products such as fibreglass filler and U-POL body filler to prepare surfaces that were damaged down to removing signage, alarms and other fittings. These surfaces were then recoated using the airless commercial spraying method. Along with panel repairs and respraying, we also rectified damage on doors, trolley bays, totem poles and barriers.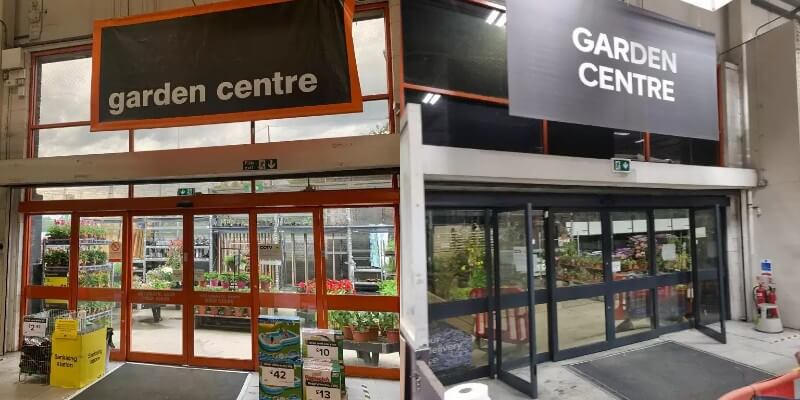 We've been lucky enough to work with Mercedes Benz in the past to refurbish their new commercial dealership in Smethwick. This year, we were instructed by the global brand to correct poor quality works completed by another spraying company.
Our site manager, Craig, attended the site to assess the cladding and create a plan of action for our operatives to ensure maximum efficiency. This included using a spider machine to access panels over an unlevel ground service and using coating shades that had been colour matched to the Mercedes Benz branding.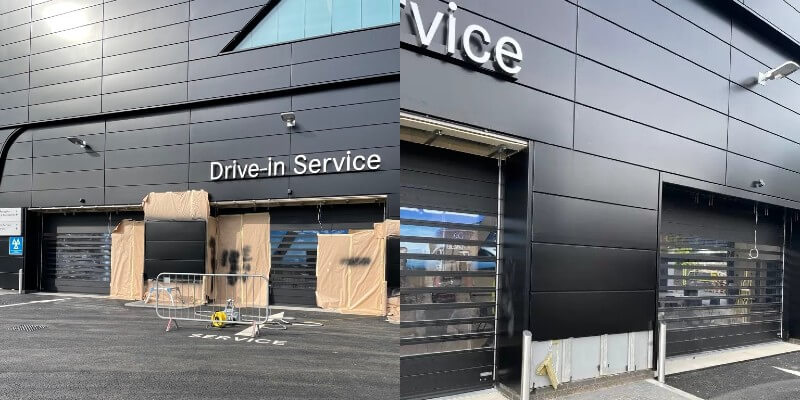 It was great to have the opportunity to work with Sports Direct for the first time to prepare their new store in Cheshunt. This was an internal on site spraying project that involved recoating the ceilings of the building with a colour-matched shade.
Much like many of our projects, Sports Direct was working on a tight schedule which meant that our operatives used an airless spraying machine to cover a larger surface area at once. We also delivered a scissor lift to the site for easy access to the spraying area, which was then operated by our 3A and 3B IPAF trainer team members.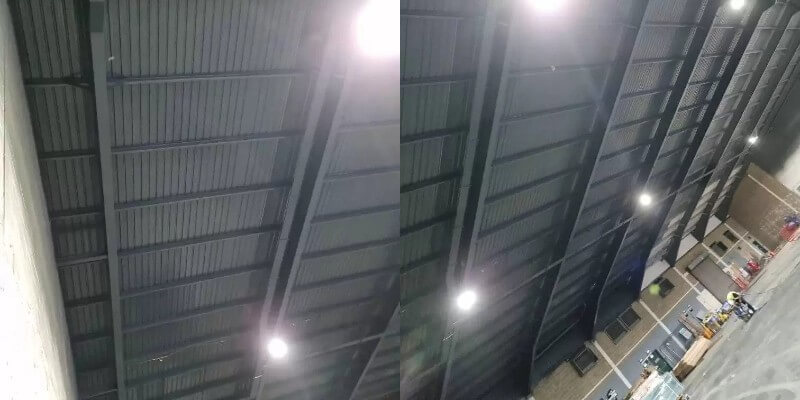 Another globally recognised brand we had the pleasure of working with in 2021 was Amazon. Our skilled operatives completed seamless external micro rib cladding panel repairs on one of their sites in Redditch, Worcestershire.
Like almost all Amazon warehouses, this property had a gradient effect paintwork featuring several different shades, so during the site survey, colour samples were taken to ensure a perfect match. It was concluded that Grey White, Merlin Grey, Light Blue, Anthracite Grey and Goose Wing Grey would be used and applied to the cladding using the HVLP spraying method. Our operatives used a z45 cherry picker and a 3-metre tower throughout this project to reach higher level works.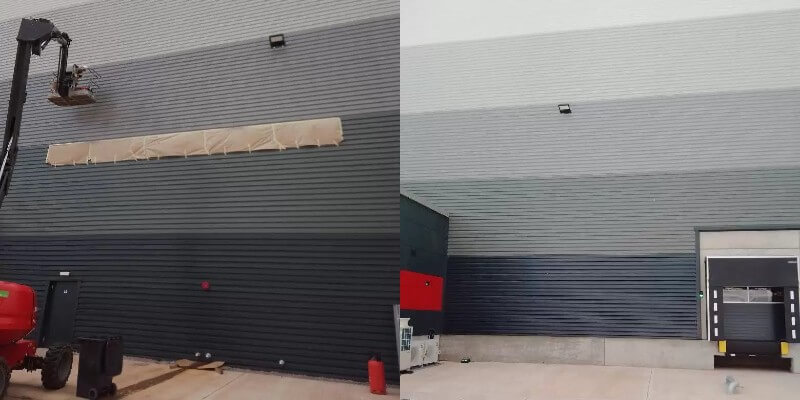 When the paintwork on their entrance doors had started to fade, the building owners of the Saniflo office in Watford contacted our team for their expertise in onsite coatings. They explained that the doors had gone through wear and tear over the years, so they were eager to revitalise the appearance of the office's exterior.
To ensure no disruptions to operations, we scheduled all works to be completed over the weekend while the office was closed. Both the interior and exterior of the doors were resprayed in the shade Brilliant Blue with a 30% gloss using the HVLP spraying technique.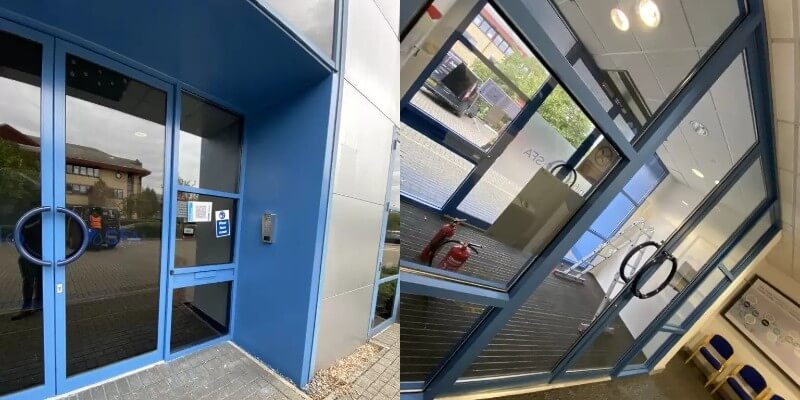 One of the more unique projects we completed this year was for the wedding venue Crescent Hall based in Luton. Our client enlisted the support of our team to update the exterior of their building ready for the wedding season, including curtain wall repairs and respraying.
As Crescent Hall was a traditional brickwork building, ensuring that these areas were precisely masked before any works took place was vital. Once our operatives were sure that the brickwork was safe from the risk of overspray, they got started on the repairs before applying an Anthracite Grey coating. Both scaffolding and a Z45 cherry picker were used throughout this project.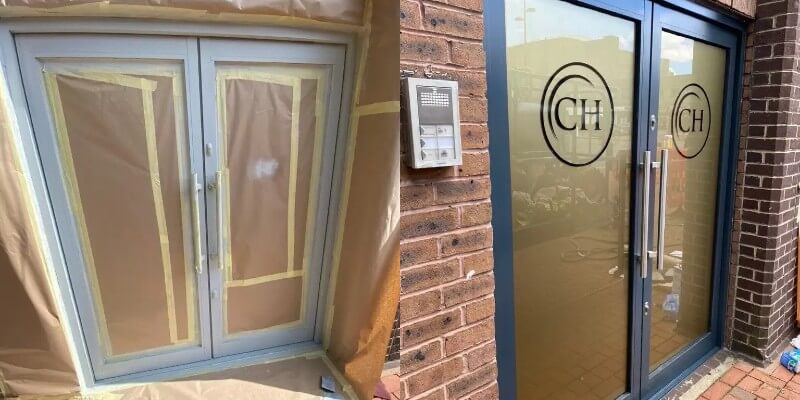 Our project for Onitsuka Tiger involved repairing metal structures inside their store on Regent Street in London, ensuring that the shop floor continued to look pristine.
To ensure that the brand did not miss out on any sales, we scheduled all works to be completed overnight, preventing disruption to their opening hours. We also used additional equipment, including extraction units, to allow all paint fumes to be vented out of the building before the store reopened in the morning.
During the project, our operatives first welded the structure's joints before recoating the metalwork. They used the shade 901 white in a 2K finish, which perfectly matched the client's specifications, and sprayed the surface using the HVLP spraying method.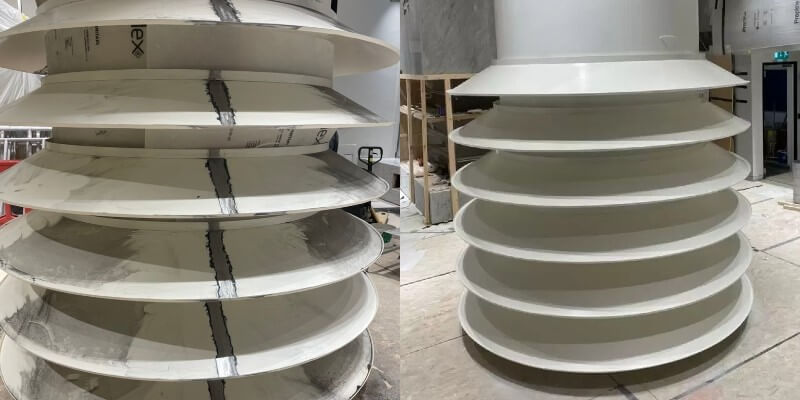 In the summer of 2021, our operatives completed a large scale project on a BMW car garage in Brighton. Our client had instructed our team to carry out different works across the exterior of the building, including fixing holes, taking down old signage and updating the colour of the cladding panels.
Through the initial site survey, we were able to assess the damage and determine whether additional access equipment would be necessary. We concluded a z45 cherry picker and PASMA tower needed to be on site throughout the project as almost all works were on higher-level areas.
As requested by the client, our operatives changed the garage's exterior from black to white using the HVLP spraying method; this took just one week. We liaised with the client throughout to ensure that cars nearby to the spraying area were moved to prevent damage.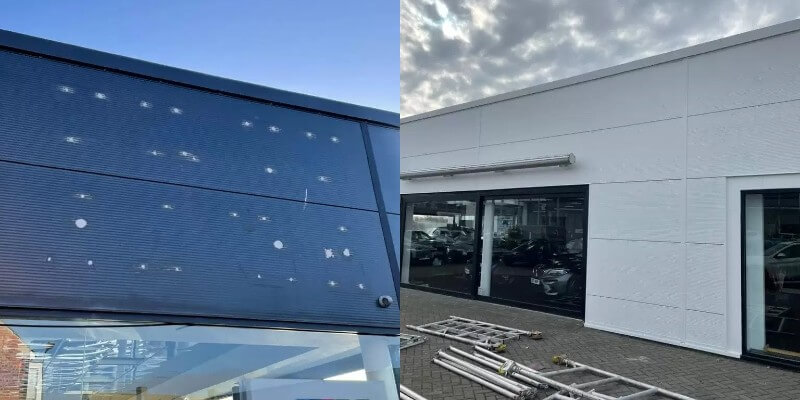 We're Looking Forward To 2022!
Above are just some examples of the array of different projects our team have worked on throughout the year, each of which we have received excellent feedback from. And, as always, we are looking forward to building new client relationships and tackling different projects in the New Year.
With this in mind, we are now scheduling site surveys and booking projects for 2022, so if you require our assistance, please do not hesitate to get in touch. From interior and exterior cladding spraying to curtain walling, roof sheet and cut edge corrosion repairs, our team specialise in many commercial services. We would always be more than happy to provide a free quotation and book a site visit!