From lifts and staircases to doors and windows, there are an array of components that make up a commercial property. Although preventing minor damage or wear and tear on these elements can be almost impossible, this needn't dampen the overall appearance of your premises. Having worked with hundreds of clients over the years, we have worked on a wealth of projects involving renovating the interior of buildings through our specialist coating services. To give you an idea of the endless possibilities that come alongside interior spraying, we have put together just a handful of our favourite projects!
How We Have Used Interior Spraying To Transform Commercial Properties
We recognise that every commercial site is different, which is why we always spend time during a survey to determine the best suitable products, application method and equipment to maximise results. Depending on the surface that you wish to respray and the material it has been manufactured from, we will alter our techniques to accommodate both of these factors.
If you are interested in interior spraying but want to know more before getting in touch, why not take a look at the many examples below?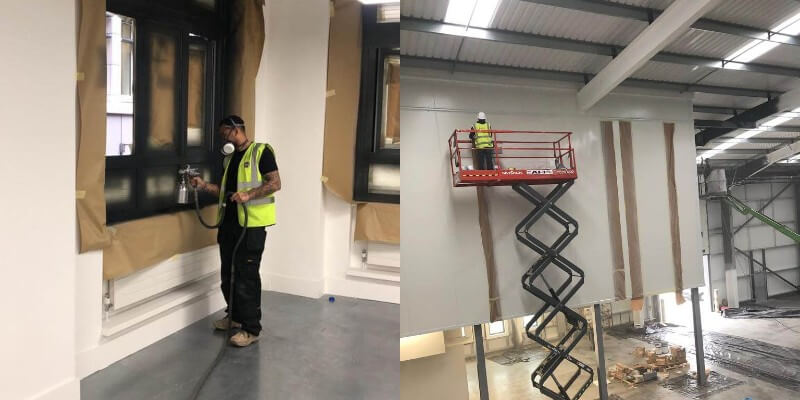 In the majority of commercial sites, whether this may be an industrial unit, office or retail store, it is more than likely that the staircase will be made from metal. Metal offers excellent durability and is more than capable of withstanding constant footfall. However, if left without the correct maintenance, it isn't uncommon for metal staircases to begin to rust. In this instance, not only does the staircase no longer look aesthetically pleasing, but immense dangers begin to arise. As the rust causes the metal to swell, it starts to push any materials surrounding the adjoining areas of the staircase to move away. In return, the strength of the staircase will begin to weaken, creating a huge health and safety risk.
Should you notice rust on a metal staircase, it is possible to rectify the issue before it develops through staircase spraying. At the start of the year, we completed a steel staircase respray project in Daventry, which involves using colour-matched coatings to restore the staircase to its original condition. Our operatives used an anti-corrosive alkyd primer in the shade RAL 7037, which not only masked any signs of rust but would also prevent any further issues.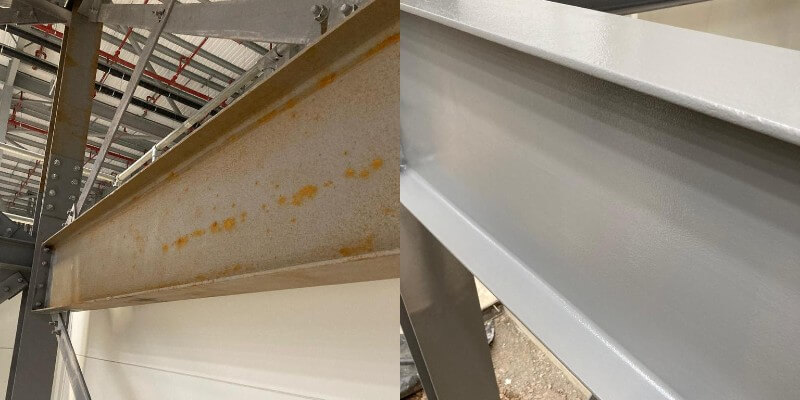 Interior doors go through their fair share of wear and tear, whether this may be scratches or dents. And although it is almost impossible to prevent minor damage, allowing the condition of your doors to worsen can impact the overall appearance of your commercial property.
In the past, refurbishing doors was a time-consuming task that required a caretaker or decorator to spend hours carefully painting each area; however, this is no longer the case. Using the advanced HVLP spraying method, our experienced team are able to reapply a durable coating in the colour of your choice in minimal time.
Having spent many years working with clients in all industries, we recognise the idea of repainting doors during working hours can be daunting, which is why we would happily visit outside of the typical working day to complete the project. We recently worked on a project for a data centre in Welwyn Garden City, which was completed overnight to prevent any disruption. Applied to the doors was a 2k coating which meant that the doors became stronger and far more capable of withstanding impact without damage.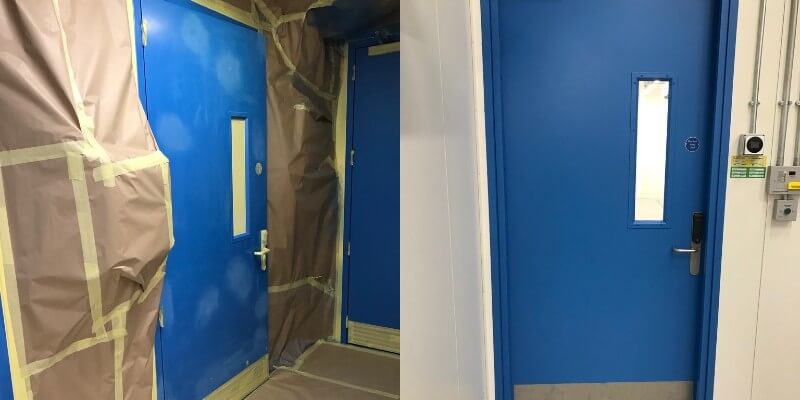 Lifts are a key aspect of many commercial properties but often go unconsidered when planning refurbishments. Much like staircases and doors, lifts are used day in, day out, which means that they can begin to look outdated. Many assume that the only solution is to replace the lifts altogether, which can cause immense downtime for any business, yet the problem can easily be solved with as little as a fresh coating.
Our team are well-versed in lift spraying, and if you are interested in this service, we suggest taking a look at the project we completed on Lime Street in London, as well as the respray carried out in South West London. These are both excellent examples of how adding a new coating to a lift can make a significant difference. In both cases, we opted for using a specialised extraction unit to minimise paint dust and extract any fumes, keeping both our team and our client's staff safe. We also completed the respray using coatings that were custom chosen to meet the demands of our client's property, offering them a long-lasting solution.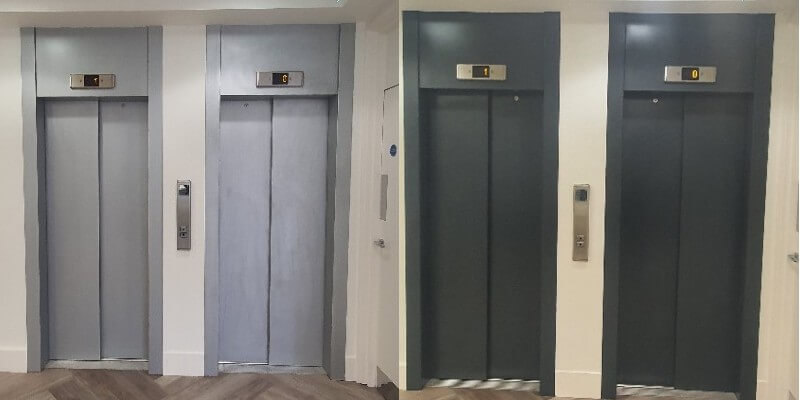 By far, one of the most popular interior spraying services amongst our clients is wall spraying as it is a versatile solution for transforming all manner of commercial property types. Not only is it ideal for those with damaged walls but also brands who are looking to add a new lease of life to their premises or have recently moved into a new site and want to make it their own.
To ensure that our operatives face no limitations when completing wall spraying, all team members are IPAF certified 3a and 3b as standard, which means they are fully trained to operate all access machinery. This means that we can complete wall spraying for all manner of site types, from warehouses with high ceilings to offices with many small crevices to reach.
On our case studies, we have a host of examples of various wall spraying projects that we have completed in the past for clients such as Leeds Train Station and Manchester Airport. If you have any questions regarding our services or would like to book a site survey, please do not hesitate to get in touch!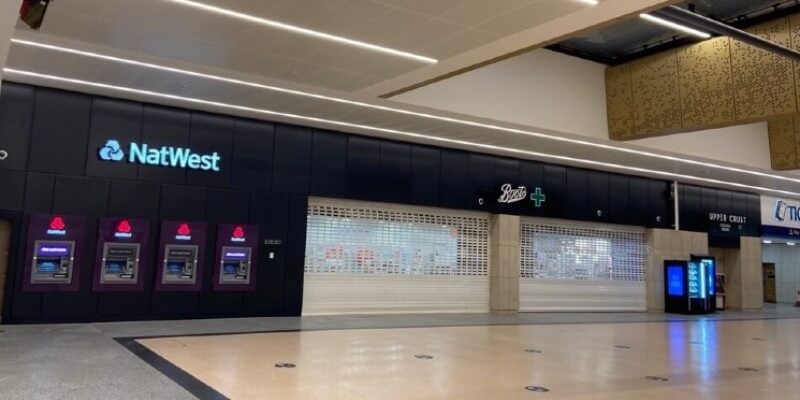 The flexibility of commercial spraying means that it is capable of renovating a wealth of different components of your property, including furniture. At Just Spray, we can not only offer on site spraying, but where necessary, we can also take furniture to our HQ to respray, meaning that downtime to your business is kept at a minimum. Our operatives can then return to your site on a date chosen by you to reinstall the furniture.
One of our favourite furniture spraying projects we have completed was for the prestigious The Vault Jewellery Shop in London. The owners of The Vault contacted our team to respray the cabinets across the store, swapping their brown colour scheme for grey. Our client chose the modern RAL 7016 shade, also known as Anthracite Grey. Before applying the coating, our team ensured that all surfaces were sanded down to create a smooth foundation, which would prevent bumps, cracking or bubbling as the paint dried.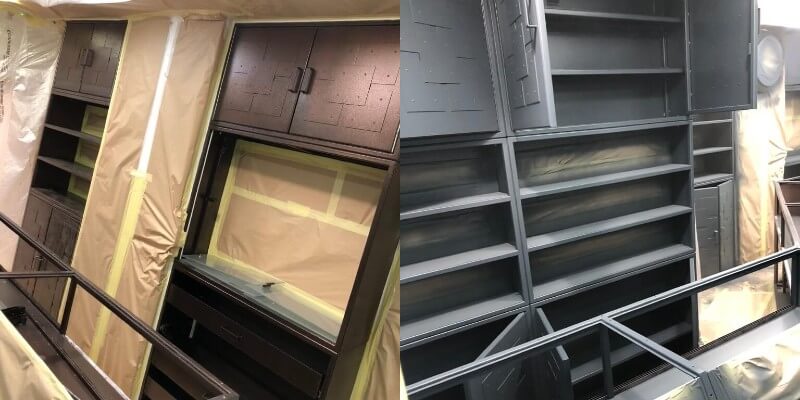 Many of our clients get in touch with our reputable team to repair and respray elements of their building that have been damaged during the construction process. One of the most common components that is often prone to knocks and scratches during installation is window frames. In this instance, our team are always more than happy to visit your site to close off any snags and repair minor damage through window frame spraying, ensuring that the end product is always of the highest quality.
Window frames, although not always considered, can also create a striking focal point of your space, particularly if you opt for a simple interior design but add a pop of colour through the frames. For example, a few years ago, we completed a project at an office on Lime Street in London, which involves respraying their white window frames to RAL 7016 in a 30% gloss. This was just one aspect of their office renovation and, as you can see from the photos below, made a huge difference!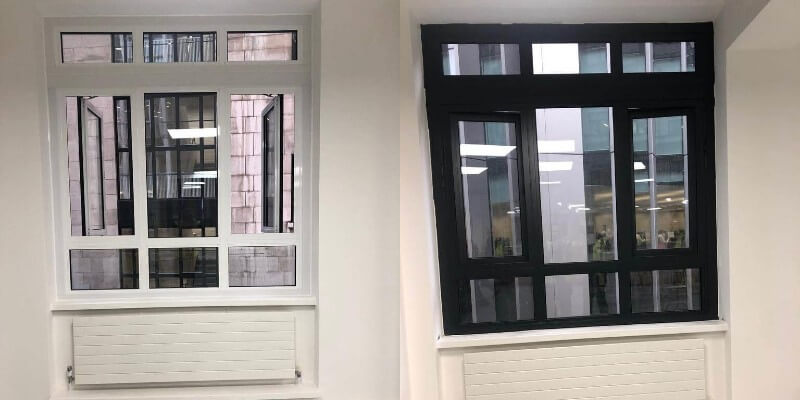 Opting for ceiling spraying is a significantly more straightforward technique to recoat the surface, compared to traditional methods, which often involves hand-painting. It allows projects to be completed in as little as a day, allowing the coating to cure overnight and ensuring that companies can be back in business by the next day.
There are many reasons why our clients enlist our help to respray their ceiling, from improving the overall appearance to repairing growing damage. In more niche instances, our clients contact us looking to recoat the inside of their building as the existing paint no longer serves its purpose. A particularly good example of this is a project we completed at Wilsford Heath Farm in Lincolnshire. Our client was planning to install new processing machinery; however, they noticed that condensation had started to build up on their internal roof sheets, which would damage the machinery if left. After a site survey, we concluded that the Tikkurila GrafoTherm anti-condensation coating would be the most effective solution, which ensured no further risk of condensation.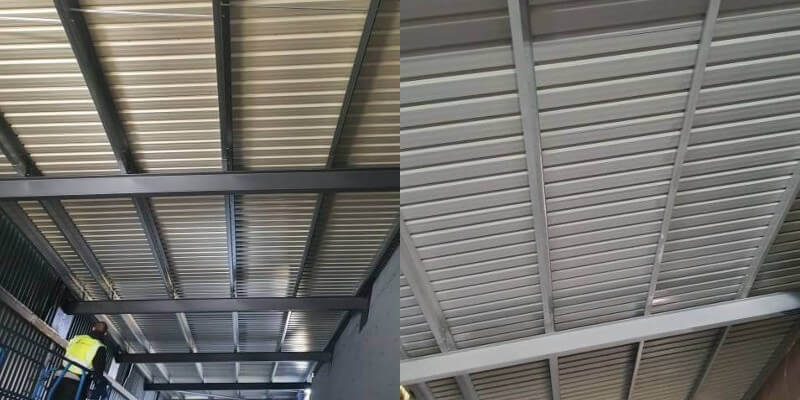 Contact Our Team To Book A Survey!
Before beginning any project, we will always schedule a site survey to assess the areas that you wish to respray and begin to piece together a scope of works. This also gives you an opportunity to discuss any project-specific requirements and answer any questions you may have. With this in mind, if any of the services mentioned above fit your requirements or you would like to speak with an expect before booking in, our team are always just a phone call away.