What The Client Wanted
Just Spray recently worked on a project with a client who was planning to install new processing machinery. The client having noticed a build-up of condensation on the internal roof sheets contacted Just Spray for their recommendations on how this could be stopped.
Project Scope
Just Spray Project Prep
To determine what would be the best-fitting products and equipment for the project, it was essential for the team to complete a site survey. We concluded that the Tikkurila GrafoTherm anti-condensation coating would be the most effective solution, which is a water-based product. It is designed with a microporous structure, which breaks the water surface tension and spreads the moisture over the coating. This meant that there would be no risk of condensation and dripping water, causing damage to the new machinery. We then arranged a time and date convenient with the client to start the project.
Carrying out the project
The team arrived on site and completed safety checks before the project commenced. Throughout this project, a scissor lift was used to gain access to the higher levels of work, which was completed by our highly trained operatives. All Just Spray operatives are PASMA and IPAF certified to ensure maximum safety during all projects. The Tikkurila GrafoTherm anti-condensation coating was applied to the steel roofing sheets and walls via an airless spray system to the manufacturers recommended film thickness. The client was very happy with the results of their onsite spraying and experienced minimal downtime.
For similar work or other commercial spraying projects, please contact the team to arrange a quote.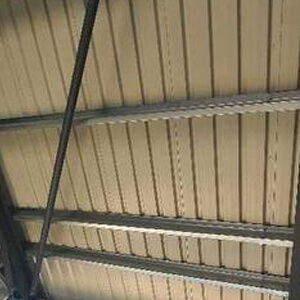 Before
After
Services Used
Book Now and Get Your
FREE

Quotation On All Services.

Providing quotes completely free of charge with no obligation. Call today!