What The Client Wanted
In the past, we have worked on various spraying projects in data centres, even travelling to Lisbon in Portugal to complete a job. This particular data centre project was in Welwyn Garden City, and we were asked to spray some internal doors that had been damaged during the construction process.

Project Scope
Just Spray Project Prep
To ensure that the spraying did not disrupt daily operations during the day, we scheduled the project to be completed at night. To prevent any safety hazard, we also ensured that an extractor was brought to the site.
Carrying out the project
The internal doors were sprayed in the colour RAL 5012 in a 30% gloss and a 2k coating. We used the HVLP spraying method for this project, which allows the paint to be sprayed at a lower pressure. In return, this provides our operatives with a more precise spray, minimising overspray and creating a seamless finish.
If you would like to find out more about this project or book your own onsite spraying or inside spraying, then please feel free to give our team a call.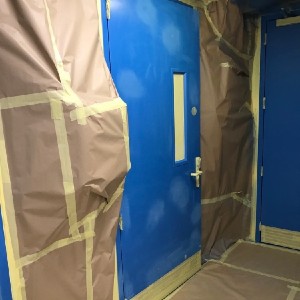 Before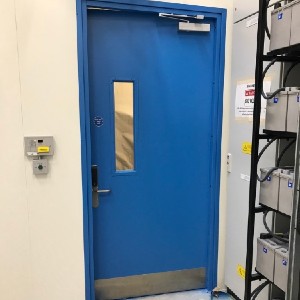 After
Services Used
Book Now and Get Your
FREE

Quotation On All Services.

Providing quotes completely free of charge with no obligation. Call today!