What The Client Wanted
The team at Just Spray were contacted by a client to complete inside spraying and on site spraying on two lift doors on an office block. This project would be slightly trickier as each of the lifts were in full use throughout the day.
Project Scope
Just Spray Project Prep
As with all projects completed by our operatives, we started the process with a site survey. This is always an important step but even more so as we knew that we would have to alter our processes to fit with when the lifts were free to be worked on. The client also mentioned during the survey that there would be employees working in the surrounding offices during the day, which was another hurdle that we needed to overcome.
To ensure that we did not disrupt workers or use of the lifts, we concluded that the best route would be to complete the project outside of working hours during the night.
Carrying out the project
The first stages of the project involved reassuring the safety of the site. As the lifts were designed with fuses, we needed to ensure that we had isolated the lifts and that we were the only ones in the building for the duration of the night shift. An extractor was also used on the office floor, which was taken out of the window to help to minimise paint dust.
Once the site was prepared, our operatives moved onto respraying the lifts. The product used for this project is a 2K, which means that the paint activates, creating a more durable and robust finish. This is the ideal paint for lifts which are used frequently on a day-to-day basis as it will not begin to deteriorate. The chosen colour was the 2K RAL 7016, also known as Anthracite Grey, which is an incredibly popular shade for achieving a sleek, modern finish.
As with all projects completed throughout the pandemic, the Just Spray operatives were in full PPE and followed strict COVID-19 procedures.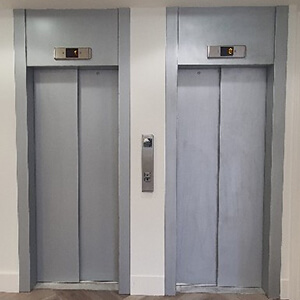 Before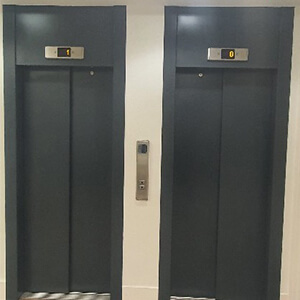 After
Services Used
Book Now and Get Your
FREE

Quotation On All Services.

Providing quotes completely free of charge with no obligation. Call today!