Over time, it isn't uncommon for cladding, particularly panels on the exterior of your property, to show signs of wear and tear. Whether it may be down to adverse weather conditions or an incident that has caused damage, there are many reasons why your building may begin looking a little unloved. Although, in this instance, many assume that the only way to rectify deterioration is through a complete replacement, in most cases, this needn't be the case. External cladding spraying is a durable and highly effective way to bring a new lease of life to your commercial property, so we thought we would run through just some of the many fantastic examples from our project portfolio.
Just A Handful Of Our External Cladding Spraying Projects!
Having started as a small family run business, we understand the importance of making a positive first impression on visitors, clients and even employees. The exterior of your commercial property is the initial insight that outsiders have into your business, so ensuring that it remains presentable is key in maintaining a good reputation. And even better, it does not have to be a costly, time-consuming task. Onsite spraying allows you to completely transform the appearance of your property in minimal time, ensuring that your cladding is resprayed in a protective, long-lasting coating that will keep your premise looking its best.
If you are considering cladding spraying, then there will be many different colours and finishes to choose from depending on the nature of your business, panel material and much more. To give you some inspiration, we have put together a handful of examples of how we have helped clients to refresh their property.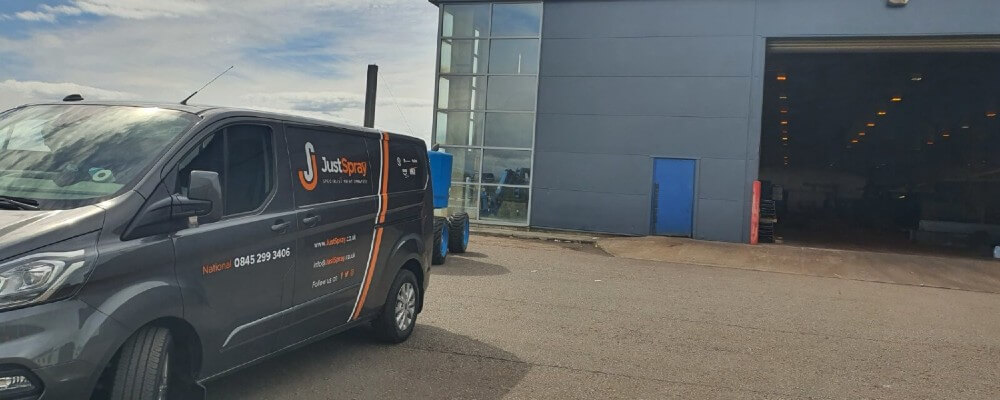 This particular project is one of the best examples of the versatility of commercial spraying and how a simple design can completely transform your property. The client contacted us to not only repair damages that had been caused during the construction process but also custom spray their cladding panels in their corporate colours. They provided us with a mock-up design so that we could prepare colour spray out cards to bring along to their site survey. This enabled the client to agree on set colours before we booked a date to complete the project.
As you can see from the photos below, spraying just a few panels has made a massive difference to the appearance of the property. Our operatives used a cherry picker and scissor lift to reach the higher areas and sprayed in RAL design colours.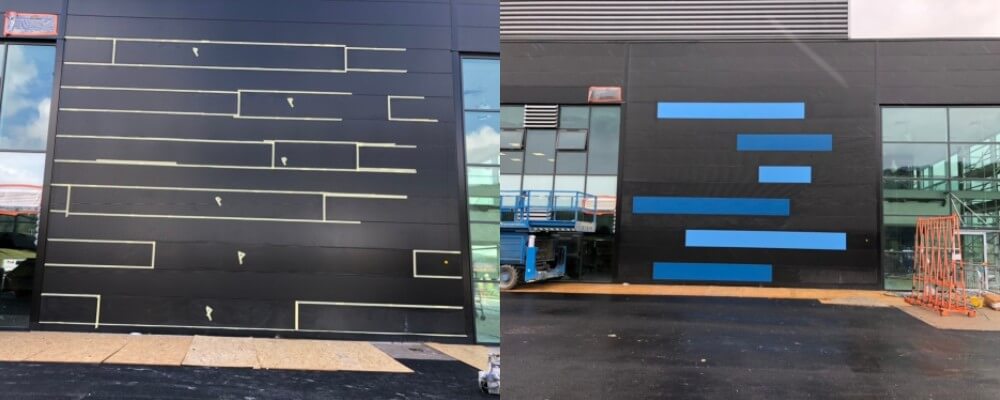 After expanding their business, our client enlisted our help to refresh their new commercial property, which was fitted with outdated, weathered cladding. Even after thoroughly cleaning the cladding, the panels were still stained and discoloured, which meant that a full respray was the best route. To ensure that this problem did not reoccur, we applied a 2k polyurethane anti-corrosive coating in the shade RAL 9006, which was colour matched to the existing cladding. Through using this coating type, the building would now be protected against UV and weather damage, keeping the property in pristine condition for many years to come. You can find more information on this project over on our case studies page.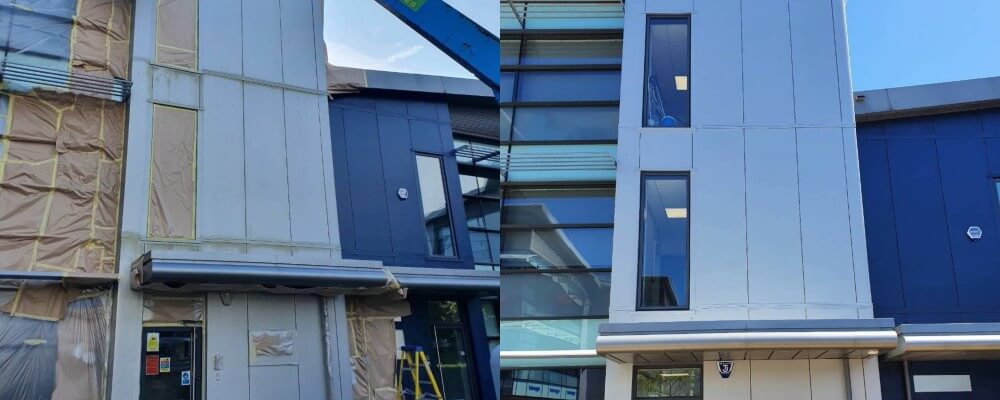 Our client was planning to rent out their commercial property, so instructed our team to complete a full exterior refurbishment to help them to attract new tenants. To ensure that we could reach the highest points of the building, we used a scissor lift, which was operated by our IPAF 3a and 3b certified operatives. We started by jet washing all surfaces on the building before a polyurethane 2K paint was applied. This would ensure that the cladding panels remained durable for many years to come.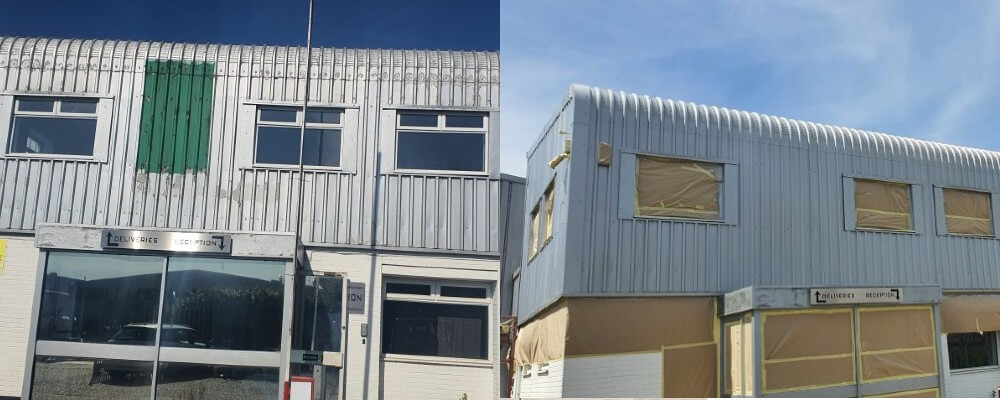 Early last year, we worked on a project for a client who owned an apartment block that was in need of cladding repairs and respraying across the property. As this was a longer project, not only did our contracts director visit for a comprehensive site survey but also once a week while our operatives were working on site. Our operatives ensured that they sent a daily report to Just Spray HQ at the end of each day, which was then forwarded to the client for approval. These daily reports are always sent to our clients, regardless of the scale of the project, to ensure that they are kept in the loop with the progress.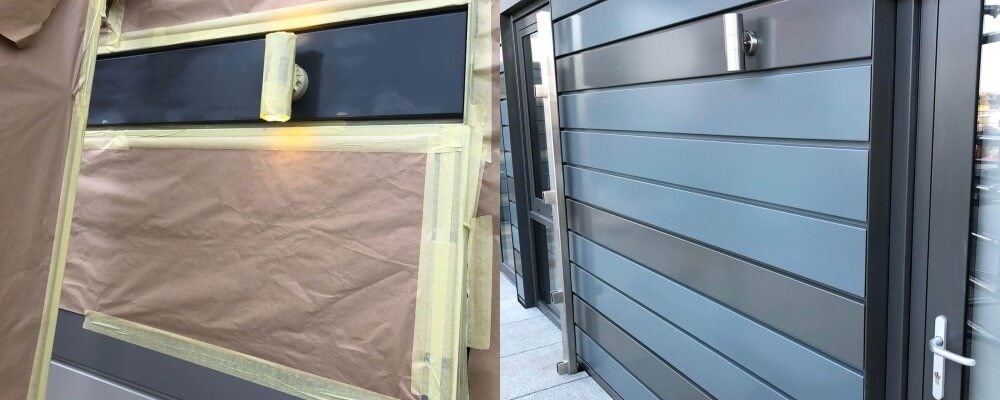 Much like the project we completed in Sheffield, we carried out custom cladding spraying on a large commercial property in Hitchen to match their corporate colours. Our operatives used a Z45 cherry picker to reach the upper panels of the property and sprayed the exterior in the shade RAL 6000. To ensure that disruption was kept at a minimum, we completed the project over a bank holiday weekend so that when staff arrived back on site, the project was completed. Our team are always more than happy to schedule projects for a time and date that best fits your schedule and working hours.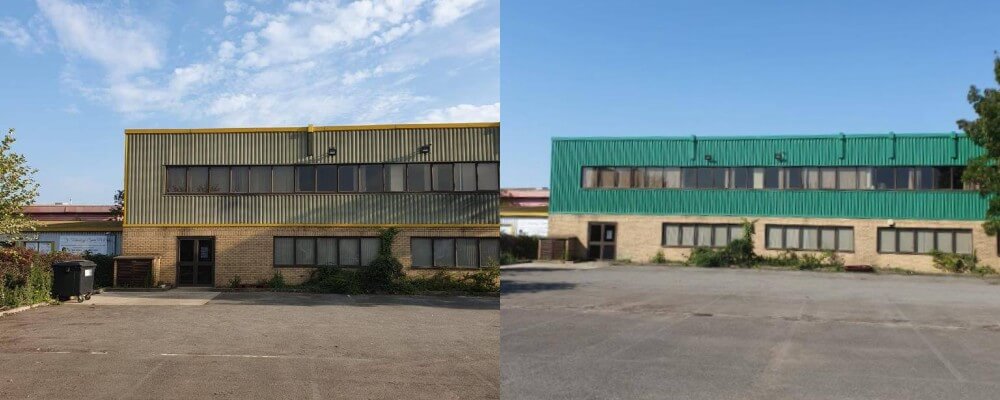 We had the pleasure of working on a project for the Tesco store in Cambridge to respray the cladding on the exterior of their petrol station. As the brand colours for Tesco are well-known, it was a straightforward task for us to match our coatings to their specifications. This allowed us to ensure that all materials and equipment required for the project were prepared in advance, ensuring that the project was completed quickly to minimise downtime. As mentioned above, we always provide our client with daily updates, which was more important than ever for this particular project as they needed to know when the petrol station was safe to reopen to the public.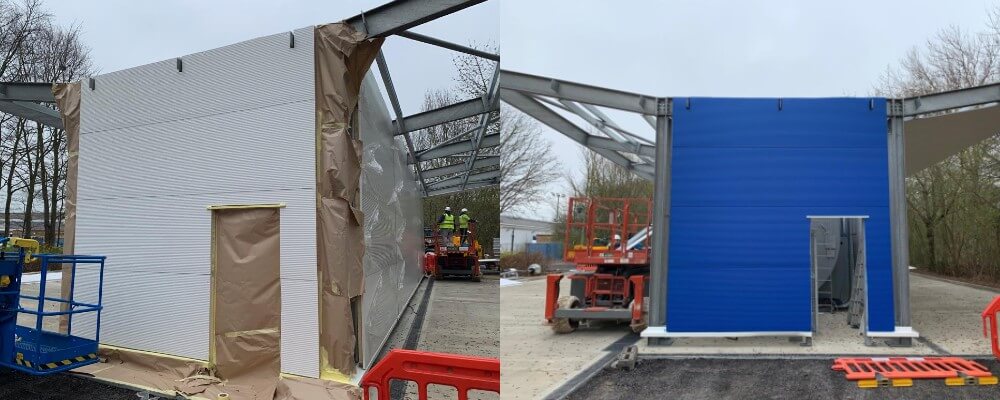 Many of our clients continue to use our services time and time again, and this particular project in Peterborough was for a repeat client of ours. The owners of the Lidl distribution warehouse contacted us to respray the window flashings on their property as the colour was incorrect. Before the project commenced, we visited the site to take colour samples, ensuring that the client could achieve the perfect shade. As the flashings were higher up the building, the site survey also allowed us to determine which access equipment we would need.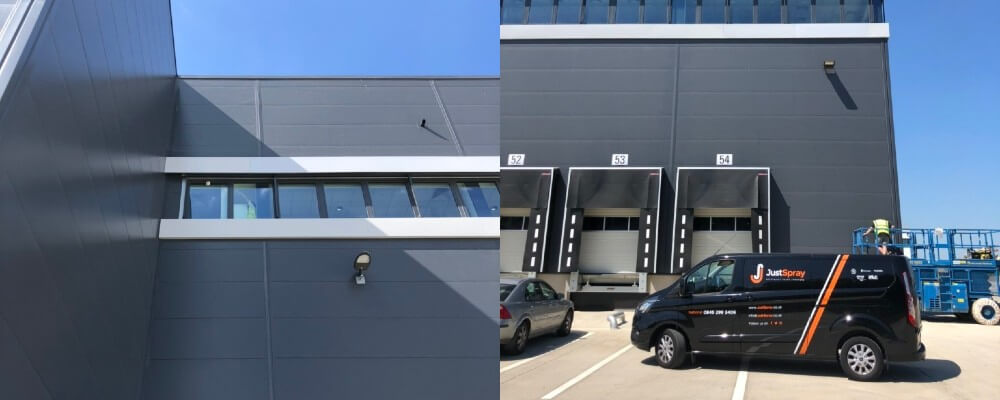 Another client that we regularly work with is Mercedes Benz, and in this instance, they contacted us to refurbish their new commercial dealership in Smethwick. They wanted their site to stand out from the crowd, so our architect and contracts director visited for a site survey to determine which colours would best complement their brand colours. We concluded that RAL 7021 would be the best-suited option, and a cherry picker and scissor lift would be necessary to reach high-level works. The cladding was also complete in a 2k anti-corrosive coating to protect the metal panels from rusting, weather and sun damage.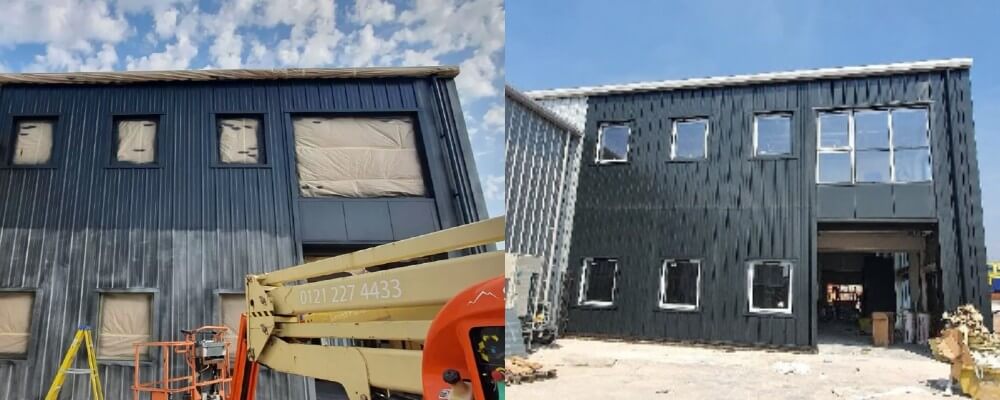 Leave A Lasting Impression On Visitors!
Refreshing your commercial property couldn't be more straightforward, allowing you to leave a lasting impression on anyone who visits your site. When working with our team, we will always strive to work around your schedule, ensuring that downtime is minimised and your requirements are met. We also offer a site survey with our contracts director, allowing you to gauge an idea of the scope of the project and ask any questions you may have. Please do not hesitate to get in touch with our team for more information!