What The Client Wanted
We were contacted by a client who had recently moved into a new office in Stevenage Business Park, Hertfordshire, after expanding their business. As they were unhappy with the weathered and stained cladding, they contacted Just Spray for advice and assistance on how they could give the panels a new lease of life. It was then determined that on site spraying was the best solution.
Project Scope
Just Spray Project Prep
The project commenced with a full site survey of the property. While assessing the cladding, the client explained that they had already thoroughly cleaned the building, yet the staining and discolouration did not shift. We concluded that, as the building had been poorly maintained and neglected in terms of cleaning for many years, the best route would be to respray the elevations. Our team, therefore, quoted the client for commercial spraying of two elevations at the front of the building, along with powered access.
Carrying out the project
Due to there being a large car park on site, we scheduled for works to begin at 5 am to minimise disruption. This allowed us plenty of time to complete the project with good access while there were minimal cars in the car park. The building was sprayed in a RAL 9006 2k polyurethane anti-corrosive coating, which would provide the cladding panels with excellent protection against both weather and UV damage. This meant that the client could not only restore the elevations, but they would also keep the property in immaculate condition for many years to come.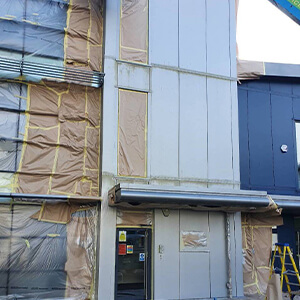 Before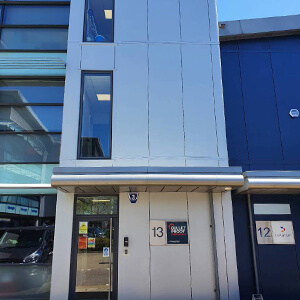 After
Services Used
Book Now and Get Your
FREE

Quotation On All Services.

Providing quotes completely free of charge with no obligation. Call today!