Whether you are planning pre-move in repairs for a new site, sustained damage during construction or have noticed wear and tear on your existing premises, there are many reasons why you may need to enlist the expertise of our repair team. And, having spent many years in the industry, they are well-versed in rectifying all manner of issues on both the interior and exterior of your property. Take a look at our guide below for more information on the different repair services available with Just Spray.
A Guide To Our Different Repair Services
While levels of damage may not look significant, we would always recommend scheduling these repairs before issues have the opportunity to grow. Damage can not only become costly but risk the health and safety of your site, as well as causing downtime to your business.
If you're unsure of the scale of damage and how long the project is likely to take, we are always more than happy to visit your premises for a site survey. Our experienced contracts director will run through the best-suited options before providing a quotation on all works. In the meantime, you can find more details on how we can help below:
Project: Cladding Repairs & Respray For New Builds
Cladding is, by far, the most susceptible to damage, whether it may be caused by adverse weather conditions, general wear and tear or an accident. In fact, it is one of the most common causes of damage down to human error during the construction process. As a result, we have many clients approaching our team to complete repairs with a quick turnover to allow them to open their new premises within the agreed timeframe.
Due to the nature of cladding repairs, most of these projects involve our colour matching services. The scale of cladding panels means that it is far more straightforward, not to mention cost-effective, to rectify damage then complete on site spraying rather than replace the entire panel. For this reason, the perfect colour match will be essential to disguise repairs and ensure that the cladding looks as good as new. This is a popular option amongst our clients who are moving to a new site that currently has minor cosmetic damage they want to repair while also keeping costs low.
On our recent projects page, you can find a wealth of examples of the different cladding repairs jobs we have completed. Feel free to contact our team to book your site survey!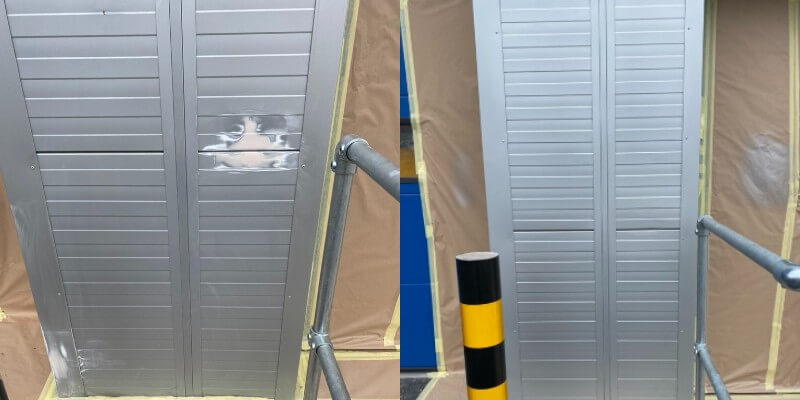 Project: Internal & External Building Repairs – Hull
Curtain walling is typically used on larger scale buildings such as offices, universities and shopping centres and is ideal for adding a modern touch. As curtain walling is non-structural, it means that the design usually features a slimline, lightweight frame that holds glazed panels.
While curtain walling is not likely to go through as much cosmetic damage as cladding, whether that may be scratches and dents, it is still possible for systems to begin to deteriorate with age. Not only this, but as curtain walling is typically composed of several different components that slot into one another, they can also become easily damaged during initial installation – this is where our team comes in.
A perfect example is a recent project completed by our team in Oxford. We were contacted by this client as they were responsible for designing two new buildings on the Wadham College campus, yet had noticed lots of curtain walling scratches caused by builders. They used our curtain walling repairs on several different occasions to ensure that both buildings were perfect ahead of their opening. We'll put just one of the fantastic before and after photos below!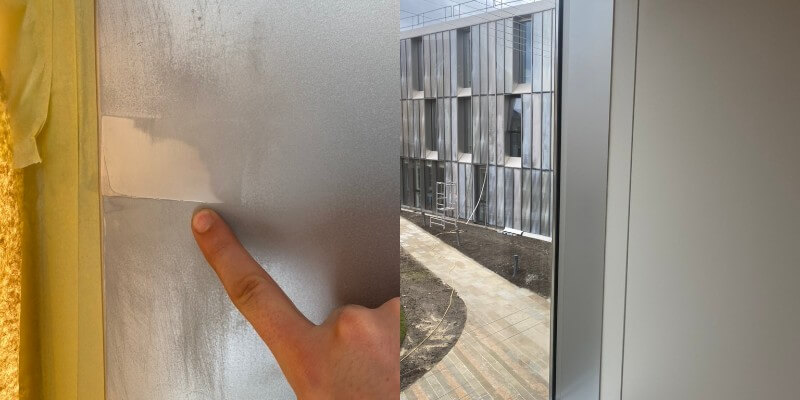 If your building is designed with a profiled metal roof, the most common damage you are likely to experience is cut edge corrosion. Visually, cut edge corrosion looks unappealing, but, on a deeper level, the problem can cause extensive damage to your roofing system, potentially leading to leaks. It is caused when the coating along the edges of roof sheets is either removed or begins to de-laminate, making them exposed to weather conditions and, therefore, rusting.
Nevertheless, repairing cut edge corrosion is possible through the use of a specialised coating. First, our operatives will prepare the area by thoroughly cleaning the surface to remove any loose paint or built-up debris. From here, a corrosion-resistant coating will be painted over the areas that were beginning to peel back, sealing the metal and preventing oxidation. This will ensure no further spread of rust, prolonging the lifespan of your roof sheets.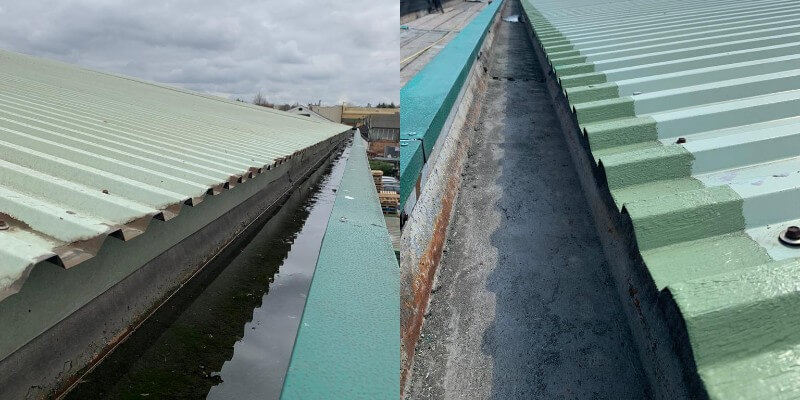 Roof sheets play an integral role in protecting your commercial property against the elements, which means that should damage occur, repairs should most definitely be at the top of your priority list. As mentioned above, rusting is the most common type of damage amongst metal roofing, but for other materials, cracks, damaged sealants, and clogged gutters are just some of the issues that may creep up. Should you suspect a problem, our team would happily book a site survey to assess the damage and recommend the best route for repairs.
Along with damage down to wear and tear, you will also require roof sheet repairs if you still have an asbestos roofing system. If left untreated, an asbestos roof can be incredibly dangerous, releasing toxic fibres into the air, which, if inhaled, can cause immense health risks. At Just Spray, our team have the skills, knowledge and training to complete repairs on asbestos roofing systems to keep your property and those on site safe. This will involve sealing any cracks in the system before treating metal fixings and, lastly, applying a protective coating. Typically, we use products by Liquasil for this process.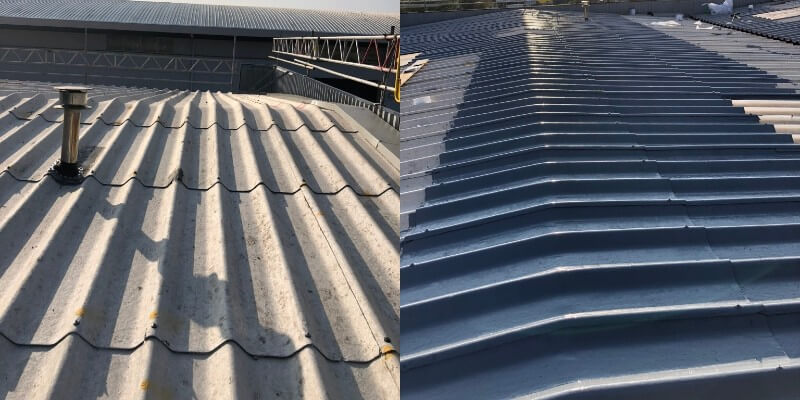 Project: Liquasil Roof Coating – Littlehampton
Panel repair is one of our broadest services as it can cover a wealth of different project types, on both the inside and outside of our client's premises. To tailor our expertise to the nature of the project, we will always use the initial site survey to collect as much information as possible on the damage, client requirements and any restrictions such as operational hours. Our experience in the industry means that we can easily accommodate a wide range of project scopes; no repairs are too big, small, or too challenging.
With this in mind, just some examples of the different types of panel repairs we specialise in include:
For our clients hoping to bring a new lease of life to their property, it is possible to add extra services to a panel repair project. For example, if you are moving into a new HQ and want to refresh the space, you could combine wall panels repairs with office window spraying for a consistent finish. For more details on how we can tailor your project, please do not hesitate to get in touch with our team!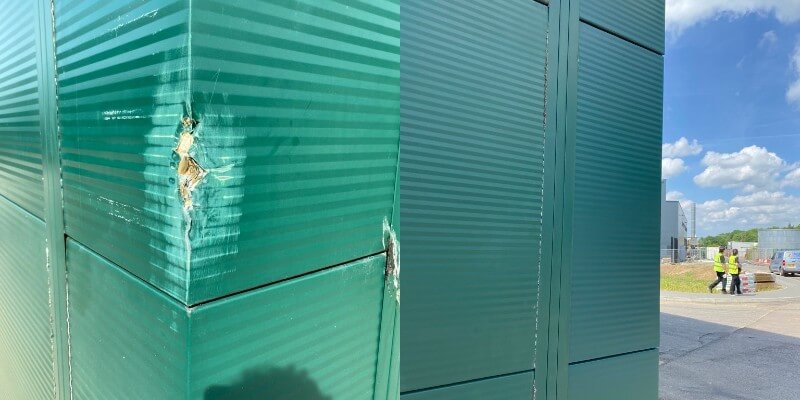 Project: Low Level Corner Profile Repair – Norfolk
Book Your Repairs With Our Team Of Experts!
At Just Spray, we are proud of the outstanding reputation we have built over the years and continue to go the extra mile to ensure that our clients are thrilled with their experience. Our goal with any repair project is to ensure that works are closed off efficiently, to the highest standards and within the timeframe, minimising downtime and disruption to your business. Feel free to contact us via phone, email or through our enquiry form to get started on your project.