Cladding is a durable layer of material added to a building to bring a new lease of life to its appearance. From incorporating renewable and eco-friendly materials to matching your property with your branding, cladding transforms old properties into new and exciting projects. This means that there is a wealth of excellent exterior cladding ideas, helping you to find a design and material that creates a positive first impression for your company!
Exterior Cladding Ideas: What Are Your Options?
There are a number of long-lasting, reliable materials that you can integrate into your cladding design, whether it may be to reclad your entire property or just a small section that is becoming outdated. As a result, not only will you be able to add aesthetic value to your exterior but also protect against the elements and ensure that the structure remains sturdy.
Having specialised in on site spraying for many years, we have been lucky enough to work alongside hundreds of clients to upgrade their cladding while keeping their building safe from damage. Our team are well versed in building coatings for a number of materials so have put together a guide on the most popular for inspiration on your next project:
For extra inspiration, take a look at: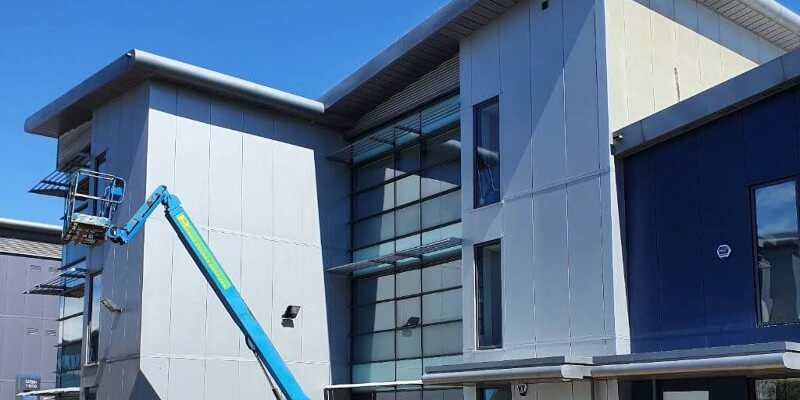 Project: Stevenage Business Park, Hertfordshire
uPVC remains one of the most popular cladding materials, thanks to its versatility and ability to withstand harsh elements. Not only this, but as uPVC is the most cost-effective option, it also provides an affordable yet highly effective way to transform the appearance of your commercial property. The material can be installed across all areas of your building; whether it may be to create an appealing entrance or protect the walls against damage, the possibilities are endless!
One of the biggest perks of uPVC cladding for commercial use is that the need for maintenance is minimal. The panels will not rust, warp or rot, which means that regular building cleaning will be the only necessary maintenance job. With age, some uPVC can, however, begin to discolour slightly, yet this can quickly be rectified through commercial spraying.
Our trained operatives are specialists in commercial spraying, able to colour match particular shades or custom-make a bespoke coating. This includes our special effects coatings, which are ideal if you want to enjoy the affordability and reliability of uPVC but prefer the appearance of metal, for example. Typically, we use a 2K finish on our projects which ensures additional durability, preventing the colour from fading or discolouring with time.
If you would like more information on our coatings services, our team are always more than happy to provide a free quote.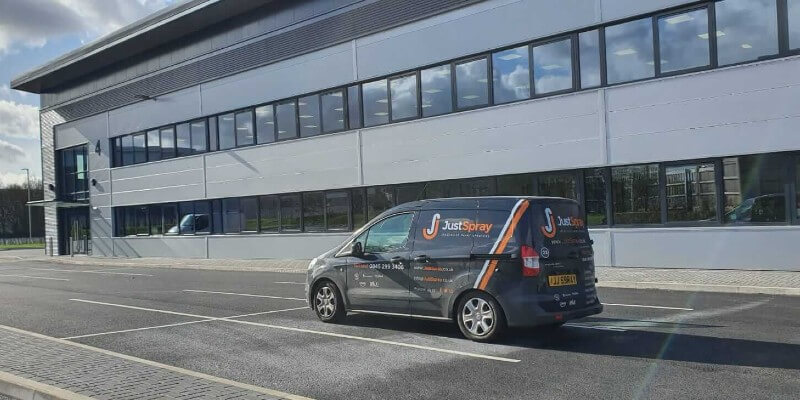 Project: Panel Repair & Respray – Birmingham
Although often assumed to be a more fragile, unreliable cladding material, glass can, in fact, offer a building great structural strength, creating a bright and spacious interior while protecting the property from the elements. Not only this, but the toughened glass used for cladding also provides thermal and noise insulation while keeping the building secure.
Glass cladding is widely used in modern building design, most commonly seen on offices, retail units and car showrooms. The most popular type of glass cladding continues to be curtain walling which is compromised of a lightweight, slimline aluminium frame complete with large glazed panels. Curtain walling not only proves to be an attractive feature on any commercial property but the aluminium can also be moulded to meet the specifications of your building, creating a seamless, tidy appearance. Just like all other materials, it will continue to protect your property against harsh weather conditions without becoming damaged.
Customising your glass cladding is easier than you may think. Along with altering the shape, size and design of the glazed panels, you can also spray the frames, perfect if you want to match your building with your branding. Much like our coating services, our curtain walling spraying can also be colour matched to your chosen shades, creating a more bespoke finish.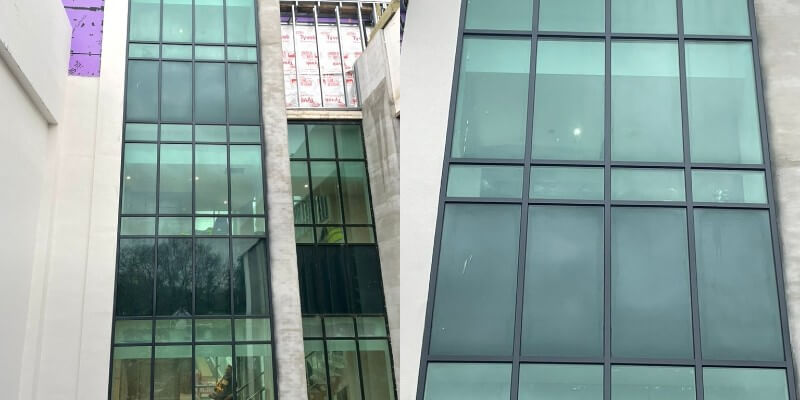 Project: On Site Paint Spraying – Twickenham
For many years, warehouses, factories, car dealerships, and many more industrial type buildings have been taking advantage of metal cladding. With the number of excellent benefits the material offers, it's not surprising that it remains a sought-after option.
Due to metal cladding's ability to mould around any shape, placing it on the exterior of a property is an easy way to get an original design. It can be produced with a pre-aged or coated finish, depending on your style, and then be shaped around curved edges and more unusual shapes. You will also be able to choose between several different types of metal, with the most popular being the following:
Aluminium: This product is lightweight yet strong, making it an ideal cladding material. Aluminium is extremely waterproof and protects against moisture, ensuring that your property does not get damp and grow mould. This material also takes little to no maintenance making it easy to keep in pristine condition over the years.
Zinc: Soft and easily pushed into any shape, zinc is suitable for the unique architecture of a property. This material allows for flexible construction and is extremely durable and low maintenance. For a renewable and sustainable building, zinc is recyclable and non-toxic, making it perfect for those looking for a more environmentally friendly metal.
Copper: Can be used for both traditional and contemporary commercial properties as it ages beautifully. When first installed, this material is a beautiful warm bronze tone that turns into an iridescent brown when exposed to the elements. It is perfect for the more rustic look as it develops character over time.
Once you have chosen which type of metal you will install, you do not necessarily have to stick with the metallic appearance, as you can update the appearance through cladding spraying. The coatings our operatives use when spraying metal are equipped with anti-corrosion properties, ensuring that you do not fall victim to cut edge corrosion, which is the most common cause of metal cladding damage. If you already have metal cladding and have noticed rusting forming, our team can also treat the material and prevent further damage. Feel free to contact us to book a site survey.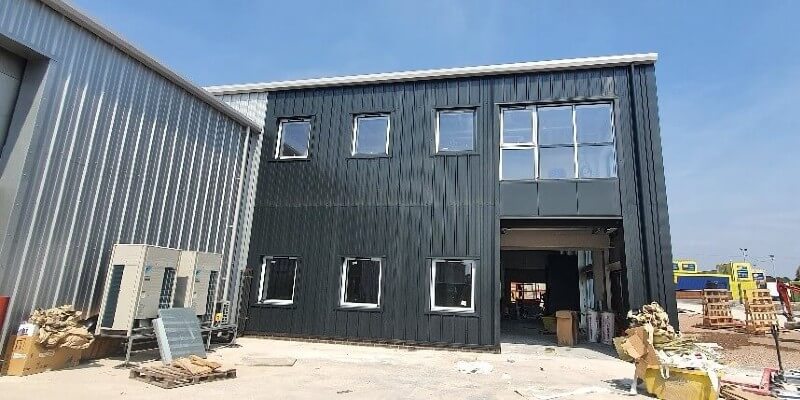 Project: Mercedes Commercial Dealership – Smethwick, West Midlands
Timber is a great way to create a renewable, sustainable and more eco-friendly commercial property. As global warming becomes an ever-pressing concern, timber cladding has become popular for its environmental benefits. And even better, once you are finished with your cladding, the material can easily be recycled for a second life.
Using timber on the exterior of your property can transform its appearance at a lower cost while also providing excellent thermal and sound insulation. Choosing from a wide range of textures and finishes, you can completely restyle a property and be inventive with your design. Regardless of budget, the softwoods, hardwoods and modified woods available with timber allow you to choose from the affordable bracket to luxury, based on your requirements.
Not only this, but the wide variety of different designs and styles that you can create with timber cladding makes it perfect for styling a new building or renovating an old one. The cladding is typically placed with long strips of timber in any direction, vertically, diagonally or horizontally, creating an eye-catching appearance. It will then naturally fade over time into a stunning silver-grey colour, which, if required, can easily be painted.
For more information on the benefits of exterior timber cladding, take a look at TDCA.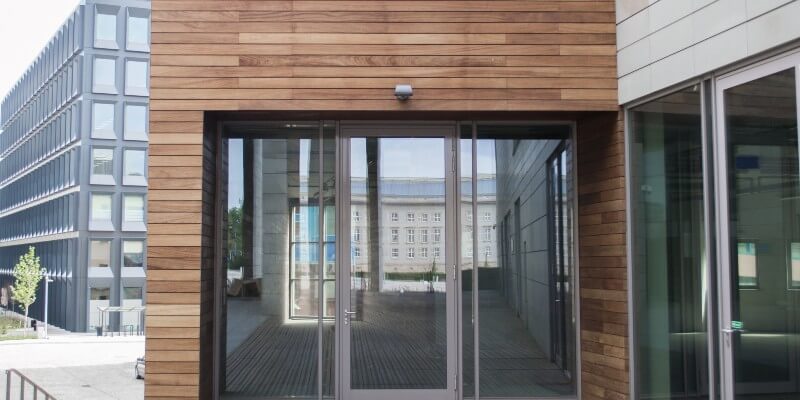 Most popular amongst customer-facing industries such as hotels, shopping centres and restaurants, stone cladding instantly creates a sophisticated, modern feel, able to add a sense of class to any old or new building. Due to the rustic nature of the material, the appearance of stone can vary depending on the vision you have in mind, from darker to lighter tones, along with a smooth or rough finish, allowing you to create a unique look. Depending on your budget, you can also choose between natural stone or stone veneer, the latter being the less expensive but not as long-lasting option.
Stone cladding will always stand out from the crowd, meaning that covering only a small section can make a huge impact. For example, many commercial property owners add stone to their entrance, accompanied by a stone pathway. It is recommended to opt for the same stone throughout your building as this will help to create a seamless, elegant appearance.
Although our guide is to exterior cladding, the use of stone is also typically used throughout a commercial property, particularly in the reception area of larger corporations, to create a welcoming, professional feel.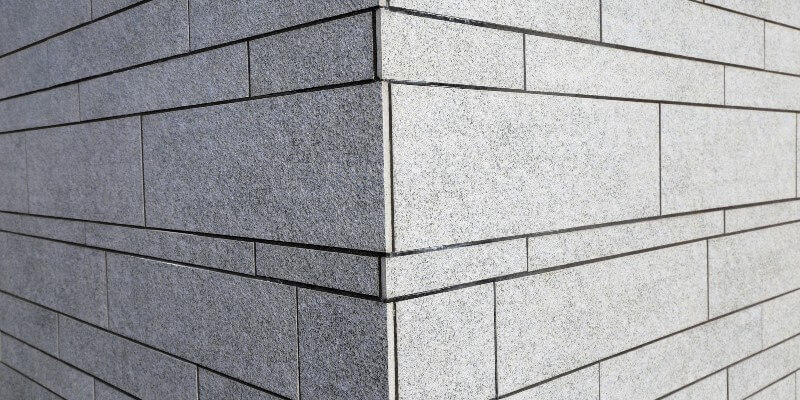 Now that you are well-versed in the different materials available when choosing the right cladding, it's time to take a closer look at the endless customisation options. Cladding spraying makes it easier than ever to add a unique twist to the appearance of your property, whether you have recently moved to a new site or want to upgrade your current building. Below we have put together a gallery of some of our most eye-catching projects, but you can also find a host of modern cladding ideas over on our case studies page!
Make A Statement Through Cladding!
While the main objective of cladding is always to protect your property and prevent damage, this most definitely doesn't mean that it cannot look attractive. By choosing a material that meets your property specifications and location, then adding a personal touch, you can enjoy the perfect balance between style and functionality. If you would like any help with updating your existing cladding, our team would always be more than happy to help, so please do not hesitate to get in touch!