What The Client Wanted
After having work completed by a different contractor, our most recent client was left unhappy with their end results. Therefore, they got in touch with the Just Spray team to restore their cladding panels through repairing and respraying the surface.

Project Scope
Just Spray Project Prep
Before the project could get started, our Contracts Manager, Craig, attended the site to carry out a full survey. During the survey, Craig assessed the damage to the cladding panels and took a sample of the colour so that custom, colour-matched paint could be developed. After providing the client with a detailed quote, we then completed an in-house colour creation, whereby we match the existing cladding panel paint, so there are no inconsistencies.
Carrying out the project
Upon the site survey, it was evident we would be unable to complete all works by hand. With this in mind, we proceeded to use a diesel levelling scissor lift to assist and facilitate the works. Our operatives also ensured we had suitable flooring protection around the perimeter of the property to guarantee no damage was caused to the freshly laid tarmac and block paving.
All of the work was completed to the desired time frame with a perfect finish to the exterior cladding panels.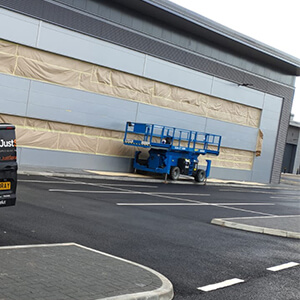 During
After
Services Used
Book Now and Get Your
FREE

Quotation On All Services.

Providing quotes completely free of charge with no obligation. Call today!