Although we are still enjoying the summer, as a commercial property owner, it's time to begin planning maintenance ahead of the colder months. Heavy rainfall and icy conditions become far more common, which can have a detrimental impact on the safety, durability and appearance of your building. Each year, we visit hundreds of clients to carry out repair and respray work to help winter preparations, so we have put together information on the services we recommend booking over the autumn period.
How We Can Help You To Prepare Your Property For Winter
While our team have the skills and knowledge to complete projects all year round and in all conditions, there are particular months where some services are likely to run smoother than others.
During the colder period of the year, our inside spraying becomes more popular as regardless of the outside conditions, project timelines are unlikely to be disrupted. This means that we advise booking any necessary work on the exterior of your property in the months leading up to winter with the following being the most crucial: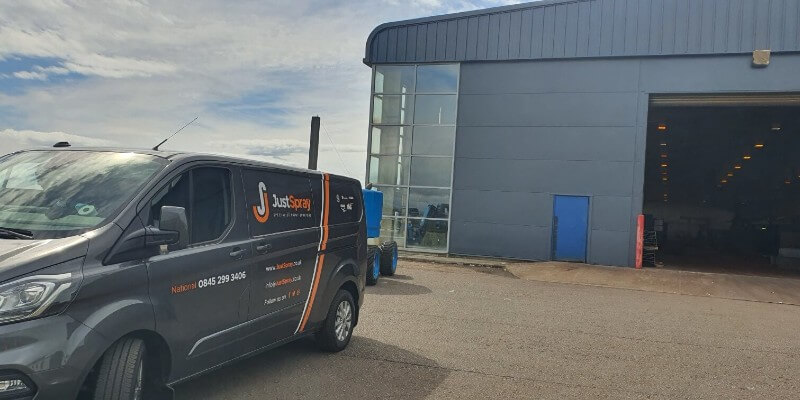 As we reach the latter months of the year, we begin to be faced with volatile weather conditions that we cannot quite predict. During this period, a well maintained, sturdy roof will be essential in keeping your commercial property protected against these adverse conditions. For this reason, should you notice damage to your roofing system, scheduling roof sheet repairs ahead of the winter will be vital. This will not only ensure that your roof can withstand all manner of weather conditions but also improve both the appearance and lifespan of your property.
At Just Spray, we are approved by a number of leading manufacturers which means that we are equipped with the necessary products to rectify all manner of roof damage. This can include everything from cut corner repairs on metal sheets to punctures, leaking systems and replacing missing components. We are also trained in recoating asbestos roof systems using products such as Liquasil Non-Sag Sealer and Asbestoseal 20 to prevent any hazards associated with the material. You can find an example of how we have helped a previous client keep their asbestos roof safe on our case study page.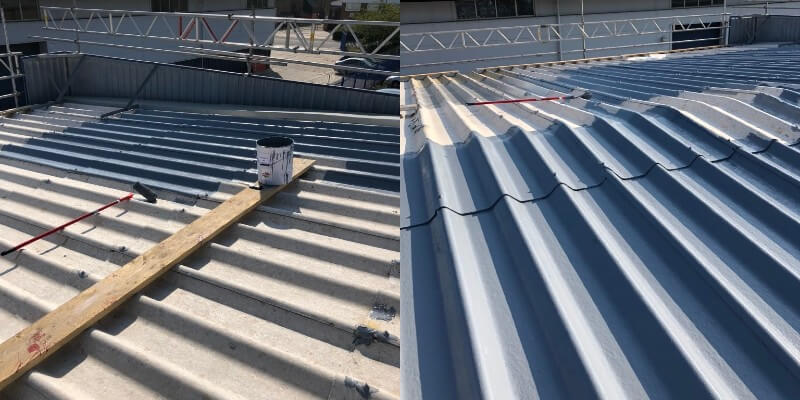 By far, the most popular service amongst our clients is cladding spraying. And although our specialists are highly experienced in completing on site spraying in all conditions, it is recommended to schedule this service during the autumn to ensure that the project can run smoothly.
Why? Because during the winter months, the exterior of your building is likely to be faced with rainfall, frost and in some cases, snow. Cladding panels ideally need to be fully dry and at a suitable temperature to allow the coating to be successfully applied. Without these conditions, not only does the drying time increase, and therefore the overall project duration, but you may find that the finish is not as seamless as you would have hoped.
Last December, we completed panel repairs and building spraying on a school extension, whereby the panels we were working on accumulated a layer of frost overnight. In order to be able to continue with the project, our operatives needed to melt the ice with a heat gun then allow the panels to dry. While our team were still able to meet the agreed deadline, this could have easily been prevented by scheduling the project a few months before.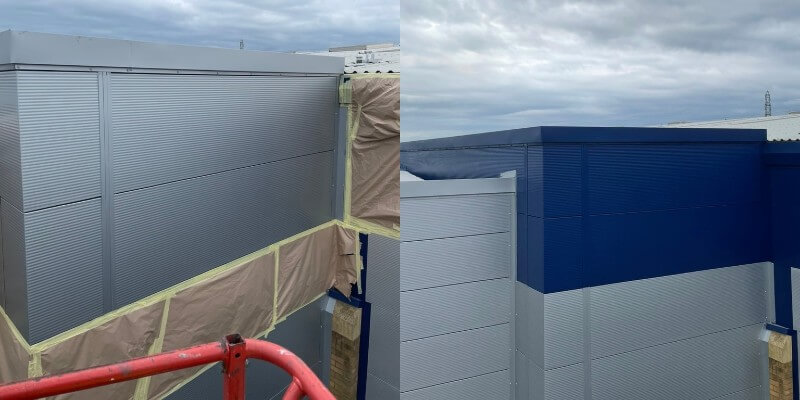 Cut edge corrosion is a common issue amongst our clients with a metal roof or wall panelling and occurs on the edges of sheets or where they overlap. It is caused by a crucial step being missed during the installation process of new metal sheets, meaning that through enlisting only professional, experienced operatives to fit cladding, you can prevent cut edge corrosion altogether.
So why do some buildings experience cut edge corrosion? The answer is simple. Once metal sheets have been manufactured, they are finished with a protective coating that will prevent weather conditions and other elements from damaging the material. However, in most cases, when the metal sheets are being fitted to a building, they are cut to size, meaning that unless the panels are resprayed, the new edges are left exposed to oxygen and moisture, inevitably making them susceptible to rusting.
Once corrosion begins to develop on metal sheets, the remainder of the coating will start to delaminate and peel back, no longer offering a layer of protection. This will continue to spread and eventually impact the strength and reliability of your panels, meaning that repairing cut edge corrosion before increased rainfall and fluctuating temperatures is imperative.
If you notice that your metal roof or wall sheets are beginning to rust, our team would happily visit your site to survey the damage. From here, we will be able to recommend the best route to protect your building ahead of the colder months. Feel free to get in touch to schedule your survey this autumn.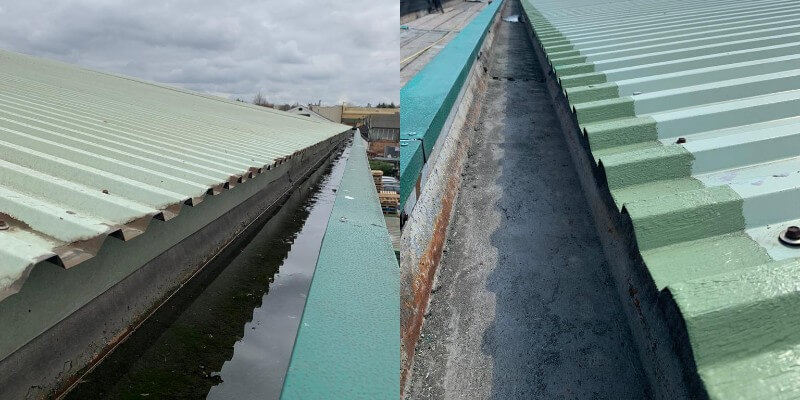 Building cleaning is a task that is essential all year round for the upkeep of your commercial property, but even more so during the autumn months. Debris, leaves and branches all fall from trees and other foliage, which can quickly begin to accumulate on the roof and in drains. If left uncleared, this can not only lead to leaks but also attract unwanted visitors who nestle themselves in your building and begin to cause further damage. Along with this, you may also find that the moisture in the atmosphere during autumn causes moss to grow on the cladding, dampening the appearance of your building.
For the above reasons, we have many clients contacting us to complete building cleaning either as a standalone service or as part of their project, allowing them to refresh their entire property. We use industry-level jet washers to offer the highest level of cleanliness and are trained in the use of access equipment, allowing us to clean harder-to-reach areas and roofing systems with ease.
If the lifting of COVID-19 restrictions has meant that your staff are now finally returning to the workplace after working from home, we also offer deep cleaning services designed to minimise the spread of bacteria. This is available for all industries and utilises high-grade cleaning products to ensure maximum hygiene levels. You can find more information on how to keep your workplace safe on the HSE website.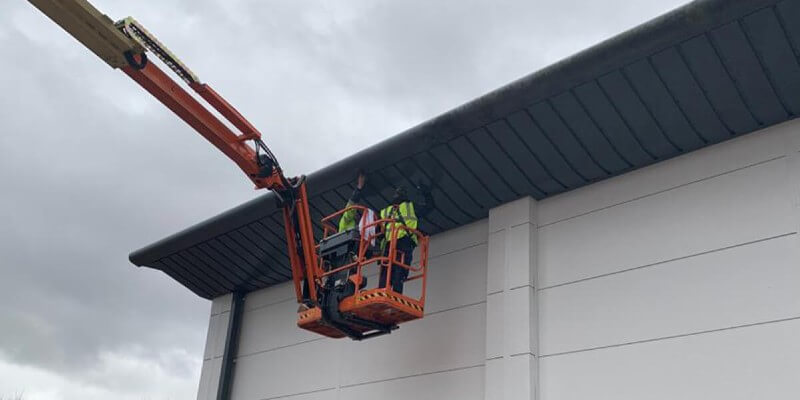 If you are not in the construction industry, knowing how to differentiate cladding from curtain walling is not always clear; however, both come alongside their own risks if any damage is not rectified. The main difference between the two is that cladding is applied in panels to the outer walls of a building, whereas curtain walling is designed as a frame that holds large panes of glass. Curtain walling is most common amongst our clients who own sites such as car dealerships, office blocks and retail units, and due to the more fragile nature of glass, must be repaired as soon as a problem arises.
With this in mind, our curtain walling repairs can be used to solve many different issues, such as discolouration of frames, scratches down to age, broken weather seals and lack of insulation, all of which can cause significant problems if left throughout winter.
We also work with clients to close off any snags on new build properties, such as the work we completed for a development project in Oxford. Our client contacted us to repair damage on curtain walling that had been caused during the construction process. We used the HVLP spraying method in a colour-matched shade for optimum results.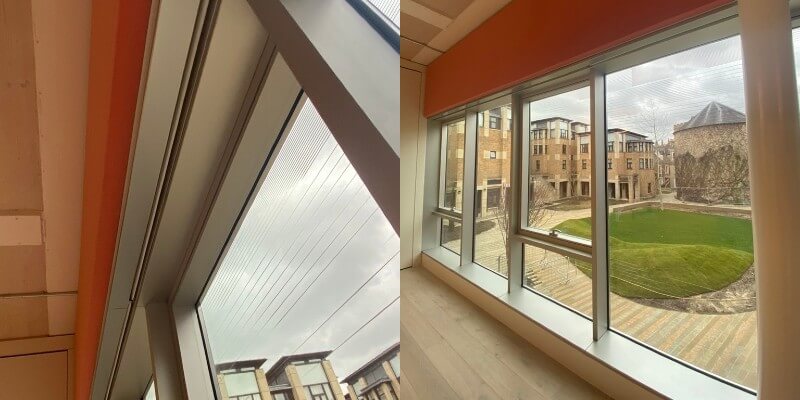 Helping To Keep Your Building In Optimum Condition
Whether you have significant damage to your panels or have noticed rust beginning to grow on roof sheets, ensuring that you book cladding repairs and respraying is essential in keeping your property protected against the winter elements. By maintaining the upkeep of your site, not only can you minimise further problems but also increase property value and encourage a positive first impression.
If you are unsure which services will be necessary, our operatives would be more than happy to provide a free quote and schedule a site visit for a date convenient for your business. From here, we will piece together a tailored project plan to carry out works during the autumn months.