Cladding is a layer of material added to a building to change its appearance completely. From renewable and eco-friendly materials to fashion accessories, cladding transforms old properties into new and exciting projects. There are a variety of reasons why a building may need cladding design; this may include waterproofing, adjusting the aesthetic, provide thermal insulation or a combination of all three. Cladding should be installed by a professional due to its complex building process. Additionally, the lifespan of cladding means that a good job goes a long way.
Transform A Property With Cladding Design
There are a variety of different materials that you can use for your cladding design. Add small detail or incorporate it throughout the house; this technique can transform any property to suit any aesthetic. Cladding is an excellent way to renovate an existing old property or design a new build. Not only does cladding look nice in interior and exterior design of properties, but it also serves functional benefits around the home. Here are some tips on how to make a statement with cladding design.
Timber Cladding
Timber is a great way to create a renewable, sustainable and eco-friendly home or commercial building. As global warming becomes an ever-pressing concern, timber cladding has become popular for its environmental benefits. You can easily turn your building into an 'eco-home' by using recyclable cladding. Timber cladding naturally fades to a stunning silver-grey colour, complementing the properties setting. The cladding can easily be painted or stained any colour, making it the perfect material for renovating. Adding timber cladding to any building can completely change its appearance, through colour and design. The cladding is placed with long strips of timber in any direction; vertically, diagonally or horizontally.
Interior Timber Cladding
Timber cladding as an interior decorative material tends to be more popular with open-plan homes. The material can define one particular space within the building, creating a room without placing a wall in the middle. The warm and welcoming feel that timber cladding provides makes the house feel more like a home despite its open space. Although timber cladding can be stained and painted any colour, when used in interior design, you need to carefully think about the colour you apply. This is because the colour that you apply will significantly impact the feeling of the building. You can make it feel artistic and urban or modern and trendy from just one coat of paint.
There are many things that you can do with timber cladding to change the design of your home. For interior designs, you can create contrasts and textures with the timber cladding itself or a combination of timber and plaster. Timber looks great when paired with a white wall as the ashy wood complements a fresh colour. It is easy to use timber to renovate an old space, subtly add small pieces of timber cladding to a room for a modernised yet old fashioned look.
The natural benefits of timber cladding make it the perfect affordable way to redesign your property into a sustainable home. Hardwood has high levels of heat retention and thermal properties, making it a natural insulator and cheap way to keep your home warm.
Exterior Timber Cladding
Using timber cladding on the exterior of a building or home can transform the property at a low cost. Choosing from a wide range of textures and finishes, you can completely restyle a property and be inventive with your design. Regardless of budget, the softwoods, hardwoods and modified woods available with timber allow you to choose from affordable to luxury.
The wide variety of different designs and styles that you can make with timber cladding makes it perfect for styling a new building or renovating an old one. It's excellent thermal and sound insulation ability also makes it perfect for a commercial building. The ability to keep sound in makes timber cladding ideal for privacy while not compromising of style.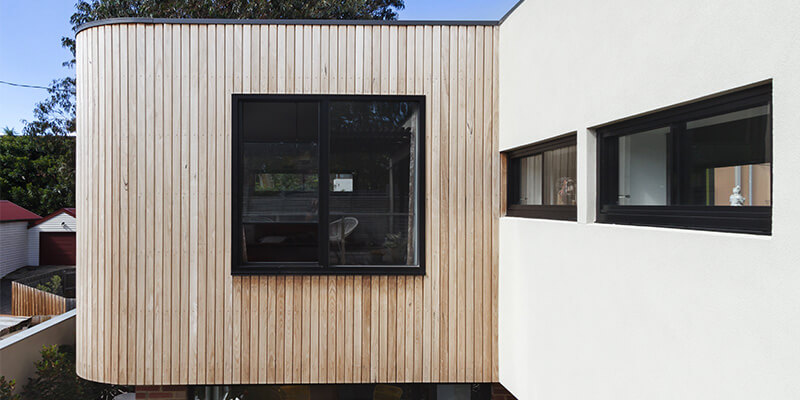 Stone Cladding
For a beautifully elegant and sophisticated property stone cladding can add a sense of class to any old or new home. Stone homes make a big statement amongst the growing brick new builds popping up across the UK. Make your new build stand out by adding a section of stone cladding to your property. The stone can vary depending on the look you are going for, from rustic dark stones with an array of colours to even tones of granite. Another factor to consider before installing stone cladding is the finish of the stone; choosing from smooth or rough can dramatically make a difference to the properties overall look.
Interior Stone Cladding
The perfect use for stone cladding is using the plates as a feature wall in the living room or bedroom to create a relaxing and urban ambience. For a stylish and modern home, black veneer staircase walls are becoming an increasingly popular way to add definition to a property. Create a feeling of luxury by lining your staircase with stone cladding, acting as a piece of fixed art.
Define your fireplace by wrapping it with stone cladding to create a beautiful focal point in any room. Dark stone contrasted with the colourful flame of the fire can make a stunning statement all year round. Placing a rough stone against a smooth wall will make the textures and natural colours of the stone stand out. Take a look at Elle Decor's blog for inspiration on how to design your fireplace using stone cladding.
Using stone cladding to decorate and wall or floor is a beautiful way to add definition to any property. Adding stone cladding to the floor of a room not only adds style but also keeps the room cool. This is perfect for small rooms that get hot easily or commercial buildings to create an airy and cool feel. Placing stone slates along parts of a kitchen wall look great when contrasted with the clean lines of a contemporary kitchen. Dark kitchen cabinets look stunning against a half dark brick and white painted wall. Likewise, stone cladding above a stove or as a backdrop to a dining area creates a sense of warmth.
Exterior Stone Cladding
The great thing about stone cladding is that covering only the smallest section of a property can make a big impact. You can choose to completely change the look of a property by covering the whole thing in stone cladding. Choose from the wide range of textures and colours that stone has to offer to create a masterpiece outside your home. Another option is to cover the lower or upper half of you property in stone cladding. This will add character to a property without completely changing its appearance. Contract a white building with a dark stone or keep it contemporary with a light granite giving the property a subtle hint of elegance.
Create a beautiful front facade by using stone cladding to make a stunning entrance to your property. Stone cladding will enhance the external look of the property by accentuating the entrance or a porch. To further emphasis the entrance to your property, consider having a stone cladding pathway leading you to the front door. Small details can have a big impact on the overall look of the property, using stone cladding to add small amounts of definition. Make sure that when using stone cladding that there is a continuation of the same stone throughout the property.
Stone cladding can also be used to create a masterpiece outside your home and in the garden. Instantly make ornaments and water features look expensive by applying stone cladding. Water running over the changing tones of stone brings a sense of class and sophistication to your home. Instead of having a wooden fence, why not build a cheap wall using stone cladding in the back garden to add character. Redecorate your back and front porch to have continuity from when you enter to when you relax in the garden.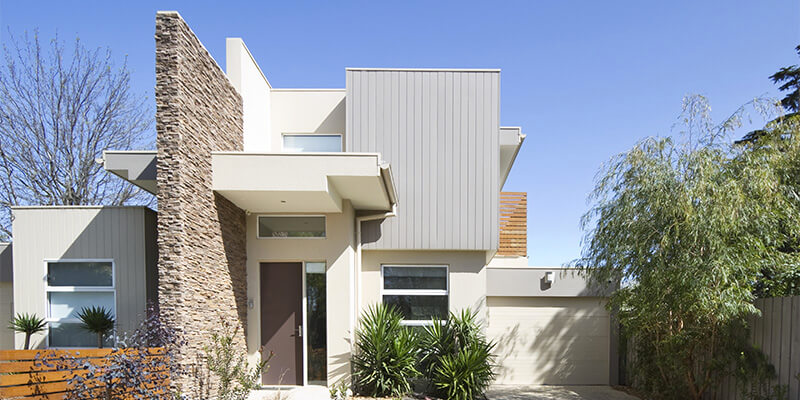 Metal Cladding
The past couple of years have seen a growing trend of metal housing that give a futuristic and modern vibe. The astonishing thing about metal cladding is that you can modify it to look old or new depending on your aesthetic. Modern production techniques allows metals to be pre-aged or coated to preserve the original shine of the metal. This means that you are able to design your property can age to look old or remain new. Metal cladding can also be mixed with a more traditional cladding such as stone to give a rustic and urban look to a property. Using metal can make a property individual and unique to others, making it instantly interesting even as the cladding ages. No matter the shape of the building, metal cladding is flexible and therefore easy to use around curved edges and unusual shapes.
Interior Metal Cladding
Metal cladding gives the interior of a building a reflective mirrored effect that opens and brightens the room. Using metal cladding in the kitchen or bathroom will make it feel bigger as light is able to reflect off the walls. The metal effect will also give the room a chic and modern feel when paired with stunning light chandeliers and light-coloured furnishings. Place a layer of metal cladding at the top of the room to ensure that light can disperse across the room.
Another benefit of metal cladding is that metal acts as a heat conductor, retaining heat inside the house. The low cost of installing metal cladding along with its long-term cost efficiency makes it the perfect material for decorating and renovating an old building. Placed alongside stone, metal cladding can add depth and texture to any room.
The ability for metal cladding to be easily modified to fit around any shape means that it is perfect for unique architecture. For example, spiral stairs can be fitted with metal cladding to give the illusion of an open space and make the staircase feel less claustrophobic. Whether you wish to have a modern shine or an old rustic look, metal cladding can be modified to fit and look the way you want.
Exterior Metal Cladding
Due to metal claddings ability to mould around any shape, placing it on the exterior of a property is an easy way to get an original design. This style of cladding works best with box shapes as it gives a futuristic feel to the building. However, when small amounts are used to add style and definition to any property, the character of the building can be adjusted to suit your style. Using metal cladding on the top of a property will make it stand out from far away as the sun reflects off it. When used in small amounts, it can also add class to any building while covering a property in metal cladding can give it an industrial modernised look.
Depending on your aesthetic, there are a variety of different types of metals that you can choose from. Each metal varies in the way it ages, meaning that certain metal claddings give a specific essence. The types of metal claddings to choose from are:
Aluminium: This product is lightweight yet strong, making it perfect for cladding a house. Aluminium is also extremely waterproof, so works well when fitted outside. It also protects against moisture, making sure that your property does not get damp and grow mould. This material also takes little to no maintenance making it easy to maintain over the years.
Zinc: Soft and easily pushed into any shape, zinc is suitable for the unique architecture of and property. This material allows for flexible construction and is extremely durable and low maintenance. for a renewable and sustainable building, zinc is recyclable and non-toxic, making it perfect for indoor designs.
Copper: Can be used for both traditional and contemporary properties as it stunningly ages. When first installed this material in a beautiful warm bronze tone which turns into an iridescent brown as it wethers. This material is perfect for the more rustic look as it develops character over time.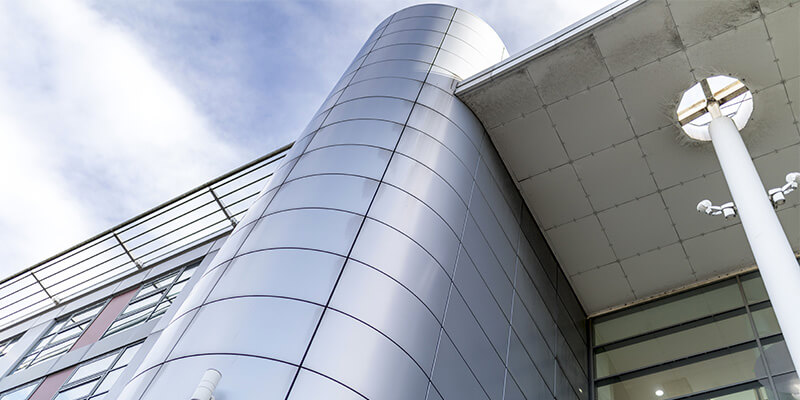 Spray Cladding
With years of commercial spraying experience, we know that covering your cladding with a coat of colour can transform a property to suit your aesthetic. When moving into a new property or revamping an old one, changing the colour of your cladding can completely change the look of a property. Spraying the cladding any colour you want can make a statement without spending excessive amounts of money. For wood and timber claddings, instead of painting it a different colour, stain the cladding to make it look new. The benefits of cladding spraying and that it can rejuvenate a property without demolishing the structure of a building. It will also keep the insulation of the property secure as you paint it the perfect colour. Ensure that your cladding is sprayed to perfection with experienced specialists of on site spraying.