When your cladding becomes damaged, it can have a significant impact on the look of your property, as well as causing danger to other parts of the buildings structure. It is important to make sure that you invest in cladding repairs when you begin to notice parts of your cladding falling apart or looking like it needs a little care. External wall cladding systems can rejuvenate your building, so it is important to keep up to date with regular maintenance to ensure that it always looks pristine.
Identifying Damage To External Wall Cladding Systems
The protective layer that your cladding provides is important to maintaining the health and safety of those within it. For example, some exterior cladding is installed as a fire protection layer; when this layer is damaged, it can become dangerous. You need to make sure that you are aware of the signs that your cladding may be damaged and need repairing.
There are many different factors that contribute to damaging your exterior cladding, so making sure that put measures in place to prevent this from happening, can save you a costly future investment. To help you identify the signs of damaged cladding, we have come up with some ways you may be experiencing damage to your cladding.
Cut Edge Corrosion
One of the most common types of damage to your property is corrosion; this can be found in most cladding materials and is often down to what is called 'cut edge corrosion'. When the cladding is first produced, it is made one size and then covered with a plastic coating. The plastic coating is a form of protection from corrosion, and any sections of the material that is not covered in this coating is at risk of corrosion. When the cladding is cut to make sure that it is the perfect size for your building, the edge of the cladding does not have a plastic coating over it. When these uncovered areas are exposed to varying weather conditions, they can begin to corrode, making them appear old and worn out.
Although you may think that it is too late to fix problems with corrosion, there is always a solution to every cladding problem. When your property needs an added layer of plastic protection on the edges, then we can offer you cut edge corrosion spraying. This is where members of our team will come to your property and complete onsite spraying with a special formula to add a layer of protection to your exterior cladding.
If your cladding is extremely damaged through corrosion, then we also provide cladding repairs. Repairing your cladding can give your property a new lease of life. This can be achieved through a variety of different methods, one of them being commercial spraying, whereby our professional and trained team spray your exterior cladding with a colour of your choice to brighten your property and give it a fresh coat of paint. If you would like to know more about our spraying services, please don't hesitate to contact the team today.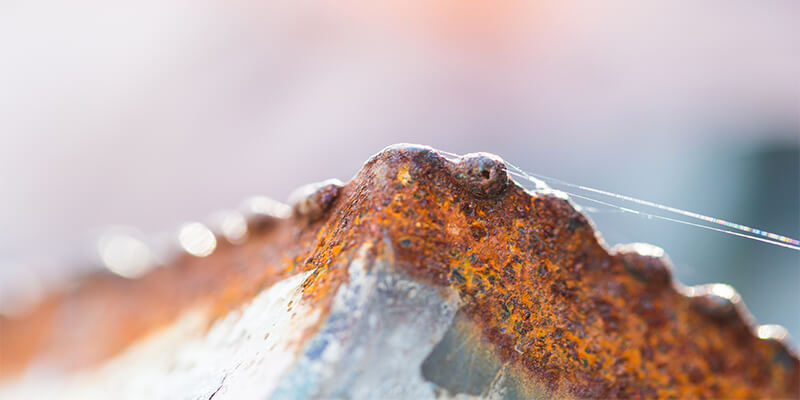 Cracking Cladding
Unfortunately, in the UK it is not always sunny and glorious, and we find that we have to factor in the rain more often than not. Due to the various weather conditions, cracking on your exterior cladding may be a likely type of damage that you come across. Without protection on your cladding, the winter and autumn months can take its toll, and you may find that when the summer arrives, you have a very hefty bill to pay to replace your cladding.
Cracking is a very common type of damage as it can affect most cladding material types. It is important that if your cladding starts to show signs of cracking, that you get it repaired as soon as possible. Once your cladding begins to crack, it is most likely going to get worse over time. When water seeps into these cracks and starts to freeze and melt, it expands; this will inevitably make the cracks bigger and therefore more obvious.
When you leave the cracks in your cladding uncared for, they can become considerably worse. The cracks will continue to expand and eventually reach the roof, gutters and internal walls; once this happens, you may find yourself with an even more expensive project on your hands. Long-term exposure to cracking will make your property unsafe, and it will, therefore, become an urgent project.
You can prevent cracking in your cladding through a number of measures. The cladding that you chose will have a big impact on the level of damage that can occur. To find some of the best cladding materials that are easy to maintain, take a look at Build It's guide to low-maintenance cladding. Cleaning your cladding regularly will also help you in maintaining the look of your property. Take a look at the Real Cleaning Co.'s guide on cleaning cladding for an in-depth explanation of preventing cracking and corrosion through easy maintenance.
Damage To Paintwork
Paintwork is the perfect option for keeping your cladding looking updated and fresh as you are able to change the colour or give it a fresh coat of paint whenever you feel that it needs a rejuvenation. Making sure that your cladding has a fresh coat of paint every now and then, will ensure that your building gives a positive first impression. The only thing that you will need to be wary of, is the fact that painting on your cladding can appear damaged and become unappealing over time. There are three main ways in which the paint on your cladding may begin to appear damaged.
Weathered
When the sun comes out, we all begin to fill ourselves with excitement that the clouds have disappeared and often neglect the fact that cladding can still be affected. Just because the weather is dry and the sun is shining, it doesn't mean that your cladding is safe and protected. UV rays from the sun can begin to impact your paintwork over time, and it can fade the bright and vibrant colour of your cladding. This happens through the ultraviolet rays splitting the molecule bonds in the paint, eventually making the paint fade in colour, and the surface will start to feel as though there is a layer of chalk.
Blisters And Bubbles
If you notice that the paint on your cladding begins to bubble and starts having a negative effect on the overall look of your property, then this is because there is a loss of adhesion between the paint and the underlying surface. This is usually caused by heat or moisture and can sometimes be the result of a combination of the two. It is important that you make sure to call in our professional team when blistering appears on your cladding paint, as this can lead to peeling, making the situation a lot worse than it needs to be.
Paint Cracking
Cracking paint is a very common problem when it comes to any type of painted material. This can be caused by outside weather conditions or poorly painted cladding. When you have your cladding painted, it is extremely important it makes sure that you hire a professional with years of experience to ensure that the paint is of the highest quality. You can trust the Just Spray team to paint your cladding with the highest quality paint and the highest quality professionalism. If you would like you cladding sprayed by the Just Spray team, feel free to contact us by filling out our contact form.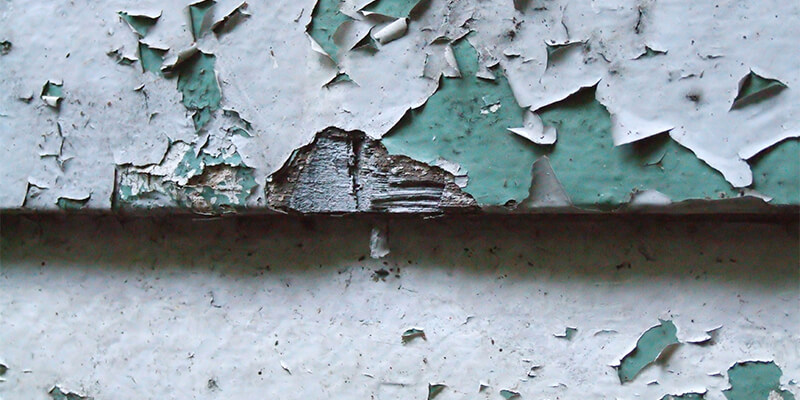 Rusting Corners
Much like corrosion on cladding, rusting can occur on the corners of your cladding, and while you may like a rustic look, it can transform your property into an old and unappealing location. As you can imagine, metal cladding is the biggest culprit for rusting, which can spread across the panels. On metal cladding, the rusting will turn into a reddish, brown colour and can even begin to flake; this makes it extremely hard to repair.
Rusting is extremely unappealing to those that you wish to attract your building, whether it be employees or clients. It can also cause your panels to deteriorate, which can cause more problems such as those discussed previously about structural damage.
Rust occurs through a reaction known as oxidation and is caused by the combination of water and oxygen; this can happen when rain sits on unprotected cladding. By spraying your cladding with protection, you can add a waterproof layer, making it harder for your cladding to rust and therefore keeping its stunning and sophisticated appearance for much longer. The Just Spray team are more than happy to help you with your cladding damage and can give the right advice and service to help protect your cladding from rusting.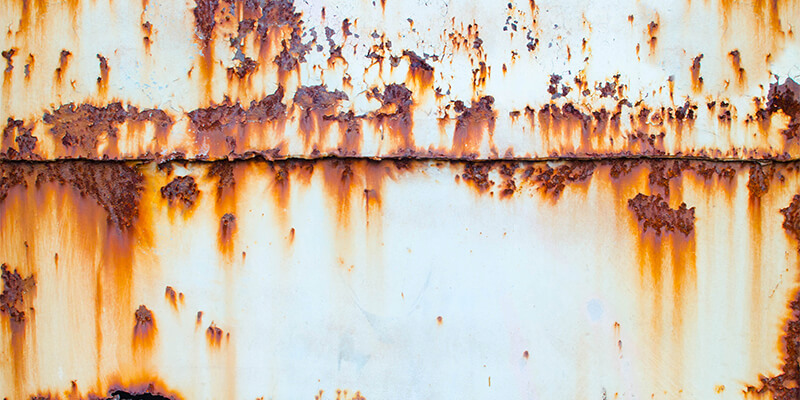 Dents In The Cladding
When your cladding is at the bottom of your building and is part of a car park, garage or even a warehouse, you may find that scratches and dents are likely. However, when these dents and scratches become a big feature of your cladding, it can make your property look very unkept.
It is completely impossible to avoid the odd scratch and bump on your cladding; however, this does not mean that you should let big dents affect the appearance of your cladding. Repairs to your cladding are a quick way to make sure that your property is looking its best no matter how many times it's banged and battered. There are a wide range of services, from cladding repairs to panel repairs that can help you keep up with the appearance of your cladding.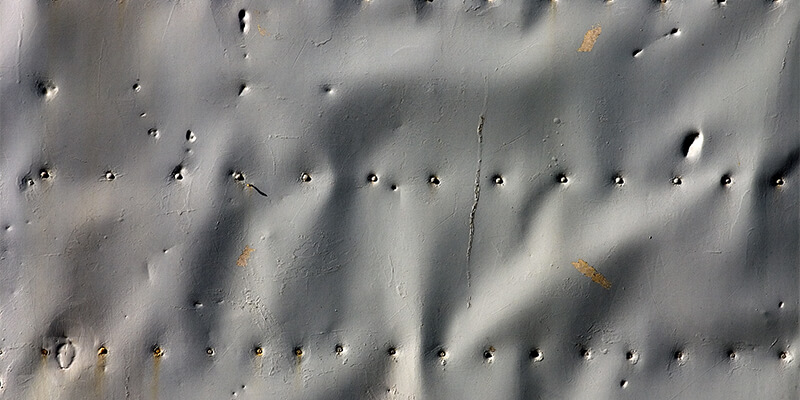 Maintaining Appearances
It is important that you keep an eye out for cladding damage, as the earlier you tackle them, the easier it is to repair. When you leave cladding damage for a long time, it can end up affecting the rest of the property, costing you a lot of money in the process. If you have any damage to your cladding and are unsure of how you can repair it, then feel free to speak to one of our specialists about services that Just Spray provide.