Dilapidation Project
These guys pulled out all of the stops to make sure our work was completed on time. From start to finish, Craig was great to deal with, providing us with daily reports so we could see the progress of our project. The team that attended the site were on time, neat and tidy as well as being very efficient. I would highly recommend this company and will be looking to work with them again in the future.

Nathaniel
2nd November 2021
On Site Spraying External Cladding
We worked closely with the just spray team on this project as we had a couple of other contractors on site at the same time. Just Spray were great throughout the whole project; it ran on time, and the end result was of a high standard.

Devon M
15th October 2021
On Site Spraying External Cladding
We had been recommended the Just Spray team after another unit close by had work done.
We wanted to change the colour of our internal cladding for a rebrand after recently taking over the unit. The team matched the colours perfectly to our branding.
Will definitely be using them again in the future.

Stephen C
11th September 2021
On Site Spraying External Cladding
Our external cladding had recently been damaged while having a forklift on site. We contacted Just Spray for an emergency fix as we had important clients on site two weeks later.
They were fantastic in getting back to us with an initial quote and on site survey. The team that turned up to complete the work were very professional and tidy.
We highly recommend Just Spray!

On Site Spraying External Cladding
With more than 20 years passed since we last had work done to our property, it started to show. Thankfully, we got in touch with Just Spray, who advised that we would have faces and face if not fixed severe problems later down the line.
The team were very informative with any changes they suggested and were focused on the needs of us and our commercial property rather than trying to over quote for works. We highly recommend the Just Spray team and will be using them in the future.
On Site Spraying External Cladding
After having work already completed on our commercial property, we were so impressed with the work that had been done we asked them to completed further spraying services to our interior cladding.
We are so impressed with the work that was carried out, and they exceeded our expectations.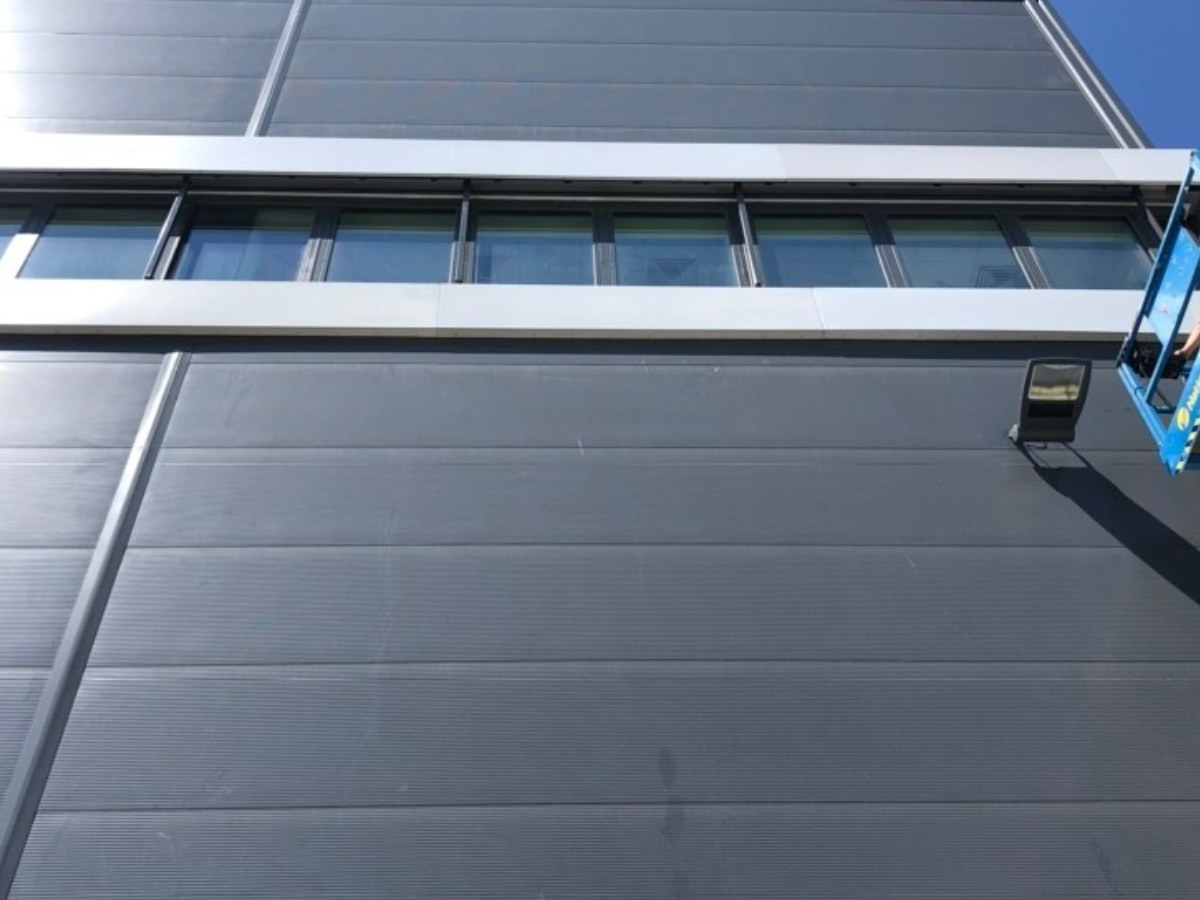 Excellent experience with Just Spray
We've always had an excellent experience with Just Spray, and they definitely didn't disappoint on this project! As always, the team were reliable and professional throughout, making a clear project plan to make sure that everything ran smoothly. We will continue to recommend them to anyone looking for a quality spraying company!
Lidl Distribution
11th March 2021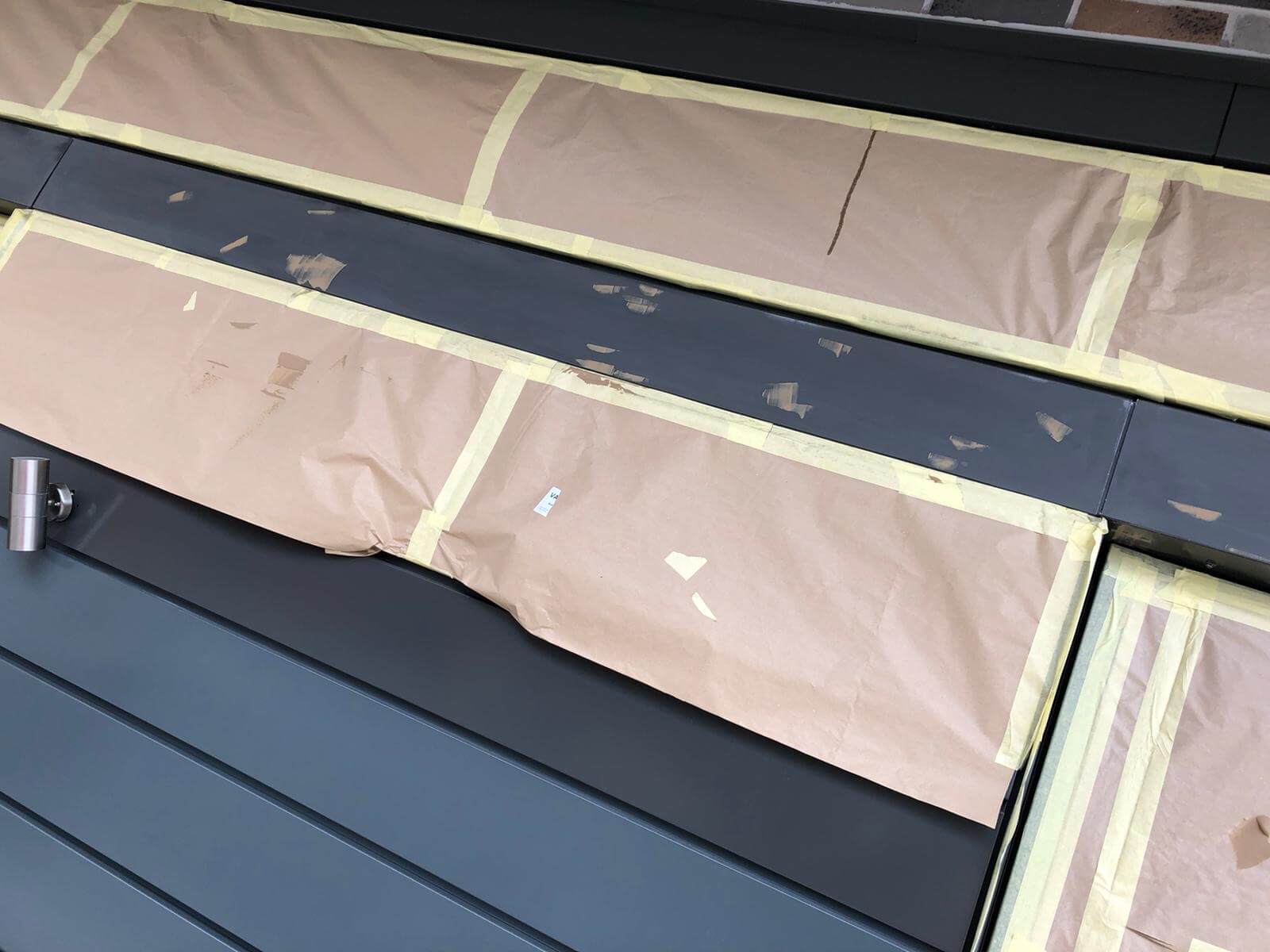 Avoided high replacement costs
The aluminium surface of our curtain walling system had become worn over time, due to pollution and weather. It was also badly scratched in places. I rang Just Spray, thinking I'd have to fork out for expensive repairs or even a whole replacement but after their visit, they assured me that an anodised coating would really improve the appearance. I was dubious, until the job was done! Amazing result – the system looks like new. Can't thank Lee and his team enough for saving me a huge amount of money.
Daniel Richmond
17th March 2021
Office Cleaning
Just Spray has been visiting on a regular basis to clean our office exterior for many years now, and we have never been disappointed. The team are punctual, professional and friendly.
Lisa Roche
22nd January 2021
Facade Cladding Respray
The facade of the dealership was resprayed by Just Spray in an excellent black gloss finish. The result was great and made the whole building look much better and a lot more presentable for our customers.
Janet Howes
17th January 2021
Dealership Cladding Repairs
The cladding on my car garage was dented and didn't look great. When Just Spray looked at it I was worried I'd need a complete cladding replacement, but the guy who came said that he could sort them no problem. A few small sections needed to be replaced, but after a respray and repairs, it all looked like new. Saved me a lot of money – thank you.
Jacob Titchfield
17th February 2019
Large Industrial Building
We needed the cladding spraying on our large industrial unit but a number of companies said they couldn't assist us due to the size. Just Spray carried out an on site visit and said it'd be no problem. They did the work in just a couple of days and completely transformed the appearance of the building.
Frank Burns
12th February 2019
Car Dealership Cladding
As a busy car dealership, I didn't want our cladding repairs to interfere with business or put customer's off. Just Spray assured me that the work would be done during quieter business hours and in a short space of time. I was dubious, but they stuck to their word and had the work done in record time! Very pleased.
Daniel Moore
22nd January 2019
Office Facility
We recently had to send our employees home to work for the imminent future and decided to take the opportunity to give the office a deep clean in case the virus was on any surface. The Just Spray team were very professional and responded to our request almost immediately. I would highly recommend their cleaning service
Matthew Holland
19th March 2020
Curtain Walling Repair
Our intricate curtain walling system needed urgent maintenance, so Just Spray made it a priority to come and visit us on site. They quickly identified the issues and carried out the work there and then. Really impressed.
Harry Jameson
17th February 2020
Office Curtain Walling
Our office block is covered in a huge glass curtain walling system, which really needed maintaining. Just Spray finished the work needed within 3 days and left it looking like it had just been installed! Would definitely recommend them to other businesses.
Cynthia Rawlins
30th January 2020
Rusted Roof Repair
Just Spray attended our retail unit and identified the issues to our roofing straight away. It had rusted quite badly and some parts were coming away. After they applied their cut edge corrosion treatment, it looked brand new!
June Lennox
11th January 2020
Dealership Cladding Repairs
The cladding on my car garage was dented and didn't look great. When Just Spray looked at it I was worried I'd need a complete cladding replacement, but the guy who came said that he could sort them no problem. A few small sections needed to be replaced, but after a respray and repairs, it all looked like new. Saved me a lot of money – thank you.
Jacob Titchfield
17th February 2020
Warehouse Cladding
Seeing as our business runs 24/7 and there are constantly vehicles coming in and out, we couldn't afford our cladding maintenance to interfere with our everyday work. Luckily, Just Spray did an amazing job and worked our repairs around our timing. I would definitely recommend them, fantastic finish!
Simone Wright
11th October 2019
Anti-slip floor Coating
We needed an anti-slip coating applied to the floors throughout our laboratories, to ensure that the environment was as safe as possible for our staff. A variety of colours and finishes were offered to us and Just Spray carried out the work very quickly.
Rosemary Pickering
11th February 2019
Food Safe Coatings
We needed food safe coatings applied to new doors that had been fitted throughout the interior of our brewery, to ensure that we met health & safety regulations. Just Spray quoted us the fairest price and we were very impressed with the work that they did. Will definitely be using them again in the future.
Carl Beaufort
2nd March 2019
Restaurant Chain Spraying
As the owner of a chain of restaurants, I needed a reliable company who were well-versed on health & safety regulations. Just Spray offered a number of coatings for the interior of one of our new properties, that had high antibacterial properties. So impressed with the service that I will be getting them back to do the other restaurants as soon as possible.
Lorraine Huntley
19th February 2019
Industrial Graffiti Respray
Having a warehouse in the middle of a quiet industrial estate means that we always fall victim to graffiti. Just Spray were able to eradicate all signs of paint at the highest standard – really pleased with our results!
Adam Owens
17th January 2019
Commercial Building
I contracted Just Spray to work on our latest building site and will only be using them in the future. Not only did they carry out all spray and coatings work efficiently, they were able to offer a range of different solutions to suit our requirements and kept costs down wherever possible. Extremely professional service.
Callum Harris - Site Manager
29th January 2019
Secondary School
Just Spray were the chosen contractors to carry out spray work to our large secondary school. I was really surprised at how quickly the work was carried out, we barely knew that they were there as they were always mindful of our staff. The school's exterior looks amazing after their spray service – the building look like its just been built!
Clare Kenny - Headteacher
13th February 2019
Warehouse Refurbishment
Our industrial unit needed a bit of an overhaul due to age and wear & tear. We got Just Spray in for an on site visit to identify key areas that needed to be addressed. They formulated a very fair package for us, that included respraying to the inside and exterior of the building, as well as repair work that needed to be done to the roofing. They saved us a lot of money as we didn't need to replace as much as we had thought. Very grateful.
Liam Furnley
15th February 2019
Inside Hotel Doors
Just Spray had been contracted to respray the interior doors of the hotel I manage. They were very tidy and did their work quickly so as not to disrupt our guests. The finished result looks great.
Mary Banks
2nd March 2019
Engineering Roof Repairs
The roof sheets on our engineering unit were starting to look old and had rusted. Just Spray had been recommended to me so I asked them to visit us on site to see what they thought. They suggested a cut edge corrosion treatment, which was great as it saved a lot of money in replacement costs. The finished result is very good and looks like new. Thank you!
Ryan Davies
16th January 2019
Warehouse Panel Repair
Just Spray managed to make the panels on the facade of our warehouse look like they'd just been installed. After a respray, none of the scratches were visible – they also let us pick from a range of colours so we could tie it in with our branding. All in all a great service.
Gary Harrison
10th February 2019
Tough Coating
I reached out to Just Spray to get their opinion on our office block window frames – the facade was fine, but the frames themselves had begun to look very worn and in need of replacement. Their team suggested applying a powder coating to them, in order to improve the appearance, as well as protect them against further wear. They look like new now and you can tell the coating has provided an extra layer of protection.
Laurence Thorpe
18th March 2019
Restaurant Kitchen Spray
I booked Just Spray to spray the interior of our restaurant kitchen, as it needed to be food safe and completely hygienic. They managed to do it all in just one day and worked around staff so the business wasn't affected.
Amanda Travis
5th March 2019
Curtain Walling Repairs
Due to high winds during a bad storm, our curtain walling had been damaged. Just Spray attended our site and carried out repairs which had them in perfect working order again. Really happy at how quickly they managed to get it done.
Tony Simmons
13th February 2019
School Roof Repairs
The roofing hadn't been changed on our school roof for some years. Just Spray were contracted to carry out repairs and did so very efficiently. They arranged to do it out of school hours so as not disrupt the day to day running of the school. The work made a big difference to the overall look of the school. Great job.
Kenneth Stanley
17th January 2019
Window Frame Respray
I needed the window frames on my storefront respraying as they had started to become very dull. I decided to go for a completely different colour and Just Spray were more than happy to work around my requests. Really pleased with their service.
Joyce Thomas
1st March 2019
Complete Transformation
When going through a company rebrand, we wanted to completely change a lot of the interior fittings. To avoid having to replace everything, Just Spray suggested a customised special effects coating, in our brand colours. Can't believe what a difference it has made. Everything looks like new and has an amazing metallic finish, in colours matching our company. Really pleased with the way it has transformed our offices.
Jessica Lowry
5th April 2019
Leisure Centre Respray
Just Spray came to our leisure centre and completely resprayed the facade through their on site spraying service. They quoted a very fair price and had it all done incredibly quickly. Will be using them again for ongoing maintenance.
Gregory Lance
3rd February 2019
Verometal Shop Sign
Our retail unit needed a shop sign that really stood out amongst our competitors. We discussed a few options with Lee at Just Spray and he gave us a range of ideas that sounded great. We opted for a verometal finish which has completely transformed our shop front. Really grateful to Lee and his team for all the advise and amazing result.
Tara Reynolds
20th March 2019
Shop Window Spraying
My store front is predominately made up of windows, so when they are left unmaintained, they can make the whole shop look a bit grubby! Just Spray matched the colour exactly and resprayed the window frames, making them look like new. The shop looks loads better!
Graham Knowles
19th February 2019