What The Client Wanted
We were asked to attend the site of a high-end client in London to complete curtain walling repairs and respraying. After the initial installation, the curtain walling was unfortunately damaged, so our team were enlisted to restore the surface to its original condition.

Project Scope
Just Spray Project Prep
To ensure seamless curtain walling spraying, our client provided us with a sample ahead of the project start date, which our in-house colour technician then used to prepare the coating.
As this was an inside spraying project, we also scheduled for all works to be completed on a Saturday to ensure that the building was empty; this is to prevent paint fume hazards.
Carrying out the project
Our team started by using a U-POL filler to repair all scratches and indentations, along with a primer to prepare the surface. The HVLP onsite spraying system was then used to apply the colour-matched top coat.
Throughout the project, our team wore full PPE and, as with all internal projects, used extraction units to keep the building safe. All in all, the work took only one Saturday to complete, and we are so pleased with the quality of the results.
Before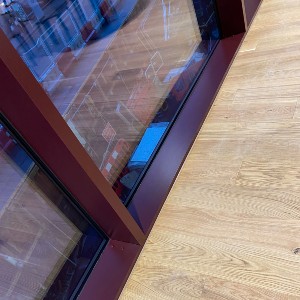 After
Book Now and Get Your
FREE

Quotation On All Services.

Providing quotes completely free of charge with no obligation. Call today!