What The Client Wanted
Over the past few months, our operatives have been working on an ongoing project for a new data centre in London to prepare for its opening. Unfortunately, other trades on site have damaged the walls with MEWPs, so Just Spray has been asked to complete cladding repairs and respraying. This is just one example of the many jobs we have completed so far.

Project Scope
Just Spray Project Prep
Due to the project being located inside a data centre amongst other trades, we scheduled for repairs to be completed during the day, then all cladding spraying at night. We also arranged for an SSSTS supervisor on site every day, along with a weekly visit from our Contracts Director, Craig.
To prepare for works, the panels were colour matched by our in-house paint technician, ensuring that the shade was 100% correct. We also assigned a small scissor lift to the project, allowing areas of height to be repaired and sprayed with ease.
Carrying out the project
To complete the cladding panel repairs, we used fibreglass on the deeper damage before applying U-POL on top. The white wall panels were then primed and sprayed back to their original state using the HVLP commercial spraying method. As this is an internal on site spraying project, we also used an extraction unit to remove any paint fumes from the building.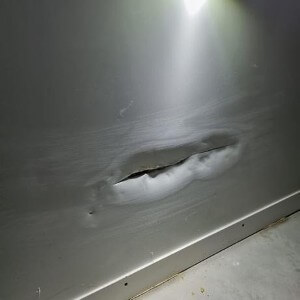 Before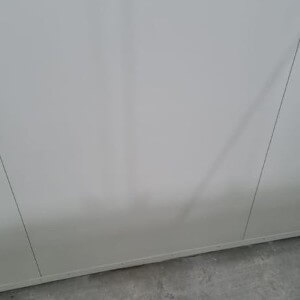 After
Book Now and Get Your
FREE

Quotation On All Services.

Providing quotes completely free of charge with no obligation. Call today!