What The Client Wanted
Our most recent client contacted us to book our inside spraying services as they had some internal flashings which had been fitted without a coating.

Project Scope
Just Spray Project Prep
To achieve a consistent appearance, our client asked our building painters to spray the flashings the same shade as the existing panels. We colour matched the coating to ensure seamless results. As the flashings were fitted on the wall just underneath the ceiling, we also allocated a scissor lift to the site for the duration of the project for access.
Carrying out the project
Before beginning this onsite spraying project, we completed a few panel repairs around the building, which were also recoated. Our operatives used the HVLP commercial spraying method throughout, which allowed the 1K paint used to be sprayed at a lower pressure. This technique produces a finer mist spray for precise application and an even finish.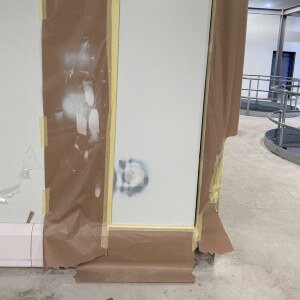 Before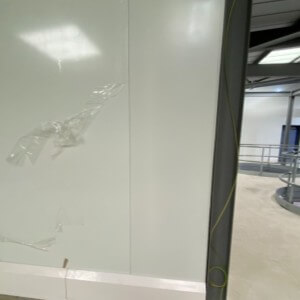 After
Book Now and Get Your
FREE

Quotation On All Services.

Providing quotes completely free of charge with no obligation. Call today!