What The Client Wanted
Our operatives were called to an office block in Milton Keynes to prepare, repair and respray a featured staircase inside the building. The client had initially had some work completed by another spray firm, which left them with poor quality results.

Project Scope
Just Spray Project Prep
The client asked us to visit the site to view the works and attend a meeting to discuss the extent of the repair and onsite spraying project. During the meeting, the client explained that we needed to hand the staircase over on a Monday morning, so to ensure we could meet the handover deadline, we enlisted multiple teams over three days.
Carrying out the project
Due to the property being a finished building, lots of protection was required. For this reason, before we could begin this commercial spraying project, we turned the staircase into a booth using plastic sheeting. As there were no windows, we also fitted extraction, which was used alongside a carbon filter.
Our building painters used the HVLP spraying method to apply a 2K paint to the staircase, using a PASMA stair tower to access the higher areas. On the Sunday, multiple sprayers attended the project to meet the Monday deadline. Thanks to their hard work and quick turnaround time, our contracts director, Craig, was able to hand over this staircase spraying project on site and to exceptional standards.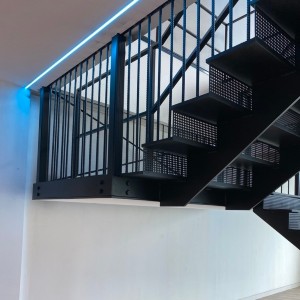 Finished Staircase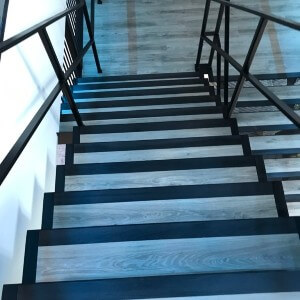 Finished Steps
Book Now and Get Your
FREE

Quotation On All Services.

Providing quotes completely free of charge with no obligation. Call today!