What The Client Wanted
Thanks to the versatility of on site spraying, the options when considering respraying your building truly are endless. Our most recent project is the perfect example of how cladding spraying can completely transform the appearance of your property. This client had contacted Just Spray to complete colour changes on the exterior of their building to give an instant refresh.

Project Scope
Just Spray Project Prep
As you can see from the project photos below, this was a large-scale project that involved commercial spraying on the entire front of the building. For this reason, we ensured that a Z45 cherry picker was available and on site throughout the works. All of our operatives are IPAF certified at 3a and 3b standard, so they are fully trained for the use of access equipment.
Carrying out the project
To achieve a seamless finish, our operatives used the HVLP spraying method, which produced a fine mist of paint for consistent results. Our client chose building coatings in the shades silver and RAL 5003 blue, creating fantastic colour contrast.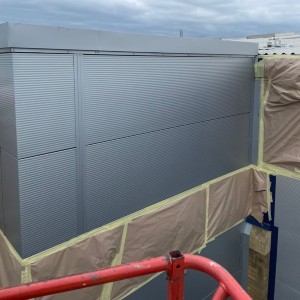 Before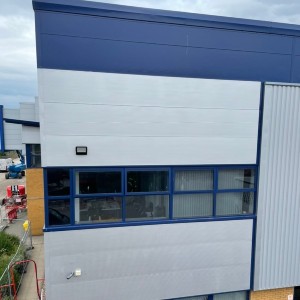 After
Book Now and Get Your
FREE

Quotation On All Services.

Providing quotes completely free of charge with no obligation. Call today!