What The Client Wanted
Although a significant percentage of the project carried out by the team here at Just Spray is for commercial clients, we also often work on domestic properties with homeowners embarking on renovations. This particular client enlisted our team to complete on site spraying and inside spraying for the bi-folding doors on their home in Oxford.
Project Scope
Just Spray Project Prep
Much like we would do so with commercial jobs, we visited the clients home ahead of the project date to understand what it would entail. We concluded that the project itself would be relatively straightforward as the bi-folding doors were in good condition; they were just no longer the right colour to suit the aesthetics of the property. There would also be no need to remove the doors from their hinges as they would be sprayed while still attached, meaning that the project could be completed in a shorter timeframe.
Carrying out the project
Before we could begin respraying the doors, it was vital that the area was adequately prepared. This included masking both the surfaces surrounding the doors, along with the glazing, on both the inside and the outside of the home. By taking the time to thoroughly mask around the area that we are working on, we can prevent any paint from splattering onto unwanted surfaces, causing a mess that is often tricky to resolve due to the durable nature of the paints we use.
Once the area was prepped, we could move onto transforming the appearance of the bi-folding doors. The client has opted for swapping their old grey doors for a black alternative, in which we used the RAL 9005 Black in a 30% Gloss to complete. We are so pleased with the results of this domestic project, and the doors add the perfect modernised touch to the clients home.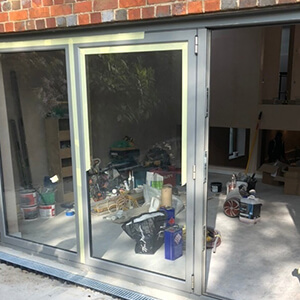 Before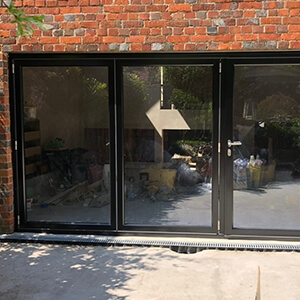 After
Services Used
Book Now and Get Your
FREE

Quotation On All Services.

Providing quotes completely free of charge with no obligation. Call today!