What The Client Wanted
The Just Spray operatives recently travelled to Llangefni in Wales to carry out a project for a client who owned an industrial unit. The building required a number of repairs, along with respraying works.
Project Scope
Just Spray Project Prep
To ensure that we were fully prepared for the project at hand, as always, we scheduled a survey with the client, which would help our operatives to determine the severity of the damage. From a simple inspection alone, we spotted several holes in the panels, which after speaking with the client, we uncovered was caused by the removal of service pipes. This meant that we would first need to fill any holes before smoothing out the surface and respraying the panels. As it would just be small sections of the building which would be resprayed, as opposed to all surfaces, colour matching would be imperative to ensure a seamless finish, disguising all signs of repair work.
Carrying out the project
The panels of the industrial unit that required work were just underneath, as well as around, a row of windows. With this in mind, before beginning the project, our operatives ensured that all surrounding surfaces, including the windows and brickwork, were covered and masked to keep the area clean. This would prevent any paint from splattering onto the surrounding surfaces, ensuring that the site was left immaculate.
Once the unit was prepped, our operatives could start filling any holes in the panels before sanding down the surface. The surface was then professionally resprayed in a light navy colour, which perfectly matched the existing shade, making the unit look good as new.
The client was thrilled with their results which meant that on completion of the quoted external works, they requested for the Just Spray team to carry out an additional project. This time, the work would be on the inside of the industrial unit and included spraying of their internal steel frames.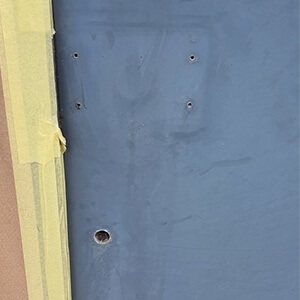 Before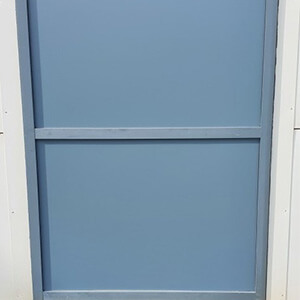 After
Services Used
Book Now and Get Your
FREE

Quotation On All Services.

Providing quotes completely free of charge with no obligation. Call today!