What The Clients Wanted
Just Spray had been contacted by a returning client to prepare and spray external extraction grills. The grills extract the air from the London Underground at the prestigious Millennium Dome. As part of the installation of new grills, the client wanted them to be prepared and sprayed a specific colour to complement the unique design of the walls below.

Project Scope
Before
When it comes to prepping a project, we always take great pride in what we do. Before spraying, we ensure that all of the materials we are working on are prepared to an immaculate condition so that we can guarantee a perfect finish. Our operatives took the time to fill in any small dents or scratches for a seamless respray. The Just Spray supervisor then assessed the profile of the grills to make any last-minute fixes before the beginning of the spraying process.
During
Once all preparation work had been completed, we then moved onto the spraying process. To gain access to all of the grills, we used a MEWP which allowed us to reach those higher areas. The cladding was then sprayed using a RAL 7039.
After
As you can see from the finished project pictures, the outcome looks fantastic with the colour blocking on the walls below. The darker shade also means that the grills will look fresh for longer, providing a durable finish.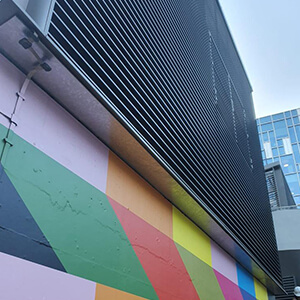 Before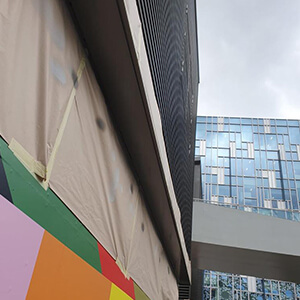 After
Services Used
Book Now and Get Your
FREE

Quotation On All Services.

Providing quotes completely free of charge with no obligation. Call today!