What The Clients Wanted
Just Spray had been contacted by a client to have a look at the failed powder coatings that had been applied to galvanised steel of the main building structure. Our Director and Supervisor attended the site due to their knowledge; our Supervisor Craig has been an experienced powder coating applicator for more than seven years.
On completion of our site survey, we confirmed the powder coating had failed in 95% of the areas on the project. This was due to the galvanised steel not being degassed along with poor application and baking times.

Project Scope
Before
Before starting the project we advised the client that all of the powder coatings on all of the project will need stripping back to bare galv, to do so we sourced a powder coating remover that after applied within 30 minutes it allowed us to strip the powder using scrapers.
During
After this process was complete, we used an epoxy primer followed by a 2k top coat in the clients desired Colour of RAL 9006 silver.
After
Just spray sent 6 operatives to the job working from 8am-9pm for seven weeks to meet the client's handover deadline.

Before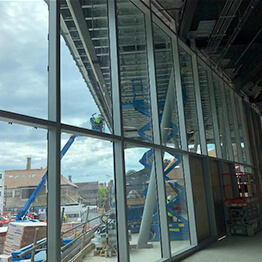 After
Services Used
Book Now and Get Your
FREE

Quotation On All Services.

Providing quotes completely free of charge with no obligation. Call today!