What The Clients Wanted
Just Spray recently worked on a project with a client who had damage to their showroom door. As the space needed to be aesthetically pleasing for when their own customers attended it was vital Just Spray repair and respray the doors and windows to look brand new.

Project Scope
Before
Once our Just Spray repairs team attended, they also noticed additional damage on the window frame which also needed repairing. After confirming the repairs with the showroom manager, they then went ahead with the project.
During
As you can see from the images, the doors and windows are very visible, so it was important for the Just Spray team to spend time perfecting the repairs. Before any filler can be applied, the team sanded down both the door and window frame. It was then filled and smoothed ready for spraying.
After
As all units where at a low level, we did not need any heavy machinery to carry out the job. After the team had inspected the repairs, the metal was then resprayed using a RAL 7008 for a perfect bronze look.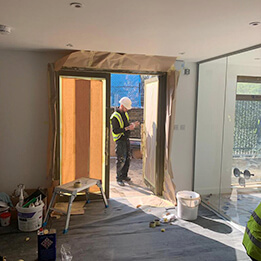 Before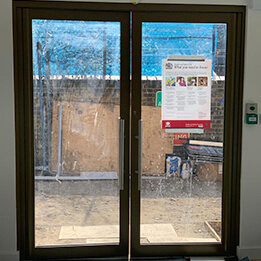 After
Services Used
Book Now and Get Your
FREE

Quotation On All Services.

Providing quotes completely free of charge with no obligation. Call today!