What The Clients Wanted
Just Spray had been contacted by a steel fabrication and installation company, who asked us to work on a very exciting project at Intu Shopping Centre over in Thurrock. Our client asked us to work on a steel structure which is part of the new phase of the shopping centre. The Intu Shopping Centre decided to create an area where family and friends can enjoy an outdoor space which will act as an entertainment area along with an outdoor picnic space.

Project Scope
Before
We had been asked by the steel fabrications company to ensure all of the joints had been filled in. They also wanted us to make sure that all of the steelworks looked like one piece of metal, so we had to use a specialist filler to guarantee a perfect finish.
During
The client had also requested from our operations manager that the steel had a Regency Gold Anodised look. We then chose to apply a specialist primer to ensure a gorgeous smooth appearance; we then used a top coat and an additional clear protective coat to give it that ultimate shine.
After
The panels which needed spraying had been taken off-site in one of our four spraying booths.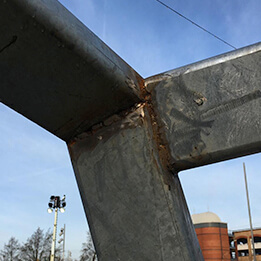 Before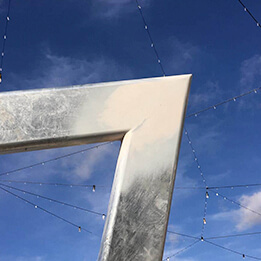 After
Services Used
Book Now and Get Your
FREE

Quotation On All Services.

Providing quotes completely free of charge with no obligation. Call today!