When designing a building, one major factor that will always take significant consideration is the type of cladding installed. Used not only for appearance purposes but also protection, cladding plays a vital role in the safety, durability and aesthetics of any building, whether commercial or residential. For this reason, taking the time to shortlist the different external wall cladding options will be essential, weighing up the pros, cons and maintenance of each to determine the best fit.
A Just Spray Guide To External Wall Cladding Options
For more than ten years, our specialist cladding spraying operatives have worked closely with clients to repair and renovate panels, curtain walling and more. Depending on the cladding material and location, our operatives will use different onsite spraying methods and coating types, allowing the building to remain in optimum condition for many years to come. These services can be used to repair or refurbish old cladding and coat new panels and curtain walling.
With this in mind, if you are in the process of narrowing down which cladding options best suit your requirements, we have put together a guide to the following, helping you to make the right decision: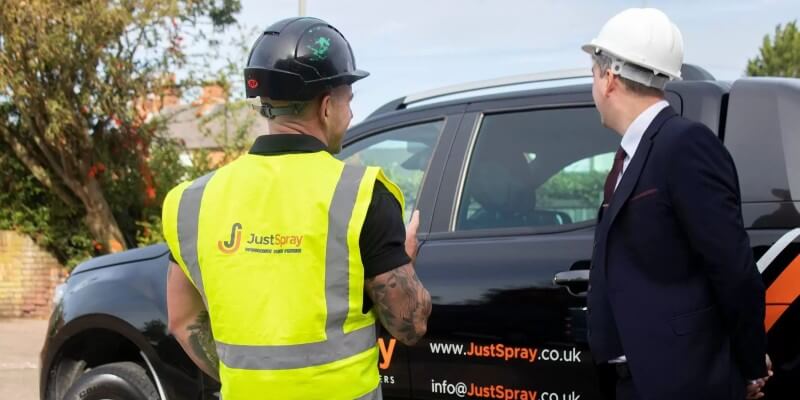 If you are new to construction, understanding the purpose of cladding and the key traits to consider will most definitely help with choosing a suitable material. While each material will offer slightly different qualities, the cladding will always be used to:
Add protection: The primary responsibility of cladding is to provide a building with a robust layer of protection. It is fitted to the exterior of walls to allow maximised weather resistance and increased insulation. Not only this but cladding will also help to boost the mechanical sturdiness of a building, lowering the likelihood of future structural issues.
Allow ease of maintenance: As cladding is designed to withstand the elements, exterior building maintenance becomes far less demanding. While some cladding materials will require a little more care than others, such as timber panels, the upkeep couldn't be more straightforward.
Boost aesthetics: Due to the vast range of external wall cladding options available, building designers have the opportunity to be creative with aesthetics. The colour and finish of cladding can easily be tailored to your vision through onsite coatings, perfect for matching your commercial property to your branding.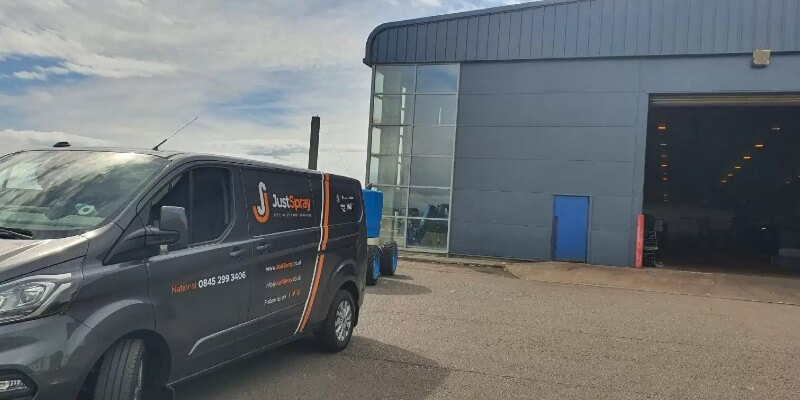 Having run through the most important traits of cladding, it is now time to begin considering which materials will suit your property's specifications, requirements, and location the best. Find out more about the pros and cons of each of the following options below: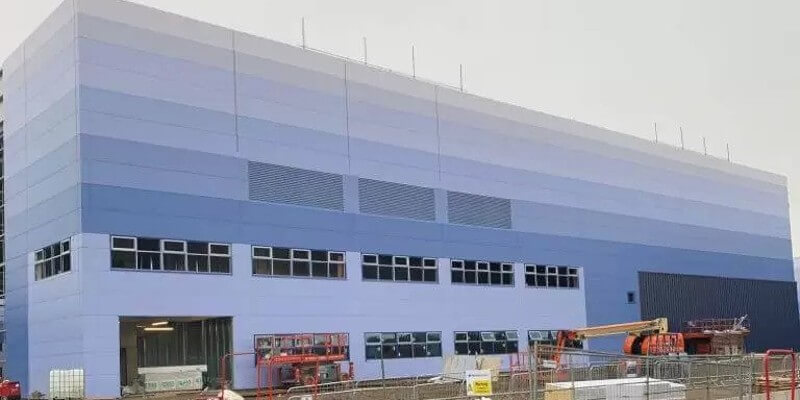 Perfect for creating a more industrial aesthetic, metal cladding is hugely popular amongst those hoping to make a statement. In the past, metal was typically used as the material of choice for roof sheets due to its robust nature. Still, in more recent years, architects have been experimenting with metal wall cladding to add a futuristic touch to their designs. Architizer has put together a great article with 7 examples of how metal cladding has been used in building design.
When considering metal cladding, there will be four main options: steel, zinc, aluminium, and copper. These are all available in different finishes, such as coated to preserve their original shine or pre-aged for a more rustic look. Typically, metal cladding is one of the more affordable options yet offers an exceptional lifespan. For example, aluminium generally has a lifespan of more than 40 years, while copper could last as long as 100 years – most definitely a worthwhile investment.
| Pros of metal cladding | Cons of metal cladding |
| --- | --- |
| Incredibly lightweight, making it easy to install. | Susceptible to cut edge corrosion (although this can be repaired). |
| Low maintenance; will only need to be cleaned. | May delaminate down to age and weathering. |
| Added strength will maintain structural integrity. | Can begin to fade in the sunlight. |
| Protects against changes in temperature. | |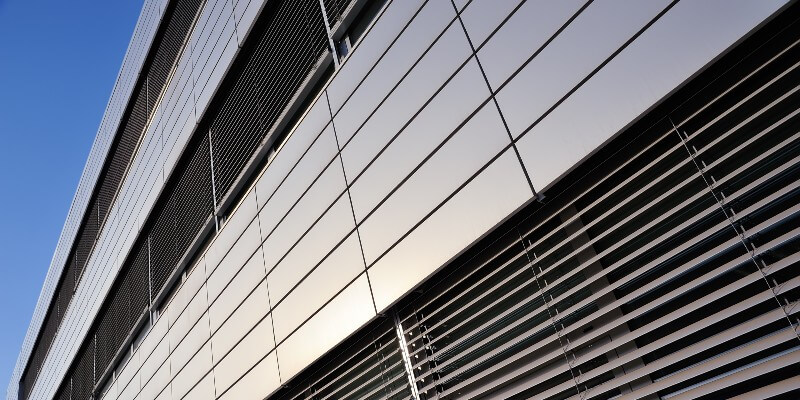 Timber cladding is, by far, the most common option for buildings focused on sustainability. Made from an organic, renewable resource, timber cladding is effectively carbon neutral as even when fitted onto a building, the wood will continue to absorb and store carbon dioxide. Not only this, but the material also creates no waste; any offcuts can be reused and, even when the timber comes to the end of its lifespan as cladding, it can be recycled and repurposed.
When designing a timber clad building, the most popular choice is to fit long, narrow panels, taking full advantage of the unique grains of the wood. These panels can be arranged horizontally, vertically or diagonally, creating a decorative finish that is guaranteed to stand out from the crowd.
| Pros of timber cladding | Cons of timber cladding |
| --- | --- |
| Lower carbon footprint than any other material. | May warp, crack and fade over time. |
| Can last between 40 and 60 years. | Requires regular painting or staining to maintain appearance. |
| Provides buildings with natural heat and sound insulation. | |
| Easy to repair should you even experience damage. | |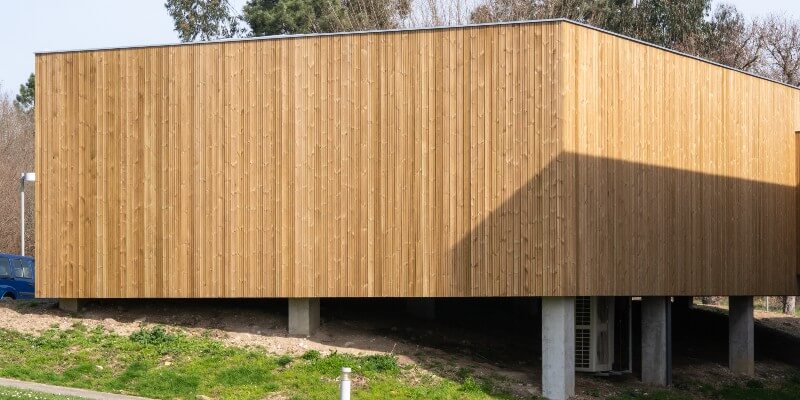 Vinyl is one of the most commonly used cladding materials due to its ease of installation and versatility. Not only is it available in a wealth of shapes, sizes and colours, but it can also be used across many settings, whether it be an office building, shopping centre or warehouse. Even after many years of installation, should you decide that you want to upgrade the appearance of the vinyl, the cladding can easily be resprayed to a colour matched shade, allowing you to renovate the building without the need for panel replacement completely.
One of the most sought-after traits of vinyl cladding is its affordability. Along with being a low-cost option for sourcing and installation, this material can also be equipped with extra insulation, helping to lower energy costs by keeping the building cool in the summer and warm in the winter.
| Pros | Cons |
| --- | --- |
| Lasts for up to 50 years with minimal maintenance necessary. | It is created using non-renewable resources. |
| One of the most cost-effective cladding materials. | Panels can become loose due to swelling. |
| Maintenance will only involve cleaning when needed. | |
| Available in many different colours and finishes. | |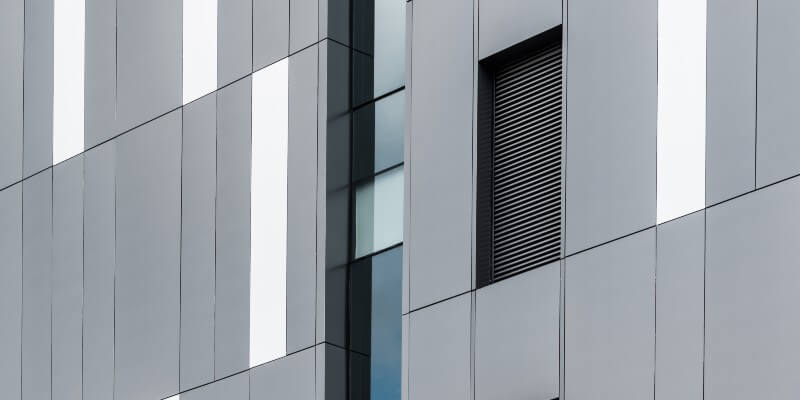 Most common on commercial properties such as shopping centres, offices and sports facilities, glass cladding instantly adds a high-end feel to a building. In fact, some of the most famous landmarks feature glass as their cladding material of choice, from The Louvre Pyramid in Paris to The Shard in London. We love this article by Clayton Glass, showcasing the ten most beautiful glass buildings in the world!
Customising the appearance of glass cladding to meet your requirements couldn't be more straightforward. Although most designers opt for simple square panes of glass, why not take inspiration from the buildings mentioned above and create geometric patterns? You can even alter the colour of the frame through curtain walling spraying, upgrading outdated systems or recoating to match your branding – the design possibilities are endless!
| Pros of glass cladding | Cons of glass cladding |
| --- | --- |
| Guaranteed to add beauty to a building. | One of the most expensive cladding materials. |
| Will remain resistant to weather conditions and rust. | Absorbs heat making the building very warm, causing more reliance on air conditioning. |
| Can easily be moulded to more unique shapes. | Will require more frequent cleaning than other materials to maintain aesthetics. |
| Fully recyclable, so it offers environmental benefits. | |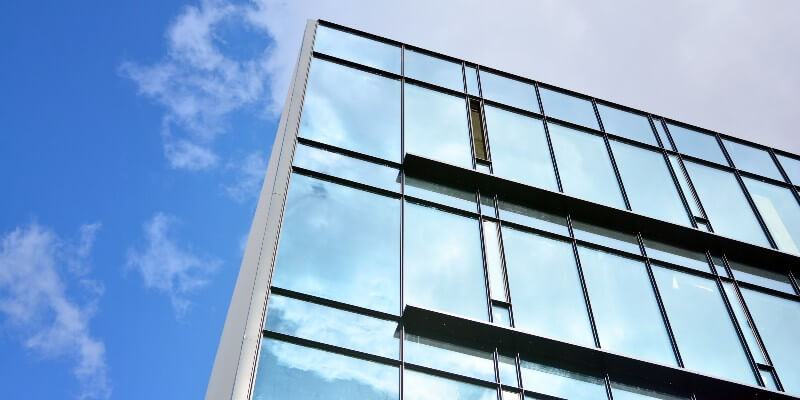 Made by combining cement with sand and fibre, fibre cement cladding is also known as 'Hardie plank' and is typically used to replicate the appearance of wood panels. Fibre cement is ideal for those who favour the aesthetics of timber cladding but do not want the constant upkeep and risk of weather-related damage. Manufactured to offer durability, unlike wood, this material will not rot or warp and is resistant to cracking, providing complete peace of mind that you are protected against outdoor elements.
Generally, fibre cement cladding is used on residential projects to add a modern touch to a new loft conversion. However, it is excellent for those who would like to add a homely feel to their commercial property, especially when designing an outbuilding to work from home. You can find more information on the characteristics and uses of fibre cement cladding on the James Hardie website.
| Pros of fibre cement cladding | Cons of fibre cement cladding |
| --- | --- |
| Has a lifespan of up to 75 years. | Can be harder to source due to high demand. |
| Can easily be moulded to fit the shape of the building. | Trickier to install, so it is likely to come with higher labour costs. |
| Customise the colour and appearance through commercial onsite spraying. | It cannot be recycled after use. |
| Resistant to water, UV rays, bugs and rotting. | |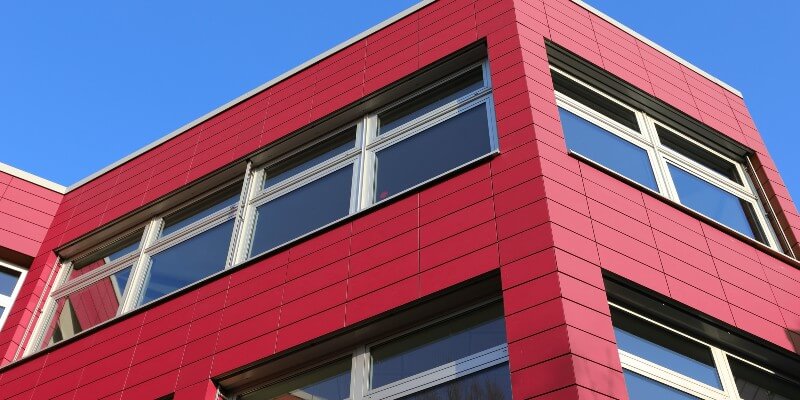 Although less common in the UK, stone cladding is guaranteed to add a luxurious aesthetic to your commercial property, creating a positive first impression for every visitor. As stone cladding is installed in layers, it offers a textured, three-dimensional appearance with no need to recoat.
Depending on your budget, both natural and artificial stone is available. Inevitable, natural stone is the more expensive option as the material takes thousands of years to form and must be sourced from specific locations. On the other hand, artificial stone is manufactured using concrete and aggregate material, which are pressed, moulded and then coloured. Natural stone is typically the best option for exterior wall cladding as it is far more reliable and less likely to fall victim to damage.
| Pros of stone cladding | Cons of stone cladding |
| --- | --- |
| Offers extreme durability and guarantees a long lifespan. | Likely to be more expensive to purchase, install and maintain. |
| Is resistant to both scratches and abrasion. | Moisture may become trapped behind the stone, causing damage. |
| Delivers a high level of heat insulation, maintaining a steady temperature. | Needs to be regularly sealed to maintain protection. |
| Many different types, shades and formats are available. | |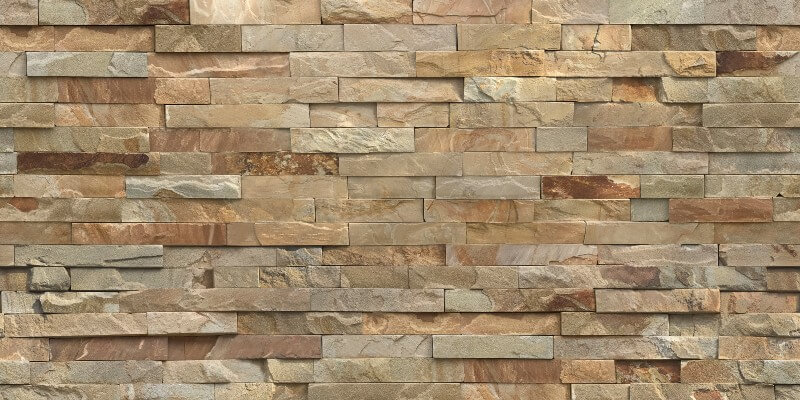 Choosing The Right Exterior Cladding Option
When deciding which exterior cladding option is the best fit for your property, many factors will be considered. This will include points such as how the building will be used, your location's typical weather conditions, and building regulation requirements. The Designing Buildings website has a fantastic guide with full information on cladding for building, providing further information to aid your decision.
As always, if you require any cladding repairs, maintenance or recoating, please do not hesitate to get in touch with our skilled team. We would be more than happy to schedule a site survey and provide a free quote.