What The Client Wanted
Just Spray had been instructed by our repeat client to assist in the extensive repairs to exterior Kingspan MR Panels. The panels had been damaged by a powered access machine after the installation process.

Project Scope
Just Spray Project Prep
From assessing the damage during our site survey, we could determine that this project would be a straightforward repair and respray. We are lucky enough to have a team of highly trained, qualified operatives who are able to carry out a wide scope of works. This includes our specialist team members who have the knowledge and expertise to complete work on the Kingspan Micro Ribbed Panels in question.
Due to the nature of the project and the need to carry out a full respray, we ensured that we took colour samples during the survey, meaning that shades could be colour-matched to guarantee consistency throughout.
Carrying out the project
As the cladding panels had experienced a high level of impact, there was a considerable amount of damage. This meant that we had first to fill in the panel to ensure it had a flat profile, before cutting the micro rib back into the panel. From the images below, you can see that this was completed to a very high standard. As a business, we pride ourselves on carrying out tasks to the highest precision and have a dedication to complete client satisfaction.
Before we go ahead with any of the spraying, we make sure all the relevant preparation is put in place. All of the panels that needed respraying had been given a prime coat to ensure the top colour coat had a good base to adhere to.
The colour for this particular project was one we have come across on several other projects, so we keep our own formulated version of the colour in-house. This way, we can make sure that the client receives a perfect colour match. The panels can then blend perfectly with the existing panels, which saves both time and money.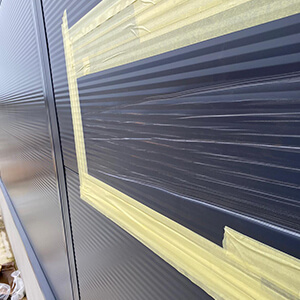 Before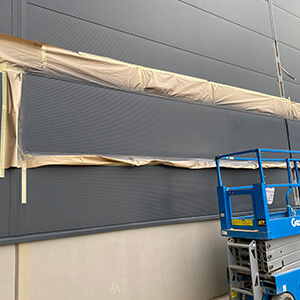 After
Services Used
Book Now and Get Your
FREE

Quotation On All Services.

Providing quotes completely free of charge with no obligation. Call today!