What The Clients Wanted
The Just Spray team had been contacted by our most recent client as they had a range of damage to their stairs, doors and curtain walling. Our services had been requested by the company after they had seen some of our previous cladding repairs and curtain wall spraying projects.

Project Scope
Before
Before we started the project our On Site Manager Craig, assessed all of the damage and scratches, so our operatives knew what type of repairs needed to be made.
During
The client gave us one week to complete all of the repairs and respray works to the stairs, curtain walling, balustrades, flashings and feature pieces. Before any of the items could be sprayed, our repair specialists took the time to fill all of the dents & scratches. To ensure the profile was perfectly smooth and ready for coating, they also sanded the filler down to eliminate any lumps or bumps.
After
After the repairs had been done, we then went onto spraying each of the items. We used three different colours for this project, which had been colour matched using Just Spray in-house technology. For the curtain walling and the doors, a RAL 9005 30% gloss was used. We then opted for an Interpon Gold Pearl for the balustrades and Interpon Black RAL 9017 Matt for the flashings and feature pieces.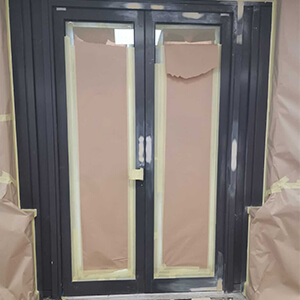 Before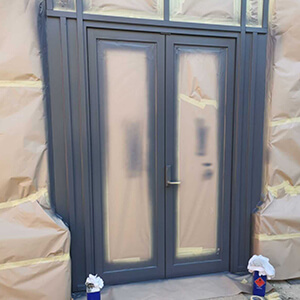 After
Book Now and Get Your
FREE

Quotation On All Services.

Providing quotes completely free of charge with no obligation. Call today!